Kelly Loeffler, Rand Paul Among GOP Senators Undecided on Objecting to Biden's Electors
Despite Senate Majority Leader Mitch McConnell warning senators against objecting to the election results on January 6, some GOP senators, including Kelly Loeffler of Georgia and Rand Paul of Kentucky, publicly expressed that they're still undecided on whether to object to Joe Biden's electors in 2021.
The presidential electors gave Biden a majority of 306 electoral votes to President Donald Trump's 232 Monday, decisively confirming Biden as the nation's next president.
Moments after casting her vote in the Georgia Senate runoff election on Wednesday, Loeffler, who is up for reelection against Democratic challenger Raphael Warnock on January 5, told reporters that she "hasn't looked at" whether she'll object to the election results, but noted that there's a possibility that things could play out differently before January.
"I haven't looked at it," Loeffler said, according to the Atlanta Journal-Constitution. "January 6 is a long way out, and there's a lot to play out between now and then."
When questioned by reporters, Loeffler continued to avoid acknowledging Biden's win, instead saying, "My focus right now is on my race." Both Loeffler and Sen. David Perdue—who is also up for reelection in a Georgia runoff race—have refused to accept the election results.
On Tuesday, a day after the Electoral College vote affirmed Biden's victory, Loeffler tweeted her support for Trump and his baseless claims of fraud in the election.
"I will never stop fighting for @realDonaldTrump because he has never stopped fighting for us!" the Republican senator wrote.
Some House Republicans, led by Alabama Rep. Mo Brooks, are planning to challenge the electors during the Senate and House joint session to count the votes. The House members will only need one GOP senator to join their long-shot efforts to overturn the results, which would cause both chambers to meet separately to consider those objections.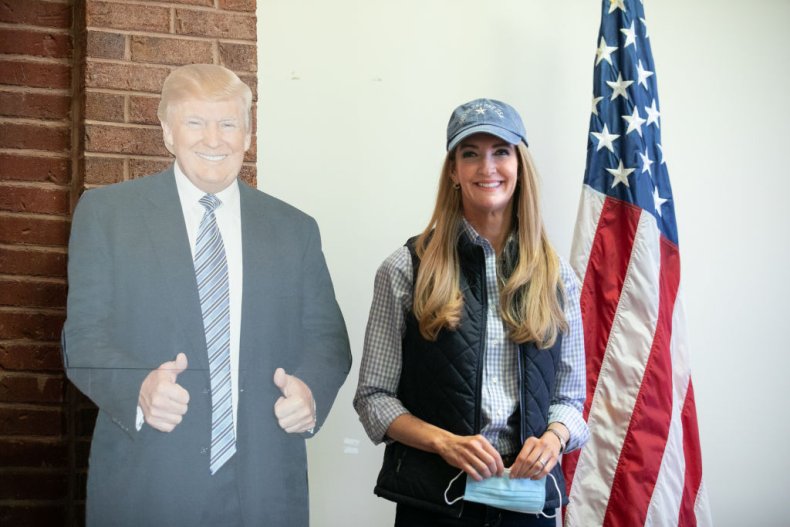 Paul and Kansas Senator-elect Roger Marshall have also publicly said that they're still debating whether to challenge the results on January 6. Both claimed that more evidence needs to be examined before officially electing Biden as the next president.
"January 6 is the next big step of this process. I'm going to keep weighing the evidence between now and then and make a decision on January 5," Marshall told the Kansas City Star on Tuesday.
"I feel like we're in the middle of a process that's going to take us to inauguration day on January 20 and whoever is sworn in on January 20 I'm going to call Mr. President with great respect," he added.
Paul, who falsely claimed that the election was "stolen" during a Wednesday congressional hearing on election "irregularities," told CNN last week that he may consider joining House members in objecting to Biden's win during the joint session.
"We're still looking at all the legal stuff that's happening with the legal cases and we'll make our decision after we've seen all the legal challenges," Paul said.
Wisconsin Sen. Ron Johnson, a Republican who held the hearings this week to address "legitimate questions" about how the election was administered, faced major backlash last week after refusing to rule out the possibility of objecting to Biden's electors.
"I would say it depends on what we found out. I need more information," Johnson told reporters in Washington on December 9. "The American people need more information. I'm not ready to just close and slam the book on this thing and go, 'OK, let's walk away from it.'"
Wisconsin Congresswoman-elect Francesca Hong called Johnson "delusional scum" in a tweet following his comments.
However, Johnson has since acknowledged Biden's victory and noted that the election results were "legitimate" in a Tuesday interview with the Milwaukee Journal Sentinel.
"Yes," he said when asked whether he regarded the election results as legitimate. "I haven't seen anything that would convince me that the results—the overall national result—would be overturned."
Senate Majority Leader Mitch McConnell, after finally acknowledging Biden's victory over Trump and publicly congratulating the president-elect, reportedly warned senators during a private caucus call not to object during the joint session.
McConnell told senators that the objections would force a "terrible vote" for Republicans since they would appear to be against Trump when they vote it down. GOP Senate Majority Whip John Thune and Republican Sen. Roy Blunt reportedly agreed with McConnell's remarks.
Newsweek reached out to Sens. Loeffler, Paul and Marshall for comment but did not receive a response in time for publication.