Kelly Loeffler Tells Ilhan Omar She Should Be 'Expelled From Congress' After Minnesota Rep. Defends Raphael Warnock
Georgia Senator Kelly Loeffler told Minnesota Rep. Ilhan Omar she should be "expelled from Congress" on Friday after Omar defended Loeffler's Democratic opponent, Rev. Raphael Warnock.
Loeffler initially tweeted that "The Squad"—composed of Reps. Omar, Alexandria Ocasio-Cortez of New York, Ayanna Pressley of Massachusetts and Rashida Tlaib of Michigan—supports Warnock and included a link to an article in the Washington Free Beacon, which reported that Omar defended Warnock's remarks that "nobody can serve God and the military."
"It's no wonder The Squad fully supports @ReverendWarnock: He totally supports their dangerous & extreme agenda," Loeffler tweeted. "And @IlhanMN completely agrees with his disgraceful comments about our active service members, veterans, and their families."
Warnock's remarks over military and religion were made during a 2011 sermon he gave that paraphrased Bible verse Matthew 6:24, which says, "No one can serve two masters."
"America, nobody can serve God and the military," he said. "You can't serve God and money. You cannot serve God and mammon at the same time. America, choose ye this day who you will serve."
The sermon resurfaced on social media following the announcement that the Georgia special election race between Warnock and Loeffler would be headed to runoffs on January 5. Loeffler and other GOP lawmakers, including Florida Sen. Marco Rubio and Georgia Rep. Doug Collins, immediately blasted Warnock on Twitter over his comments.
In response to Rubio's criticism on Wednesday, Omar tweeted: "The lies and smears of the GOP have no boundaries, but this is a disgrace and shameful."
Following Loeffler's Friday tweet, Omar fired back at the senator, calling her tweet "blatant lies" and warning that going against "the Squad" isn't going to help her chances to win re-election come January.
"Blatant lies from the disastrous, insider trading, Qanon conspiracy supporting, fear-mongering, appointed Kelly," Omar wrote. "Pro tip: to win an election you run on ideas, debate your actual opponent and defend your record, not run against the Squad. Ask Trump, he f#%d around and found out."
Omar was referencing a previous investigation into Loeffler, as well as several other members of Congress, by the Department of Justice in March following the novel coronavirus outbreak. Loeffler, who is married to an investment professional, was accused of insider trading after certain stock trades were made ahead of the market crash caused by the pandemic.
The investigation was based on confidential briefings that Loeffler received, including a Senate Health Committee briefing about the coronavirus in January. The Justice Department closed the investigation in May, and Loeffler said she had been "exonerated," according to the Wall Street Journal.
During her campaign, Loeffler also touted the support of then-congressional candidate Marjorie Taylor Greene, who has since been elected as the representative of Georgia's 14th congressional district and who has publicly supported baseless Q-Anon conspiracy theories.
When asked about the Q-Anon controversy while on the campaign trail alongside Greene, Loeffler told reporters, "No one in Georgia cares about this QAnon business, this is something that the fake news is going to continue to bring up and ignore Antifa."
On Friday, Loeffler responded to Omar with a similar laundry list of accusations, including that the Muslim congresswoman is anti-Semitic.
"Ilhan, we saw the video of you smiling and laughing while talking about al-Qaeda & 9/11," Loeffler tweeted. "We know that you funneled MILLIONS of dollars to your new husband's 'consulting' firm. And we know that you're an unabashed anti-Semite."
"You should be expelled from Congress," she added.
Last year, a 2013 interview on a local PBS television show about Middle Eastern community issues resurfaced online that showed the Democratic congresswoman—then a community activist—speaking about Al Qaeda and the language people use to describe terrorist groups. Her remarks were immediately criticized by Republicans, including President Donald Trump, who accused her of saying "how great Al Qaeda is."
In the interview, Omar went on to call the acts committed by Al Qaeda and Al Shabab "evil" and "atrocities," among other comments condemning the terrorist group.
In March, Omar married her political consultant, Tim Mynett, which triggered complaints from conservative groups to the Federal Election Commission, alleging that campaign funds had paid for Mynett's personal travel. Although she assured supporters that Mynett "received no profit whatsoever" from the campaign funds, Omar reported this week that her campaign will no longer be doing business with her husband's firm, according to the Star Tribune.
"Kelly, I just won my re-election and you [sic] about to lose your job," Omar wrote in response to Loeffler. "Maybe, just maybe you shouldn't have profited from the pandemic while your constituents needed you to inform and fight for them. Sorry, none of this noise will drown the sound of defeat."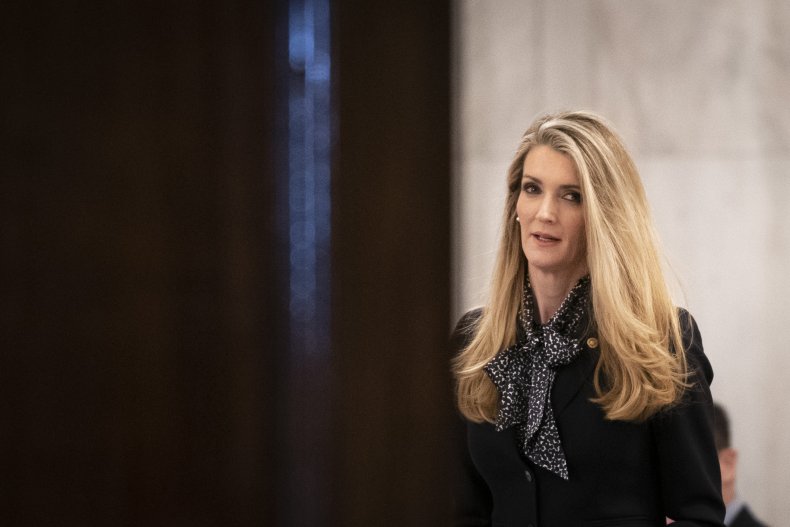 Greene inserted herself into the Twitter exchange Friday afternoon, telling Omar to "back down" and repeated unproven allegations that Omar previously married her brother, which the congresswoman has denied.
"Looks like the crazy lady has logged on," Omar tweeted. "I know things might be different where you come from, but you have to get off the looney train now that you are in Congress."
Georgia notably flipped for Democrats in the presidential election, with the Secretary of State Brad Raffensperger officially certifying the results on Friday following a hand recount of the 5 million ballots cast in the state. Both senate races, including the hotly contested race between GOP Sen. David Perdue and Democratic challenger Jon Ossoff, headed to runoffs after neither party in either race could maintain over 50 percent of the votes.