Kelly Ripa to Play Husband Mark Consuelos's Mistress on 'Riverdale'
Kelly Ripa is about to put her acting skills to the test once again. The beloved daytime personality is joining Riverdale in Season 3 as Hiram Lodge's mistress.
Hiram, a ruthless and shady businessman, is a character portrayed onscreen by Ripa's real-life husband, Mark Consuelos. Ripa and Consuelos tied the knot in 1996. Together, the pair has three children. However, this wouldn't be the couple's first time acting together as they initially met while working on All My Children.
On Riverdale, the 48-year-old Live with Kelly and Ryan co-host will play Mrs. Mulwray. "Confident and tough, she is Hiram Lodge's alleged mistress," a representative for The CW confirmed to E! Online. "She's a beautiful, icy, femme fatale who gets caught up in a conspiracy that's much bigger than she initially realized."
Ripa was excited to share the news with fans. She hit Instagram on Wednesday to post a picture of herself on the Riverdale set.
"It's a family affair........Hiram's mistress," Ripa wrote. "23 years of auditioning for a role I was born to play. Coming soon to the @thecwriverdale."
To this, Consuelos simply commented: "Yes please."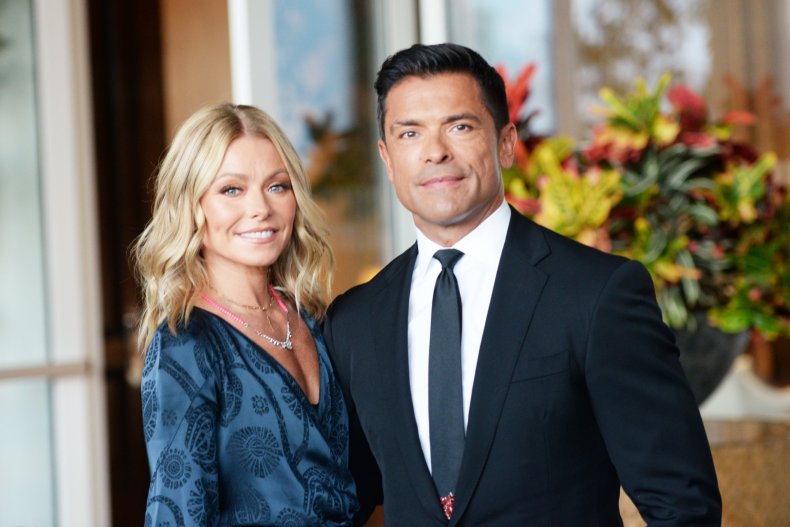 Ripa's announcement attracted support from some of her husband's colleagues. Show creator Roberto Aguirre-Sacasa suggested everyone was "so lucky" to have her on board. Vanessa Morgan, who plays Toni Topaz, replied "Yesssss."
"I feel like this character is the female figure Kevin Keller never had but always needed," Casey Scott, who plays Kevin Keller, wrote. "Thank god she's finally here."
Marisol Nichols, who plays Ripa's husband's TV-wife Hermione Lodge, additionally claimed to be "beyond, beyond excited for this to happen."
Before nabbing the part, Ripa expressed interest in playing her husband's character's mistress on the popular teen drama. At Entertainment Weekly's Comic-Con Bash in July, she told Us Weekly: "Wouldn't it be great? She could play a nice little saucy character. Hiram's mistress or something like that?"
Ripa isn't the only big name coming to Riverdale in Season 3. In September, it was confirmed Riley Keough would be heading to The CW drama's fictional town. After tweeting in March "I just want to be cast in Riverdale," the 29-year-old Mad Max: Fury Road actor was brought on to appear as Laurie Lake. According to Vulture, Laurie is a flirtatious "all-American farm girl" who provides shelter to Archie Andrews (KJ Apa) and Jughead Jones (Cole Sprouse) after they stumble onto her property. Archie and Jughead, however, will reportedly encounter "more danger than they could have imagined."
Riverdale airs Wednesdays at 8 p.m. ET on The CW.