Kelly Slams Congresswoman on Niger Phone Call, But She Was Invited To Be There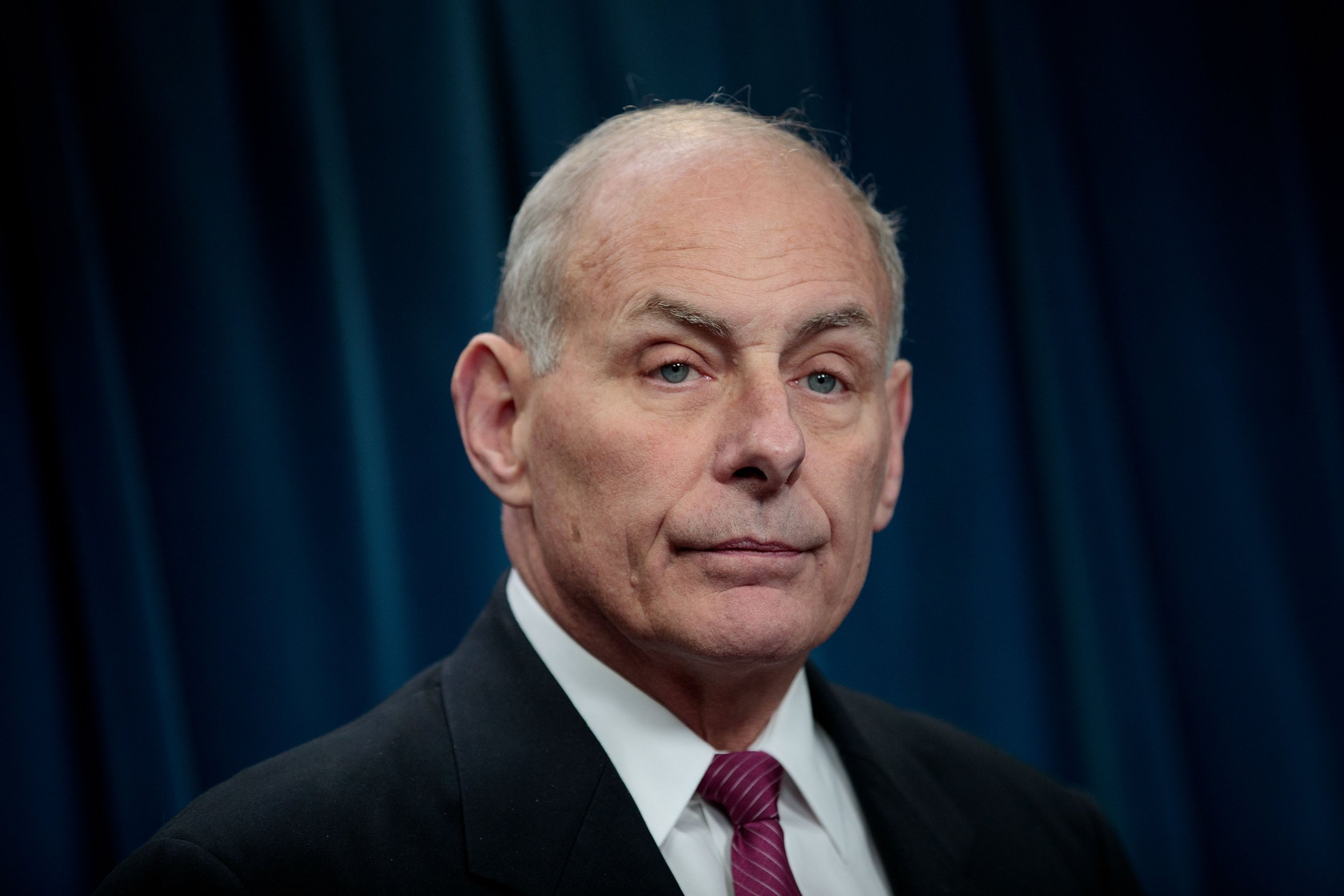 White House Chief of Staff John Kelly ripped into a congresswoman who's been at the center of a controversy over a phone call President Donald Trump made to the family of Sgt. La David Johnson, a Green Beret killed in an ambush in Niger on October 4.
"I was stunned when I came to work yesterday morning and brokenhearted at what I saw a member of Congress doing," Kelly said in an extraordinary White House briefing on Thursday, referring to Florida Rep. Frederica Wilson who said Trump told the grieving widow that Johnson "he knew what he was getting into," setting off two days of controversy over the president's perceived insensitivity.
Kelly later described Wilson as an "empty barrel" in a "long tradition of empty barrels making the most noise."
Wilson's comments apparently upset Kelly, whose son died in Afghanistan in 2010, so much he told reporters he went to Arlington National Cemetery for 90 minutes.
But Kelly's outrage at the politicization of the solders' deaths did not completely match the timeline of events.
First, Kelly admitted that he suggested to Trump that he use the phrase about soldiers' knowing what they were getting into when they signed up to serve their country — a phrase Trump has denied using.
"Let me tell you what I tell them," Kelly said he told the president. "Let me tell you what my best friend told me because he was my casualty officer: He said. 'Kel, he was doing exactly what he wanted to do when he was killed.'"
Some members of the press praised Kelly on Thursday after those words came out of the general's mouth. But the president did not get the same treatment, especially from Congresswoman Wilson, who said Johnson's family felt disrespected.
Wilson, contrary to Kelly's comments, had been invited to be with the family to listen to the phone call. Trump had been the one to first politicize what happened in Niger, when responding to a reporter's question on Monday, he criticized his predecessors for not calling the families of fallen soldiers.
This issue is deeply personal for Kelly, himself a Gold Star father who has consistently avoided addressing his son's death. Trump put the loss back in the public spotlight this week when he told reporters to ask Kelly if Obama called him when he died.
During the press conference, Kelly emphasized the growing disconnect between the public and military. He only answered questions from members of the press who knew Gold Star families.
Kelly's press conference comes after a frenzied fortnight that began on October 4 when the Department of Defense reported that three Green Berets had been killed along the Mali-Niger border in a training mission.
Two days later, Johnson, the fourth victim of the incident was found, raising new questions about what actually happened during the ambush and firefight with militants believed to be linked to ISIS.
Politicization of military deaths is a fact of political life — especially for Trump, who never served and received five draft deferments, including one for bad feet during Vietnam. As a candidate and president, Trump has made numerous controversial remarks on the military. He infamously criticized Senator John McCain for getting captured and being a POW during Vietnam and also attacked a Gold Star family during the U.S. presidential campaign.
Kelly's stunning press conference, which started with him offering painstaking detail about how dead soldiers are transported back home and ended with him only taking questions from reporters he felt understand military issues, may end up being the Trump administration's best shot at ending the controversy.