Kelly Stafford, Wife of Detroit Lions Quarterback, Calls Michigan a 'Dictatorship' Over COVID Restrictions
Kelly Stafford is used to her husband getting all the attention in the family--he is, after all, Matthew Stafford, a starting quarterback in the NFL for the Detroit Lions. But today, she's the one making headlines for controversial comments about parts of Michigan being placed under strict restrictions due to rising cases of COVID-19.
On Instagram this morning, Stafford recorded a live story about what's being termed a "pause" in the state's reopening after prior shutdowns. She said in the video: "I'm over living in a dictatorship that we call Michigan" and "I do not like living in a place where they tell me what I can and cannot do."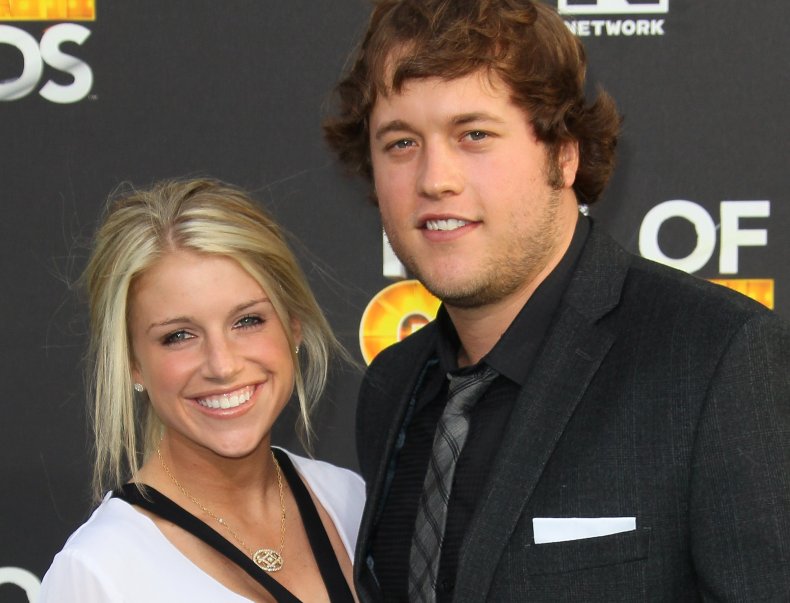 Her comments come on the second day of Michigan's three-week COVID-19 "pause," which banned indoor dining at restaurants, shut down in-person classes for college and high school students, and banned all attendance of sporting events.
She did make a point of saying she felt bad for people who were sick or hospitalized from the virus, before saying her heart also went out to small businesses suffering from economic loss. Mainly, she was personally upset about what she considered her freedoms being taken away.
This fellow Instagram user isolated the portion of her story that contains her rant about the restrictions:
Michigan has seen a rapid increase in COVID-19 cases in the past week. On Friday, the state reported 8,516 cases of COVID-19, a single-day record for Michigan.
Stafford has caught flack before due to Instagram comments related to COVID-19. Her husband was put on the NFL's COVID-19/reserve list twice in 2020. The first time came prior to the season in August for what turned out to be a false positive test result. He was placed on the list again in November after coming into close contact with someone who tested positive, though he himself never received a positive result in testing.
"I am about to lose my s–t," Kelly wrote in an Instagram post shortly after Matthew was placed on the COVID-19/reserve list the first time. She followed up with a lengthier post, which read, in part: "The past four days have been somewhat of a nightmare...We were all tested the day after and we were all negative, including Matthew...then he tested negative again, then again, again and again."
"I have been losing my mind because of how my Family has been treated since my husband was put on the COVID-IR list," her note continued. (The couple have four children.) "Even after we knew it was a false positive, I was approached in a grocery store told I was 'endangering others,' my kids were harassed and kicked off a playground, I was told I needed to wait in my car when trying to pick up food, and people closest to us had to get tested just so they could go back to work... and that's just to name a few things."
This time, though, she seemed to regret her choice of words. After her video from this morning went viral, Stafford issued an apology on Instagram. It acknowledged she "should have never used the word 'dictatorship'" and claimed to have been "caught up in the heat of the moment." She went on to again declare her sorrow for those who've been lost or gotten sick. Again noting emotions got the best of her, she said her words were not how she truly felt and that "I love Michigan and the people here."