Kellyane Conway Told Daughters During Election: I'm Excited For Hillary Clinton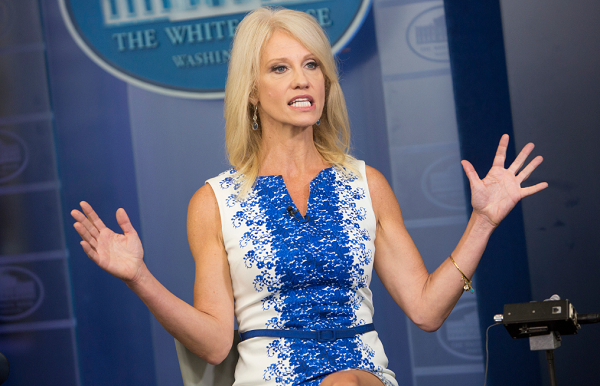 White House counselor Kellyanne Conway has said she told her daughters it was fine to be excited about Donald Trump's rival Hillary Clinton in the 2016 presidential election.
Conway said in an interview with Time's Firsts video series that she spoke with her three daughters, who are all younger than 12, about Clinton's campaign and explained that she could back Trump but still be excited about the prospect of a female president.
"In explaining how I feel about one thing that Donald Trump said or did to my daughters, I would be remiss in not revealing the full conversation, which is also why Mommy, who's a woman, did not support the first female presidential candidate for a major party," Conway told Time.
"I would tell them that I respect very much that Secretary Clinton was running for president, and it showed that in this country, anybody can do anything if they set their mind to it. At the same time, I tried to explain to them that you could be excited for someone with whom you disagree, and share in that moment in history as a proud American," she added.
The president's former campaign manager, who was the first women to run a successful presidential campaign, also spoke to Time about her own experiences as a woman in the field of politics, explaining that when she began working for the Republican Party, she was often the only woman in the room.
As a female pollster, Conway said she would "walk into the RNC and I'd walk into other Republican political situations, which I have described as walking into the men's locker room at the Elks Club holding a bachelor party," explaining there were few female pollsters or politicians when she started out.
"My comfort level came in learning how to think like a man and to behave like a lady," Conway added.
Conway has previously defended disparaging comments Trump has made, and rejected criticism of the president as sexist, stating after the president famously hit out at MSNBC's Mika Brzezinski: "I go by what people do, not what people say about them. This [Trump] is a man who is doing what he can do on behalf of America's women."