Kellyanne Conway Attacks Alexandria Ocasio-Cortez's 'Medicare For All' Proposal, Calls Plan 'Anti-Senior' and 'Anti-Choice'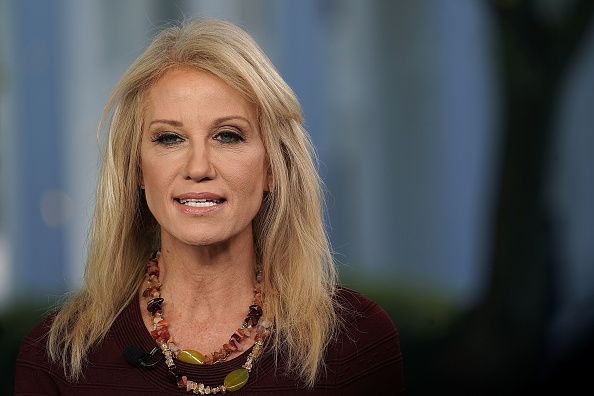 White House counselor Kellyanne Conway slammed Democratic congressional candidate Alexandria Ocasio-Cortez over her calls for "Medicare for all," telling senior citizens not to be "fooled" by the health care plan.
"Seniors don't be fooled, it is anti-senior, anti-choice," Conway said during an appearance on Fox and Friends on Wednesday morning.
"You'll lose your doctor, it'll destroy Medicare Advantage, and I know Alexandria Ocasio-Cortez couldn't say what it would cost so let me help her out again: About $32 trillion is the estimate of its price tag," she added.
"It's a horrible thing, I think post-Obamacare with 20 million Americans still lacking health care this is something that could actually hurt seniors and they should know it," Conway emphasized. "The president wrote a great op-ed about it today."
The op-ed penned by the president was published by USA Today early Wednesday morning. In the piece, Trump slammed the Democratic pitch for "Medicare for all," arguing that it will ruin a senior citizen's "life of hard work and sacrifice."
"In practice, the Democratic Party's so-called Medicare for All would really be Medicare for None. Under the Democrats' plan, today's Medicare would be forced to die," the president wrote.
Ocasio-Cortez, a political newcomer who stunned Democrats and Republicans when she defeated 10-term incumbent Joe Crowley this past June, has been campaigning heavily on the concept of a government-run health insurance system for all Americans.
In August, Ocasio-Cortez made headlines when she asked why the United States is willing to fund "unlimited war" but not "Medicare for all."
Basic health care for everyone "is not a pipe dream. Every other developed nation does this―why can't America?" the 28-year-old also said during an appearance on CNN's Cuomo Prime Time.
Other Democrats have also been jumping on board with "Medicare for all" before the upcoming midterm election cycle. This summer, over 60 House Democrats launched a Medicare for All Congressional Caucus.
A Reuters poll conducted last month indicated that 70 percent of Americans support "Medicare for all." That includes 85 percent of Democrats surveyed as well as 52 percent of Republicans. Only 10 percent said they opposed the idea altogether.
Fox and Friends ran a poll on their Twitter account in August to gauge the popularity of the health care idea, asking if the $32.6 trillion price tag on the plan would be offset by its proposed benefits. Over 70 percent said that the advantages would outweigh the costs.
But Trump, along with top Republicans, have continued to hit out at the single-payer health care plan. In the op-ed, Trump accused Democrats of wanting "open-borders socialism" and told his conservative followers that this is a "fight we must win."