Kellyanne Conway Suggests Alexandria Ocasio-Cortez Hurt Migrant Women in War of Words Over Detention Centers
Counselor to the President Kellyanne Conway has suggested that Democratic Representative Alexandria Ocasio-Cortez hurt migrant women in a heated back-and-forth over detention center facilities on Tuesday.
Ocasio-Cortez attacked Conway on Twitter after the adviser to President Donald Trump claimed on Fox News that she lied about conditions at migrant detention facilities and her Monday visit was merely a photo-op.
"How many migrant women has Kellyanne Conway touched? Hugged? Sat on a concrete floor with? Actually listened to? The answer is none," Ocasio-Cortez tweeted. "Her actions show she doesn't believe all human beings are worthy of basic dignity. That's why she defends & muddies the clear and indefensible."
Conway quote tweeted Ocasio-Cortez and shot back: "How many migrant women did @AOC help by voting AGAINST the $4.6 billion bipartisan humanitarian aid that is FOR THEM? (She even voted against the Democrat aid package)."
Conway concluded: "All talk, no dollars."
Conway was referring to a humanitarian aid package that the House of Representatives and Senate passed and that President Trump signed on Monday. Ocasio-Cortez was among Democrats who opposed the bill because they wanted restrictions on immigration enforcement to be included. The Senate bill passed 84-8 last week and House Speaker Nancy Pelosi was forced to bring it to a vote, facing pressure from moderate Democrats and Republicans who wanted to pass the legislation before the July 4 holiday.
Ocasio-Cortez said "hell no" to the Senate bill.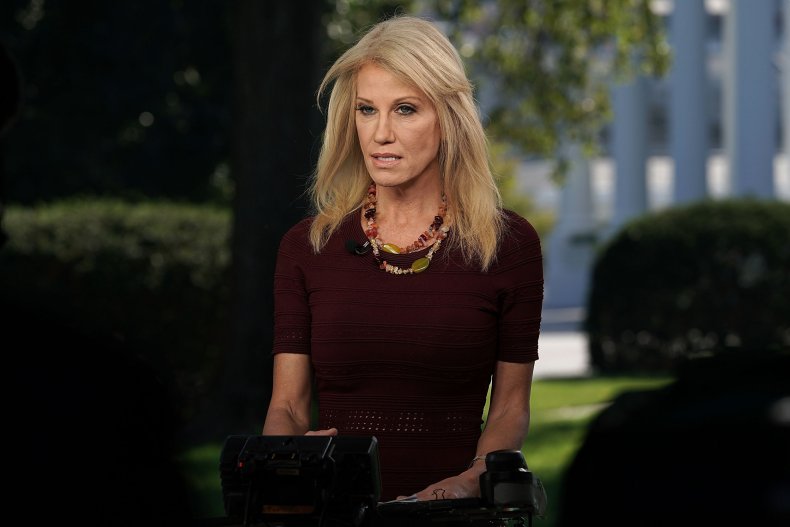 On Fox & Friends Tuesday morning, Conway defended Trump against charges he met with North Korean leader Kim Jong Un over the weekend simply for a photo op by accusing Ocasio-Cortez of having one at a Border Patrol facility in Clint, Texas, on Monday.
"I saw one yesterday. And it's called Alexandria Ocasio-Cortez going down to one of these facilities and making this outrageous claim that a woman's drinking from a toilet, which everybody who has control over that facility, or control for the Border Patrol has said that's not true," Conway said. "They've not heard of this."
Conway added that Ocasio-Cortez rolled up her car window when a reporter tried to ask her about the claims she made that Border Patrol agents are keeping women in cells without water and told them to drink out of toilets.
"Don't let the air condition[ing] out," Conway said.
Democratic Representative Judy Chu visited the same facility and said a Border Patrol agent told a woman to drink out of the toilet if she wanted water, supporting Ocasio-Cortez's claim.
Fox News hosts did not challenge Conway and aired the chryon: "AOC Makes Explosive Claims About Border Agents."
The Department of Homeland Security's Office of Inspector General filed a report on Tuesday that warned of "dangerous overcrowding and prolonged detention of children and adults" in Rip Grande Valley migrant detention facilities and found that children had no access to showers and had to sleep on concrete floors.