Kellyanne Conway Asks, 'Why Is Everybody So Obsessed' With the Leader of the Free World?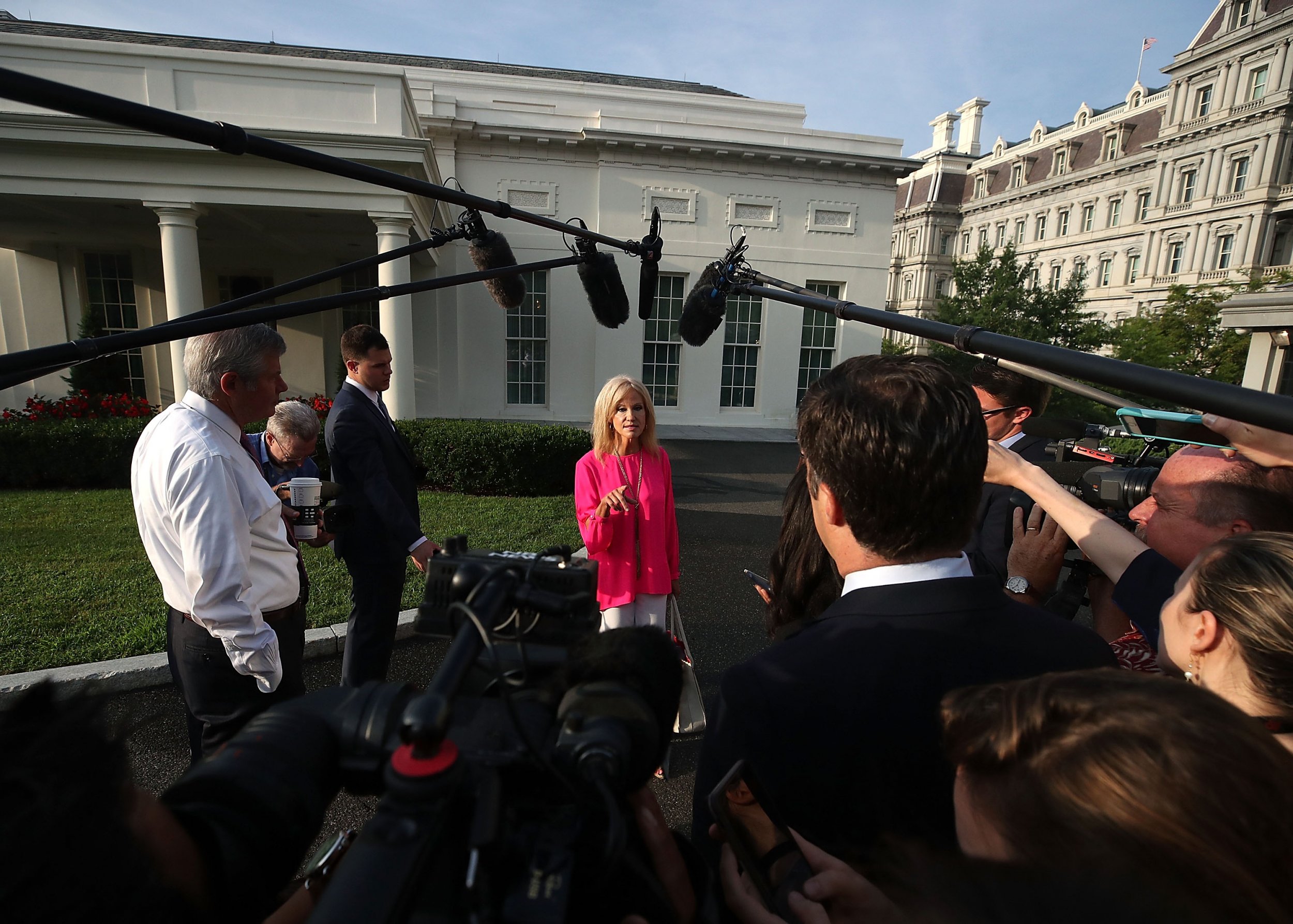 Counselor to the President Kellyanne Conway had a message for reporters who barraged her with questions Friday morning outside the White House.
"Why is everybody so obsessed with the president of the United States," Conway said, "That they can't even begin or finish a sentence without mentioning his name five times."
"It's kind of weird," Conway said in the video captured by CSPAN.
Conway's remark was unusual, given President Donald Trump is leading the country and his decisions affect the whole nation.
"It's infecting people on the news now who fancy themselves security experts," Conway continued, and said that former CIA Director John Brennan, who had his security clearance revoked by Trump earlier this week, failed to fulfill his duty because he didn't flag Russian efforts to meddle in the 2016 presidential election earlier.
Reporters asked Conway to comment on Trump's military parade, which he announced that he had canceled on Twitter that morning, blaming local politicians that "wanted a number so ridiculously high" price-wise.
When one reporter cited the veterans' organization American Legion suggesting that the money instead go toward the Veterans Affairs Department, Conway said, "Well, that's your perspective," and added that veterans are "happy, mostly" and that Trump wants to give veterans health care options outside of the Veterans Affairs Department.
When a reporter told Conway that veterans have asked for more efforts from the White House, she responded, "That's their opinion, and it sounds like you share it, since you're in the business of opinion, not news, most days."
Conway has talked back to journalists before. After a CNN reporter was banned from covering an event at the Rose Garden last month, Conway said members of the media needed to show "a little bit more respect" and stop shouting out questions to Trump outside of press conferences.
"I think that the question isn't, Are the press allowed to ask questions?" Conway said. "This president obviously isn't afraid of questions. We answer them routinely."
Conway has outlasted many White House officials and been one of Trump's staunchest supporters, despite her husband George Conway's persistent subtweets criticizing the president.
"I feel there's a part of him that thinks I chose Donald Trump over him," Kellyanne Conway said of her husband to The Washington Post.