White House counselor Kellyanne Conway said Monday that the woman who accused Supreme Court nominee Brett Kavanaugh of sexual assault "should not be ignored." Conway was speaking a day after Christine Blasey Ford put her name to allegations that were initially anonymously relayed in a letter to Dianne Feinstein, the ranking Democrat on the Senate Judiciary Committee.
The development has thrown the vote on Kavanaugh by the judiciary committee, scheduled for Thursday, into doubt, with many insisting that Ford be able to testify about her allegations before the process goes any further. Conway said she shared that stance.
"This woman should not be insulted, and she should not be ignored," Conway told Fox News' Fox & Friends Monday morning. "I think the Senate is headed to a reasonable approach in that it seems to me, in speaking to a few senators, including Senator Lindsey Graham, that allowing this woman to be heard in sworn testimony, allowing Judge Kavanaugh to be heard in sworn testimony, about these specific allegations, that would be added to the very considerable mountains of evidence and considerations that folks will have when they weigh whether or not to vote for Judge Kavanaugh on the Supreme Court."
Conway suggested that President Donald Trump, who has yet to speak publicly about the allegations, thought similarly.
"I've spoken to the president, I've spoken to Senator Graham and others; this woman will be heard."
But, she continued, any testimony from Ford should not be judged in isolation.
"That has to be weighed against what we already know, which is Judge Kavanaugh is a man of character and integrity," said Conway.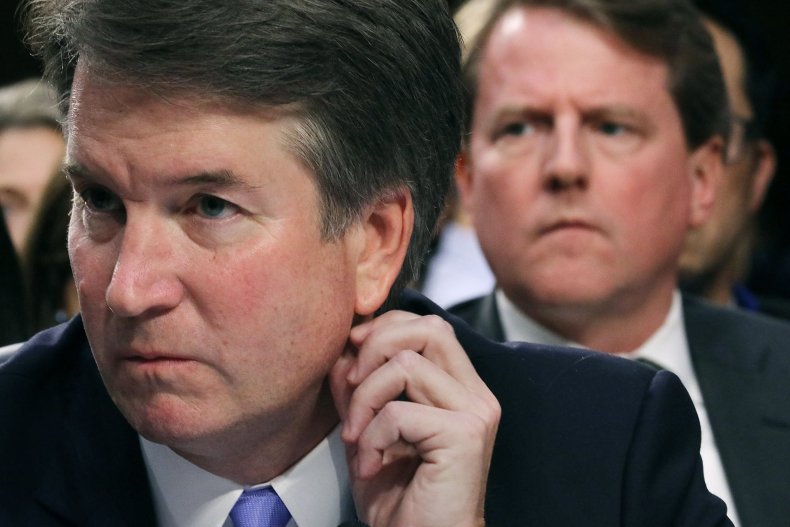 The White House also issued a statement Monday.
"On Friday, Judge Kavanaugh 'categorically and unequivocally' denied this allegation," White House spokeswoman Kerri Kupec said. "This has not changed. Judge Kavanaugh and the White House both stand by that statement."
A lawyer for Ford said Monday that Ford was willing to testify before the Senate Judiciary Committee.
"She is. She's willing to do whatever it takes to get her story forth," Debra Katz said on NBC's Today show.
Ford's allegations center on a teenagers' party in the 1980s, when she said a "stumbling, drunk" Kavanaugh attempted to force himself on her in a bedroom, trying to remove her clothes and covering her mouth when she attempted to scream.
"I thought he might inadvertently kill me," Ford said.
Ford's lawyer insisted that she was not taking a stance on whether Kavanaugh's nomination to the highest court in the land should move forward.
"She's not taking a position on that," Katz said. "She believes that these allegations obviously bear on his character and his fitness, and the denials, of course, bear on his character and fitness."
Katz continued, "This is not a politically motivated action. In fact, she was quite reluctant to come forward."