Kellyanne Conway Broke the Law Attacking Joe Biden in White House Driveway and Should Be Fired: Bush Ethics Chief
A chief ethics lawyer under President George W. Bush accused Counselor to the President Kellyanne Conway of breaking federal law yet again for bashing former Vice President and 2020 Democratic presidential candidate Joe Biden on the White House driveway the past two days.
Conway, while speaking to reporters on Tuesday and Wednesday, talked down Biden. Former ethics chief Richard Painter flagged these actions as violations of the Hatch Act, which prohibits government employees other than elected officials from using their official positions to influence the result of an election.
"Oh we must be worried about Biden," Conway said on Wednesday. "Look at what Kellyanne said today, so thanks for the free commercial on all the things Joe Biden didn't get done for the eight years he was vice president."
Painter told Newsweek on Thursday that Conway is "obviously attacking Joe Biden," and, "this is a slam dunk Hatch Act violation."
"She did it before, she got away with it when she trashed Doug Jones, and goes to the exact same spot trashing Joe Biden," Painter said, referring to late 2017 when Conway slammed then-Senate candidate Democrat Doug Jones in front of the White House.
In March 2018, the Office of Special Counsel concluded that Conway indeed violated the Hatch Act speaking against Jones twice in her official capacity and recommended that recommended that the president take disciplinary action. But Conway has since remained at her post and received praise from President Donald Trump.
"The presumptive punishment is firing. They should have fired her the first time," Painter said. "If President Trump will not remove White House officials who are clearly violating the law, he's not doing his job and this would be yet another grounds for Congress considering impeaching and removing the president."
Painter, a University of Minnesota law professor, presumes that Conway went after Biden because he appears to be the biggest, if not one of the biggest, threats to Trump's reelection.
"Look at the polls. In terms of going against Trump, I think he's one of the strongest and maybe the strongest," Painter said of Biden. "He appeals to a lot of those Trump voters who are not core Republican—Ohio, Pennsylvania, Michigan, Wisconsin, he appeals to that crowd."
Conway's allegedly illegal remarks against Biden were first raised by MSNBC's The Last Word anchor Lawrence O'Donnell on Wednesday. O'Donnell aired a clip of Conway saying on Tuesday, "by the way while I'm on the subject of Biden."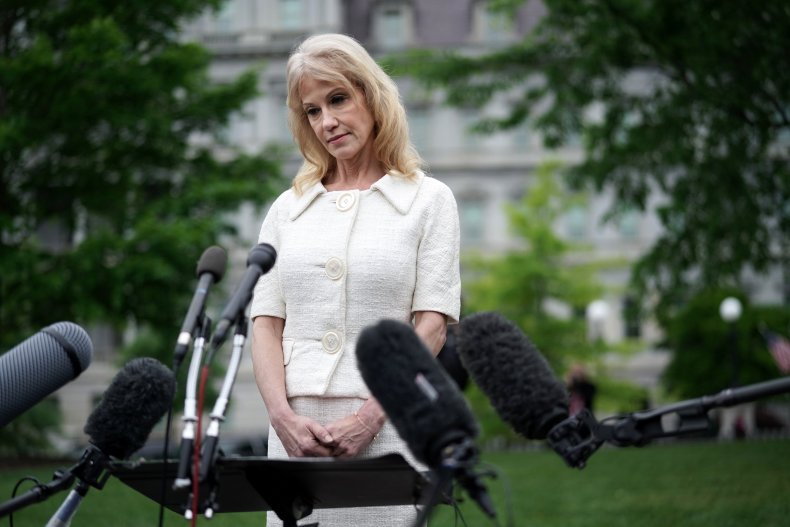 The counselor to the president on Wednesday said: "I do find it fascinating that the former Vice President Joe Biden said that he asked President Obama not to endorse him, do not endorse me. But we know he's open to endorsement because he got it from the management of the firefighters."
"Will be fascinating to watch the other candidates who are tied within a margin of error in most polls," Conway continued. "I can talk about them too, if you'd like, no problem."
"Yes problem, very serious problem," O'Donnell said. "It is the problem of breaking the law."
The White House did not immediately respond to a request for comment from Newsweek on Thursday.