During a spat with CNN's chief White House correspondent Jim Acosta on Tuesday, Counselor to the President Kellyanne Conway called Acosta a "smartass" and claimed that many members of the media do not like him.
The exchange happened on the North Lawn driveway, when Acosta asked Conway ahead of President Donald Trump's prime time television address, "Can you promise that the president will tell the truth tonight? Will he tell the truth?"
"Yes, Jim. And will you promise that you will?" Conway replied with sarcasm. "The whole truth and nothing but the truth, so help you God?"
"I will, absolutely," Acosta responded, then took a shot at Conway. "I'm not the one with the alternative-facts problem like you."
Conway, in a January 2017 interview with NBC's Meet the Press host Chuck Todd, defended then-White House Press Secretary Sean Spicer's false statement that President Donald Trump's swearing-in ceremony drew the "largest audience to ever witness an inauguration." Conway did so by saying Spicer "gave alternative facts."
"Think about what you just said to your viewers," Conway told Todd. "That's why we feel compelled to go out and clear the air and put alternative facts out there."
Acosta also asked Conway if the speech Trump would give Tuesday night could clear a fact check.
Conway snapped back at Acosta that she is "one of the only people around here who even gives you the time of day."
"Let me go back in your case because you're such a smartass most of the time and I know you want this to go viral," Conway said. " A lot of these people don't like you. But let me just be respectful to the media at large as I always am."
Conway continued by insisting that she had explained the alternative information and additional facts points "many times."
"Don't you put it back in my face for all the corrections that your network has issued," she told Acosta. "I was on your network 25 or 26 times in 2018. I'm one of the last people here who even bothered to go on."
Conway concluded that Acosta had showed her personal disrespect, and moved on to other reporters' questions.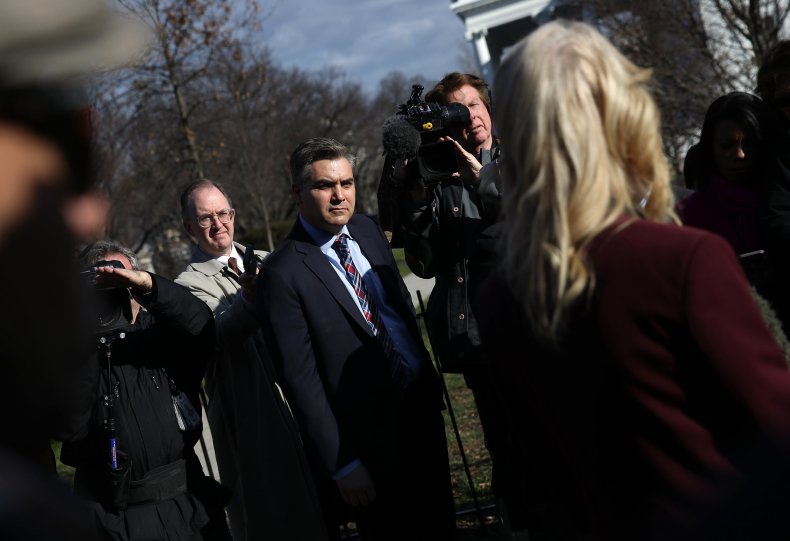 Acosta and the White House have had a rocky relationship recently. In November, the White House pulled Acosta's press credentials after President Donald Trump attempted to cut him off from continuing to ask questions. CNN filed a lawsuit against the White House and Acosta got his credentials back.