Kellyanne Conway Hits Back at CNN, Tells Everyone to Get Used to Trump Being President for Another 6 Years
After a heated argument on air with CNN's Cuomo Prime Time anchor Chris Cuomo Tuesday night, Counselor to the President Kellyanne Conway concluded that people should get used to Donald Trump being president for another six years, and said, "Next."
Cuomo asked Conway to comment on a New York Times report of a possible attempt by Trump to interfere with probes on his former lawyer Michael Cohen by pressuring former Acting Attorney General Matthew Whitaker to put an ally in charge of the investigation.
"The idea of the possibility according to [fired FBI Deputy Director] Andrew McCabe that this president is compromised and maybe even an asset of Russia. Your response?" Cuomo asked Conway.
"It's hardly worth dignifying with a response," Conway replied. "He's a known liar and leaker, and he has said to your colleague Anderson Cooper and earlier today on a different network, gee I guess it's possible but I can't say that as a fact. Then why the heck are we talking about it?"
The two then got into a debate about credibility, with Conway saying that McCabe was proven to lie under oath, while Cuomo said fired FBI Director James Comey was investigating Hillary Clinton's campaign, not Trump's.
"Do you believe this president has more credibility that Andrew McCabe?" Cuomo asked.
"Yes of course, it's not even close," Conway said. "And let me tell you something else, Andrew McCabe tried to overthrow a democratically elected president, he and his friends at the FBI at the top echelon, and they got caught."
When Cuomo brought up that Trump fired Comey—a sensitive point because Russia probe special counsel Robert Mueller is reportedly looking into whether Trump committed obstruction of justice with the firing—Conway appeared triggered.
"Folks, Donald Trump is the president. It's been going on a couple of years now and get used to it. It's going to last another six," she said. "Next."
First lady Melania Trump's spokeswoman Stephanie Grisham came to Conway's rescue on Twitter early Wednesday.
"Watching @KellyannePolls be unnecessarily interrogated by @ChrisCuomo isn't how journalism is supposed to work," Grisham tweeted. "So clearly biased against this administration. Great job CNN."
Cuomo shot back that he was just doing his job.
"It is exactly how journalism works ... that's why your administration chooses the comfort of Fox," Cuomo tweeted Wednesday morning. "The answer to every criticism is not 'fake news' and if you are going to assail the credibility of someone you must prepare to defend your own."
Appearing on Fox News in December, Conway complained that she got "shut down" while speaking on a competing television network that she said "doesn't do as well as your network." Conway was likely referring to a nearly 40-minute interview she had just had with Cuomo in which the host suggested she had been lying.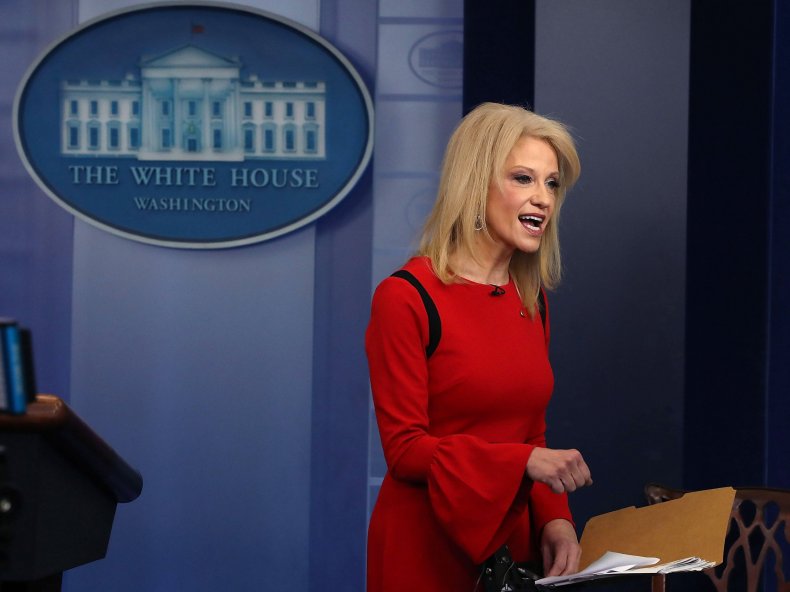 Kellyanne Conway Hits Back at CNN, Tells Everyone to Get Used to Trump Being President for Another 6 Years | U.S.