Kellyanne Conway Compares Impeachment Testimony to 'Cheerleaders' Finding Out Who Will 'Be Asked to the Prom by the Quarterback'
Kellyanne Conway attempted to discredit the diplomatic and national security officials who have testified to congressional investigators leading the impeachment inquiry against President Donald Trump by claiming that their sworn statements are like high school "cheerleaders" gossiping about who will be "asked to the prom by the quarterback."
Conway, a senior counselor to the president, argued in an interview with Fox News that the testimony thus far has just been officials saying "I assumed, I interpreted, it's conjecture, I heard it from somebody who heard it from somebody who heard it from somebody, and here's my interpretation."
She said, "That is not how we impeach and remove presidents who are democratically elected."
Conway went on: "That's how the cheerleaders find out which one of them is gonna be asked to the prom by the quarterback. He said, she said, he said, he thinks, I interpreted—CIA does not stand for conjecture, interpretation and assumptions."
Despite Conway's claims, some of the witnesses that have testified before congressional investigators were on the July 25 call between Trump and Ukraine's President Volodymyr Zelenskiy. That conversation is at the center of the impeachment inquiry because Trump asked Zelenskiy for "a favor"—investigations into unsubstantiated claims against Democratic presidential candidate Joe Biden and his son Hunter, and a probe into a debunked conspiracy theory that Democrats worked with Ukrainians to interfere in the 2016 election.
High-level diplomats, including prominent Trump donor Gordon Sondland, who serves as the U.S. ambassador to the European Union, have corroborated key details about the president's effort to pressure Ukraine to probe his domestic political rivals. Sondland and other diplomats who have testified, including acting Ambassador to Ukraine Bill Taylor, were intimately involved in communicating the president's desire for the investigations. They have also confirmed that the president temporarily withheld nearly $400 million in military aid to the Ukrainian nation as a "quid pro quo" to increase the pressure for launching the investigations.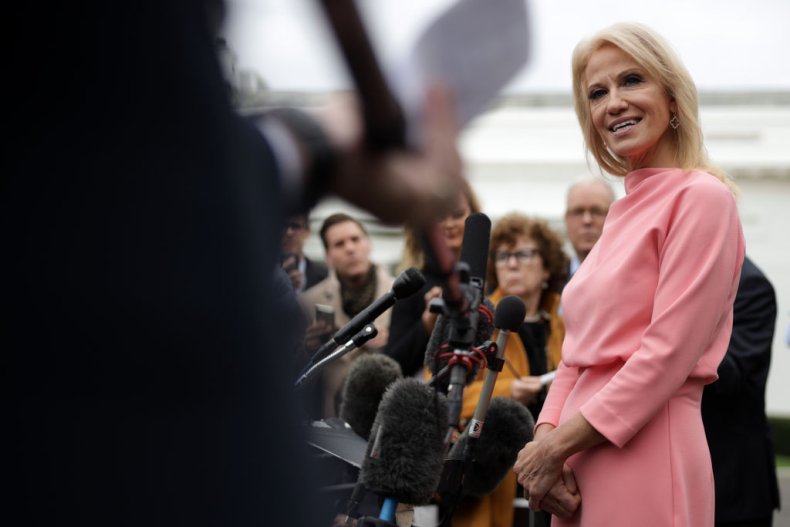 Trump has attempted to discredit the witnesses as "never Trumpers" who support Democratic efforts to remove him. However, that accusation appears highly unsubstantiated since the president himself appointed many of them. And Sondland, a key witness, contributed $1 million to the president's inaugural committee.
"Why is such a focus put on 2nd and 3rd hand witnesses, many of whom are Never Trumpers, or whose lawyers are Never Trumpers, when all you have to do is read the phone call (transcript) with the Ukrainian President and see first hand?" the president tweeted on Tuesday morning, in a defense similar to Conway's on Fox News.