Kellyanne Conway Complains to Fox News About Getting 'Shut Down' on CNN
Counselor to the President Kellyanne Conway complained on Fox News Saturday night that she got "shut down" on a competing television network that "doesn't do as well as your network."
Conway made the remark after Fox News host Jesse Watters said that soon-to-be House Speaker Nancy Pelosi actually scolded the media, a Trump-like thing to do.
"I wish that the press would spend a lot more time on what we need to do here to meet the needs of the American people instead of morning, noon and night allegations against the president," Pelosi said in a clip aired by Fox News. "I think you'd have more viewers and readers if you address concerns that people have rather than just this ongoing, ongoing coverage of what's current with the president from one day to another."
"That is remarkable," Conway commented.
Watters asked: "Is Nancy stealing your job, Kellyanne? She sounds exactly like a Republican."
Conway replied, "She does indeed."
"She sounds like me who's always talking about not biased coverage because that's easy to see where you want to see it but incomplete coverage," Conway said. "We are not having policy discussions."
Conway continued to make her point about the competing network.
"I tried to have some this week on a competitor network—it doesn't do as well as your network," Conway said, and winked, "because I like to get the president's message out to different audiences. And you just get shut down and constantly interrupted when I try to talk about policies, deflecting, diverting, pivoting.
"No," Conway concluded. "I actually want people to have news they can use."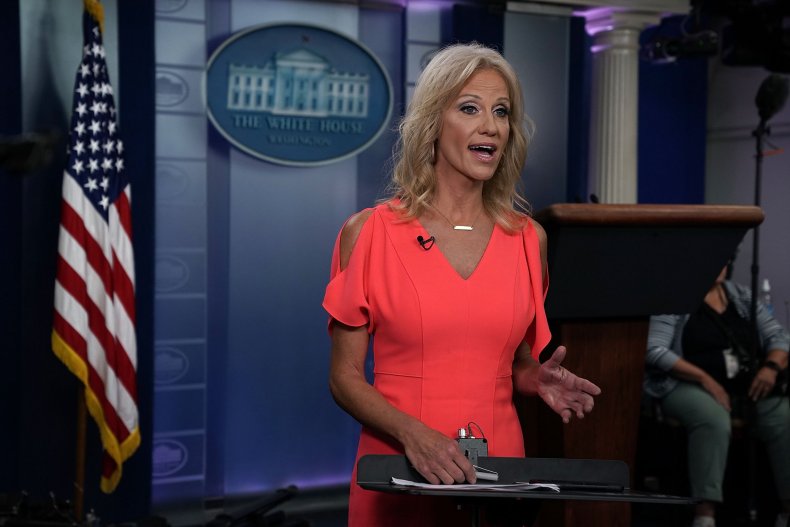 Conway then provided examples of the policy issues she wanted to get across.
"Let's make sure that veterans know what's available to them, let's make sure workforce development measures and all the opportunities people have to get one of those 7 million Trump-created jobs, so they know about that," she said.
Conway was likely referring to CNN when she mentioned the competitor network, and a heated 39-minute interview she had with host Chris Cuomo on Wednesday.
"Are you going to call me a liar? Go ahead, you're going to call me a liar?" Conway asked Cuomo.
"If I have to, I will. If I have to, I will," Cuomo replied.
"Oh, really, I dare you to do it. What is it I lied about?" Conway said.
"I'm not saying that you're lying," Cuomo said.