Kellyanne Conway Points to 'Treasure Trove' of 'Creepy Uncle Joe Videos,' Says Biden 'Has a Big Problem'
Kellyanne Conway called out former Vice President Joe Biden for what she alleged is a slew of "creepy uncle Joe videos" that can easily be found online, arguing that the 2020 presidential hopeful "has a big problem."
Appearing on Fox News Sunday with host Chris Wallace, Conway, who serves as a counsellor to President Donald Trump, discussed allegations made against Biden by former Democratic member of the Nevada Assembly Lucy Flores in an article for New York magazine on Friday. Flores explained how at a 2014 campaign event, the then-vice president smelled her hair and kissed her head without permission.
"First of all, this woman Lucy is very bold to come forward," Conway told Wallace, "and I would remind the audience that she shares Joe Biden's political party. He was there to help the Democratic party of Nevada and her candidacy."
The Trump aide then pointed to a long history of allegations against Biden acting uncomfortably and inappropriately toward various women.
"If anybody just types in 'Creepy Uncle Joe Videos' you come up with a treasure trove," said Conway, arguing there was much more evidence against him than there was against Supreme Court Justice Brett Kavanaugh, who during his confirmation process faced multiple claims of inappropriate behavior toward females. However, Kavanaugh was accused of sexual assault, whereas the reported allegations against Biden have never reached that level.
"I think Joe Biden has a big problem here because he calls it affection and handshakes, his party calls it completely inappropriate," Conway argued.
Despite Conway's criticism of Biden, she has consistently stood by Trump, and publicly spoken up for the president against numerous allegations of sexual assault and misconduct from multiple women. She also publicly defended Kavanaugh, who was accused of drunkenly sexually assaulting Christine Blasey Ford when he was 17 years old during a high school party.
In her article, Flores wrote: "I felt him [Biden] get closer to me from behind. He leaned further in and inhaled my hair. I was mortified. I thought to myself, 'I didn't wash my hair today and the vice-president of the United States is smelling it. And also, what in the actual fuck? Why is the vice-president of the United States smelling my hair?' He proceeded to plant a big slow kiss on the back of my head. My brain couldn't process what was happening. I was embarrassed. I was shocked. I was confused. There is a Spanish saying, 'tragame tierra,' it means, 'earth, swallow me whole.' I couldn't move and I couldn't say anything. I wanted nothing more than to get Biden away from me."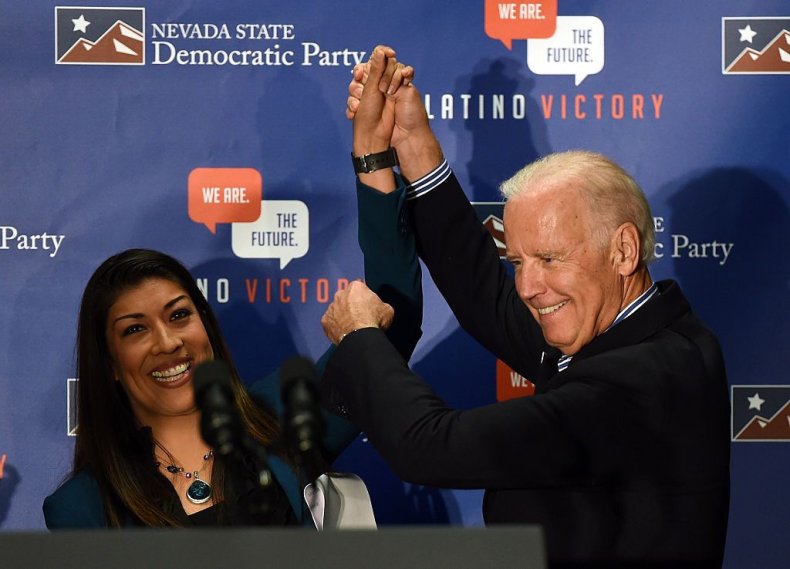 Flores explained that it forever changed her perspective of the vice president, voicing her solidarity with other women who have had similar experiences with Biden. On Sunday morning, Biden issued an official response to Flores's criticism.
"In many years on the campaign trail and in public life, I have offered countless handshakes, hugs, expressions of affection, support and comfort," his statement read. "And not once – never – did I believe I acted inappropriately. If it is suggested that I did so I will listen respectfully. But it was never my intention."
"I may not recall these moments the same way, and I may be surprised at what I hear. But we have arrived at an important time when women feel that they can and should relate their experiences, and men should pay attention, and I will," his statement continued.
Biden, who served under President Barack Obama, is reportedly seriously weighing a presidential run against Trump in 2020. An average of national polls by Real Clear Politics shows him as the clear frontrunner thus far, with 29.2 percent among the crowded pack of Democratic hopefuls, despite him not having officially announced his intentions to run.
However, many have criticized the former vice president for his conduct toward women over the years. As Conway pointed, there are numerous photos and videos of him acting in a way that appears to make the women he is interacting with highly uncomfortable.
Many have also harshly criticized his handling of law professor Anita Hill, who appeared before the Senate Judiciary Committee in 1991 to testify about her claims of sexual harassment by then-Supreme Court nominee Clarence Thomas. Biden was chair of the committee at the time, and led the confirmation hearings, which ultimately resulted in Thomas being appointed to a lifetime seat on the nation's highest court, while Hill's claims were discounted, mocked, or minimized by many lawmakers.
"We knew a lot less about the extent of harassment back then, over 30 years ago. She paid a terrible price, she was abused for the hearing. She was taken advantage of. Her reputation was attacked," Biden said in defense of himself last week. "I wish I could have done something," he continued. "To this day I regret I couldn't come up with a way to get her the kind of hearing she deserved, given the courage she showed by reaching out to us."
But many women's rights activists weren't buying it. "Joe Biden was the ringleader of the hostile and sexist hearing that put Anita Hill, not Clarance[sic] Thomas, on trial," Shaunna Thomas, UltraViolet's co-founder and executive director, tweeted. "In doing so, Biden caused tremendous harm to all survivors, he set back the movement, and he helped put Clarence Thomas on the Supreme Court," she said.