Kellyanne Conway Says 'Shame' on Elizabeth Warren for Fundraising Off Dayton Shooting
Counselor to the President Kellyanne Conway on Fox News Tuesday morning went after Democratic presidential candidate Elizabeth Warren, saying she wanted to "name and shame" her for citing the massacre in a fundraising email for Democratic Senate candidates Doug Jones and Tina Smith.
On Fox & Friends two days after a gunman killed 9 people in Ohio, Conway said, "I'm hopping mad this morning because I see very little, scant coverage of the fact that this Dayton shooter has been confirmed as having a Twitter feed that was supportive of Antifa, that was supportive of Elizabeth Warren, [Democratic candidate] Bernie Sanders."
The counselor pointed out that Warren on Monday sent an "email appeal talking about the mass shooting" to raise money for Jones, Smith and future Democrats running for Senate seats in 2020.
"This is a disgrace and if nobody else is going to talk about, I'm going to talk about it," Conway said. "The president did not respond in kind. They politicized it over the weekend, they all blamed him and I want to name and shame them now because he did not respond in kind."
Conway continued that "this has to stop" and "everybody needs to stop preening in front of the cameras."
"Stop raising money—Elizabeth Warren, I'm talking to you, for Senate candidates off of this," Conway said. "And stand up and work with us, to stop that."
After appearing television interview, Conway shared a Washington Free Beacon story on Warren's fundraising push for Democrats due to the Republican-led Senate has not passed legislation extending background checks and wait times for gun purchases.
Conway also tweeted a CNN story stating that Dayton shooter Connor Betts appeared to have a leftist Twitter feed.
When Daily Beast editor and MSNBC contributor Sam Stein quote tweeted Conway and commented, "And there it is," Conway shot back by tweeting, "Me sharing @CNN story without comment bothers you, @samstein?" Conway then quoted parts of the CNN story including,"He also retweeted messages supporting Sens. Bernie Sanders & Elizabeth Warren."
"Not bothered. confused. It suggests that you believe his motive was political. Do you?" Stein replied. "If so, what information do you have to support that. And while I have you. I can't seem to find the instance of you sharing a story about the El Paso gunman's motivations. Can you explain why?"
Conway tweeted back: "Nope. Don't know his motive. Nor do you. Again, just posting an article by another frequent Trump-critical outlet that seems to bother you. Applaud that El Paso murderer is being treated as domestic terrorist eligible for death penalty."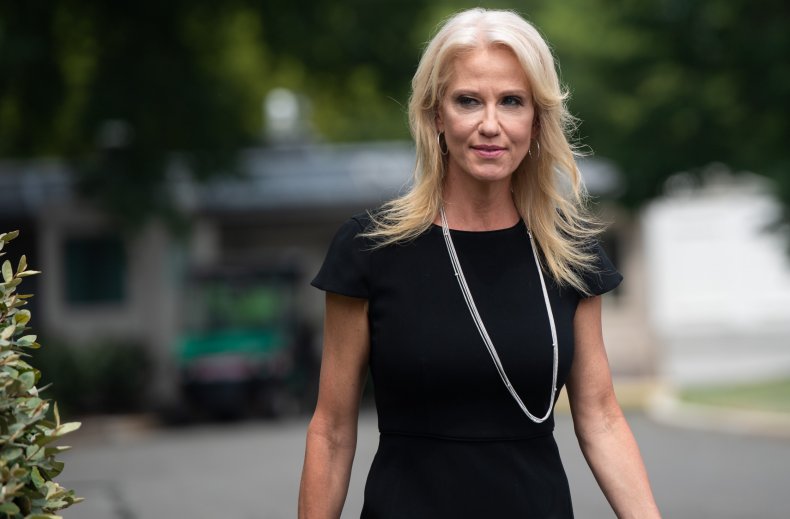 Democrats have blamed President Donald Trump for anti-immigrant rhetoric similar to that in a manifesto believed to be by a shooter who killed 22 people in El Paso the day before the Dayton massacre.
Trump on Monday condemned the El Paso shooter but said that "mental illness and hatred" were to blame instead of the firearm.