Kellyanne Conway Reveals Alleged Restaurant Assault by 'Unhinged' Woman': 'Her Whole Face Was Terror and Anger'
For the first time, White House counselor to the president Kellyanne Conway detailed how she was grabbed and yelled at in a restaurant last year, telling CNN that she was assaultedby a woman she described as "unhinged."
"Somebody was grabbing me from behind, grabbing my arms, and was shaking me to the point where I felt maybe somebody was hugging me," Conway said in the interview aired on Friday. She explained that the incident took place when she was at a Mexican restaurant in Maryland last October, and that she was with her daughter and some of her daughter's friends.
"She was out of control. I don't even know how to explain her to you," Conway said as she described the woman who grabbed her. "She was just, her whole face was terror and anger. She was right here, and my daughter was right there."
The woman also reportedly yelled "shame on you" at the White House counselor. The police were called to the restaurant, but the woman left before their arrival. The alleged assault took place after the highly controversial appointment of Supreme Court Justice Brett Kavanaugh, who was accused by several women of sexual assault and misconduct.
CNN identified the woman as Mary Elizabeth Inabinett, who was charged with second-degree assault and disorderly conduct. Inabinett's lawyer said in a statement to the network that his client plans to plead not guilty to the charges and will prove in court that Conway's testimony is false.
Conway is not the first member of the Trump administration to be targeted in public or at a restaurant.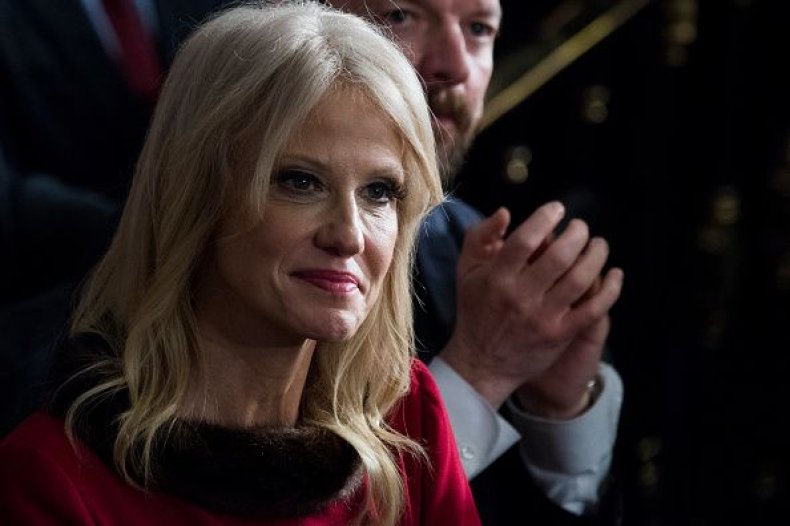 White House press secretary Sarah Huckabee Sanders was forced to leave the Red Hen in Virginia in June 2018. The owner of the restaurant defended its decision to ask her to leave, telling The Washington Post that Sanders was the spokesperson for the "inhumane and unethical" decisions of the Trump administration.
Sanders said the incident revealed more about the owner of the restaurant than it did about her, adding that she always did her best "to treat people, including those I disagree with, respectfully and will continue to do so."
President Trump jumped to Sanders's defense, tweeting that the restaurant "should focus more on cleaning its filthy canopies, doors and windows (badly needs a paint job) rather than refusing to serve a fine person like Sarah Huckabee Sanders. I always had a rule, if a restaurant is dirty on the outside, it is dirty on the inside!"
Homeland Security Secretary Kirstjen Nielsen was also driven from a Mexican restaurant in Washington, D.C., in June 2018 as activists crowded her table and called on her to abolish ICE. The incident happened during the height of the White House's "zero tolerance" immigration policy that resulted in family separations at the southern border.
White House adviser Stephen Miller, a champion of the administration's immigration policies, was also heckled and called a "fascist" at a Mexican restaurant in the D.C. area during the summer of 2018.
Conway told CNN that she told Trump about the incident "long after" it took place, and he asked if she and her daughters were OK.
"The idea that we should be treated differently because of anything, of anything, because of where we work or what we believe or what we're trying to do on behalf of this great nation, that's complete nonsense," Conway said.