Kellyanne Conway Defended Trump Against Accusers, But Now Takes Credit For 'Me Too' Moment In Congress
Congress is finally reckoning with its long history of sexual misconduct—and Kellyanne Conway wants some of the credit.
In a Thursday morning segment on Fox news, Conway said she had tried to make sexual harassment "an issue" last October, when she spoke out about people in Congress "behaving in such a way that we should take a look at fresh." Conway said no one paid attention to her because she was running Donald Trump's presidential campaign.
"I'm glad women on the left, particularly on Capitol Hill, are now coming forward and now want to have hearings and are swearing under oath and getting people to come forward," Conway said, when asked about the allegations against Alabama Senate candidate Roy Moore, a Republican. "I tried to do it 13 months ago, [but] nobody wanted to listen to me because of the campaign I was managing."
Thirteen months ago, managing Trump's campaign meant first and foremost defending the then-Republican nominee against more than a dozen sexual harassment and assault allegations, as well as working overtime to spin his "grab them by the pussy" hot mic comments.
Conway performed both of these duties with aplomb, insisting Trump had never said the word "sexual assault" in the Access Hollywood tape and that the presidential candidate had always been "gracious and [a] gentleman" to her." After the election, Conway accused someone who asked her about the allegations against Trump of using "sexual assault to try to make news."
Conway's expert deflections helped make Trump, an alleged sexual predator, president.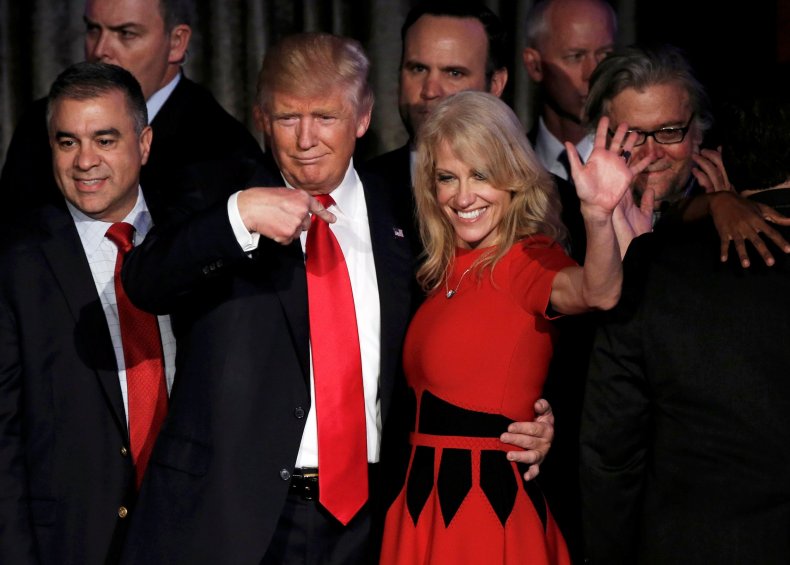 Women in Congress have been more vocal about the alleged sexual predators in their midst since a landslide of accusations against Harvey Weinstein roiled the country.
Earlier this week, the Senate unanimously passed a rule requiring all senators and staff to undergo sexual harassment prevention training, which had previously only been voluntary. House Speaker Paul Ryan announced the House would adopt a similar rule on Tuesday, the same day two more female legislators came forward with harassment allegations against unnamed current members of Congress.
Senator Al Franken (D-Minn.) became the first sitting congressman to be accused of sexual misconduct post-Weinstein on Thursday, when a woman named Leeann Tweeden went public with her account of Franken forcefully kissing her and groping her in her sleep.