Kellyanne Conway Says Donald Trump Is a 'Great Boss, Particularly to the Women of the White House'
Kellyanne Conway came to Donald Trump's defense on Tuesday, calling him a "great boss, particularly to the women of the White House."
"Those who don't want to believe that don't have to, it doesn't change the fact that he is," Conway said in an interview during The Atlantic Festival. "Why else would I be there?"
"Some people don't want to see the success," she added. "They don't want to see him as president. I don't know if we've ever had this many people refusing to accept an election result and see how they can help."
The president has come under fire recently as his Supreme Court nominee, Brett Kavanaugh, has been accused of sexual misconduct by three women. The testimony of his first accuser, Christine Blasey Ford, has led to an FBI investigation into the allegations and has delayed the Senate's confirmation vote on the judge.
Trump has only doubled down on his support for Kavanaugh in light of the allegations, though he told reporters that he found Ford to be a credible person. But at a rally in Mississippi on Tuesday evening Trump mocked her testimony, causing the audience to laugh and applaud.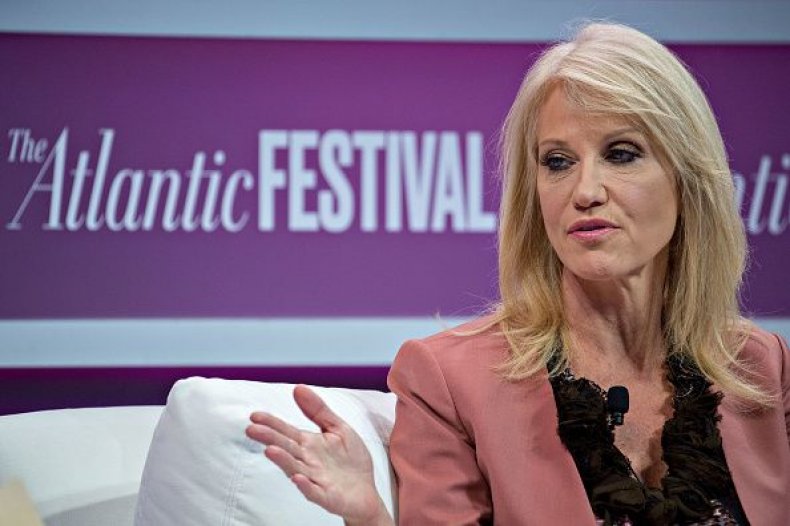 "How did you get home? 'I don't remember.' How'd you get there? 'I don't remember.' Where is the place? 'I don't remember.' How many years ago was it? 'I don't know,'" Trump said, imitating the lack of details surrounding the alleged attack Ford herself highlighted in her sworn testimony to the Senate Judiciary Committee last week.
Conway defended Trump's comments on Fox News on Wednesday, saying that he was merely highlighting the "factual inconsistencies" in Ford's account of the alleged incident.
"She still has no corroboration for her testimony, there are still no evidences and no witnesses as far as we know," she said.
"We at the White House are not micromanaging this process," Conway added. "But at the same time the president is pointing out factual inconsistencies. By Ford's own testimony there are gaps in her memory. There are facts that she cannot remember: how she got home, how she got there, where the house was, what the date was."
Trump has also made headlines for saying that it is a "scary" and difficult time for young men in America. When asked by reporters on Tuesday if he had a message for young women in the country, Trump said that "women are doing great."
After the women, including Ford, Deborah Ramirez and Julie Swetnick, went public with their allegations against Kavanaugh, Conway opened up about her own experience with sexual assault.
"'I'm a victim of sexual assault," she told CNN's Jake Tapper this past Sunday. "I feel very empathetic, frankly, for victims of sexual assault, sexual harassment and rape."
Conway discussed the comment during the Atlantic Festival, telling the audience that sharing the personal information was not premeditated or politically motivated.
"I didn't make a decision to reveal that, that just sort of happened. I think had I made a decision, I would have articulated it better," Conway said. "I don't plan to speak any further about it. I can just tell you that that was newly revealed publicly, but not new or newly revealed where it matters."