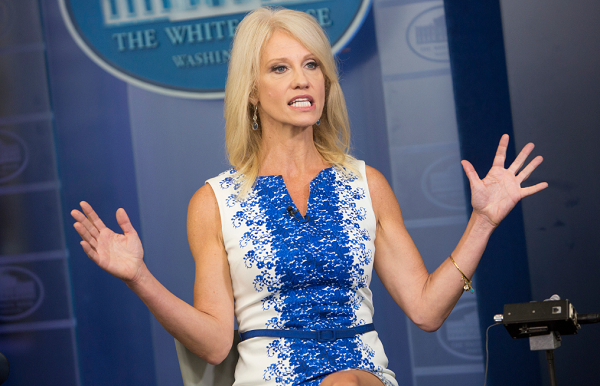 Although Kellyanne Conway rarely says anything that could depict President Donald Trump in a negative light, the White House adviser did acknowledge that the president's approval ratings were slipping among Republicans voters during a recent appearance on ABC's This Week.
A Quinnipiac University poll released last week showed the president's approval rating at just 33 percent. And while the poll still showed support among Republicans as relatively strong—some 77 percent found Trump favorable—the 17 percent of Republicans who said Trump was "unfavorable" is an 8-point increase from poll figures released in June.
Conway suggested that the dip in Republican support may have been voters' way of reminding the president to stay focused and dedicated to the promises he made during his campaign, such as strengthening the economy and carrying out tax reform.
"His approval rating among Republicans and conservatives and Trump voters is down slightly. It needs to go up. They are telling him just enact your program. Don't worry about a Congress that isn't supporting legislation to get big-ticket items done. And don't worry about all the distractions and diversions and discouragement that others, who are trying to throw logs in your path, are throwing your way," she said. "Focus on the agenda. And he's doing that."
Trump has disputed the latest round of polls that pegged him with the lowest approval ratings of any president in modern polling history. In Twitter posts on Monday, Trump argued that his base is "far bigger & stronger than ever before," and he pointed out agenda items he's been focusing on, including the "record Stock Market, border security, military strengths, jobs, supreme court pic, economic enthusiasm, deregulation & so much more."
During her TV appearance, Conway also noted the president's persistent efforts toward improving the economic sector and said a job boom is unfolding under his leadership.
"Look, nobody can deny these economic numbers. I mean, the idea that it's not getting huge coverage—it's been a great weekend for the president. You see 2.6 percent growth. It doubled the first-quarter growth. And you see the job creation, 209,000, exceeded expectations, his one millionth job created," she said.
Meanwhile, a Gallup poll released last week found only 36 percent of voters approved of Trump's job performance, and a Rasmussen Reports poll on Monday found 57 percent of voters disapproved of Trump's performance. A FiveThirtyEight poll released Monday listed Trump at just 37 percent approval among voters.