Top White House adviser Kellyanne Conway has entered the ring to sound off on the most recent clash between CNN contributor April Ryan and White House press secretary Sarah Huckabee Sanders.
"Everybody should think about the difference between trying to go viral and starting an argument, and trying to get information," Conway told Fox & Friends hosts Friday morning, referring to Ryan, the Washington, D.C., bureau chief for American Urban Radio Networks. "Your job is to get information, not confrontation," Conway said.
During Thursday's briefing, Ryan pressed Sanders on a question about Rudy Giuliani's explosive Fox News interview the day before, pointing out, "You said yourself you were blindsided."
Sanders disputed Ryan's recollection of events, maintaining that she'd never used the term "blindsided" to describe her feelings on Giuliani's conversation with the news station. Ryan conceded, "Well, I said it. But you were blindsided, from what you said."
"With all due respect, you don't know much about me in terms of what I feel and what I don't," Sanders replied. "I think we're done." She then moved on to take questions from other reporters.
"I have to pick up for my colleague Sarah Sanders there," Conway said Friday. "Folks, you don't know us. That's not anything other than a pedestrian term of 'You don't know us.'"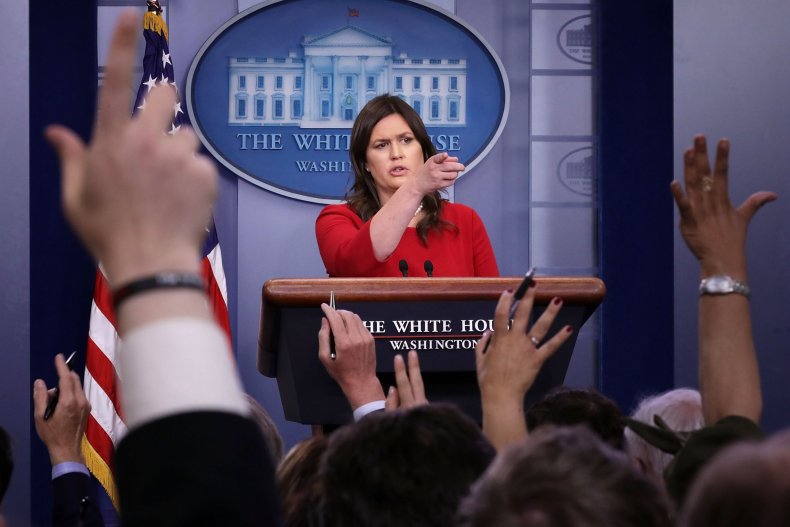 Ryan considered Sanders's comments fighting words.
"In certain sectors of this nation, people understand what 'You don't know me' means," Ryan said on CNN after the fact. "It's very street. And it leads to a fight. A physical fight."
Ryan and Sanders, have never come to blows, of course, but Ryan and the White House have a long-standing history of verbal sparring.
In August, when Sean Spicer was still the White House press secretary, Spicer interrupted Ryan when she asked a question about how Trump's administration would address the poor optics created by the Russia probe.
"I appreciate your agenda here," Spicer said, cutting her off. "April, hold on. It seems like you're hell-bent on trying to make sure whatever image you want to tell about this White House stays.... Please stop shaking your head again."
On Friday, Conway said her advice to Ryan extended to many others in the White House press corps, who can "dish it out [but] really can't take it.
"A lot of this has nothing to do with April Ryan; I'm making a more general statement here," Conway said. "Be careful if you would be very thin-skinned on the receiving end."
Ryan is one of few black journalists to cover the White House and has been heralded by Trump critics for asking tough questions.