Kellyanne Conway Asks Reporter "What's Your Ethnicity" In Response to Question About Trump's Racist Tweets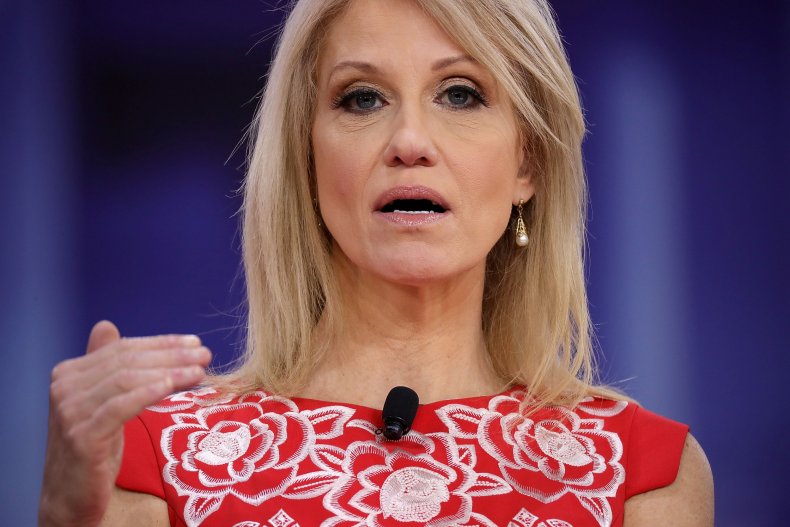 In response to a question Tuesday morning about the specific countries President Donald Trump was referring to when he told four Democratic congresswomen to "go back" to the countries "from which they came," presidential advisor Kellyanne Conway replied: "What's your ethnicity?"
Andrew Feinberg, a reporter with Breakfast Media, asked Conway about Trump's tweets that admonished Representatives Ilhan Omar, Alexandria Ocasio-Cortez, Ayanna Pressley and Rashida Tlaib for their criticisms of the White House, in which the president told the congresswomen to "go back and help fix the totally broken and crime infested places from which they came."
"If the president was not telling these four congresswomen to return to their supposed countries of origin, to which countries was he referring," Feinberg asked Conway about Trump's Sunday morning tweetstorm.
Instead of answering the question directly, Conway inquired about Feinberg's ethnicity.
"Why is that relevant," Feinberg pushed back. "My own ethnicity is not relevant to the question I'm asking."
"No, it is," Conway insisted. "Because you're asking about- he said 'originally.'"
In a statement to Newsweek, Feinberg said that he found Conway's approach "bizarre," especially because she had just finished "denying that the president's 'go back' tweet had anything to do with race or ethnicity."
Since igniting a media frenzy over his tweets, which prompted swift backlash from Democratic members of Congress and more muted disapproval from select few Republicans, Trump has doubled down on his Sunday missives, insisting as recently as Tuesday morning that he doesn't "have a Racist bone in [his] body."
"Those tweets were NOT Racist," he wrote on Twitter.
On Tuesday, the House of Representatives is expected to vote on a measure condemning Trump's racist tweets. The resolution is non-binding and is not expected to garner much, if any, Republican support.
Republican Party leaders immediately lined up behind the president, who himself insisted on Monday that allegations of racism don't concern him because "many people agree with" him.
Representative Liz Cheney, the chair of the House Republican Conference, said that the party's "opposition to our socialist colleagues has absolutely nothing to do with their gender, with their religion or with their race."
House Minority Leader Kevin McCarthy said that he didn't believe the tweets were racist, but rather about "socialism versus freedom."
Conway demurred when pressed by Feinberg about the specific countries to which Trump wanted to see the congresswomen return.
"He's tired," she replied to Feinberg, appearing enraged by the question. "A lot of us are sick and tired of this country, of America coming last."
Update: Kellyanne Conway responded to the criticism of her back-and-forth with Feinberg in a follow-up tweet, saying that her comments were meant "with no disrespect."
"We are all from somewhere else 'originally,'" she tweeted. "I asked the question to answer the question and volunteered my own ethnicity: Italian and Irish. Like many, I am proud of my ethnicity, love the USA & grateful to God to be an American."
Kellyanne Conway Asks Reporter "What's Your Ethnicity" In Response to Question About Trump's Racist Tweets | Politics