After Counselor to the President Kellyanne Conway failed to appear to testify on her Hatch Act violations before the House Oversight and Reform Committee on Monday, Democrats, watchdog and advocacy groups called for her to be fired and even put in prison.
White House Counsel Pat Cipollone, in a letter to the committee's chairman Elijah Cummings, wrote, "Ms. Conway cannot be compelled to testify before Congress with respect to matters related to her service as a senior adviser to the president" and that "the President has directed Ms. Conway not to appear at the Committee's scheduled hearing on Monday, July 15, 2019."
Accordingly, Conway did not show up to testify on the Office of Special Counsel's conclusion in June that she broke the federal law prohibiting executive branch employees from influencing the outcome of an election, and recommending that Trump remove her from serving in government.
In a statement Monday afternoon, Sean Eldridge, president of the progressive advocacy group Stand Up America, said that Conway is "unfit to serve the American people in any capacity" and that "as the U.S. Office of Special Counsel recommended, she should immediately be fired."
"By willfully defying this congressional subpoena, Conway has once again showcased her blatant disregard for the rule of law — and Congress should immediately begin proceedings to hold her in contempt," stated Eldridge, who leads the organization with more than two million members nationwide. "Kellyanne Conway has stopped at nothing to hide the truth about Trump's abuses of power and conflicts of interest from the American people."
Scott Dworkin, co-founder of The Democratic Coalition, told Newsweek that Conway "absolutely" should be fired for countless reasons, and that "Conway should be in prison, not in the White House."
Dworkin noted that Conway violated federal law, has constantly lied to defend President Donald Trump and is "an accomplice to everything" he does.
"She's one of the worst enablers of his racism, sexism and overall hate," Dworkin claimed. "She shouldn't be threatened to be held in contempt, she should be held in contempt immediately."
Dworkin added that Conway should receive massive daily fines until she testifies before the committee.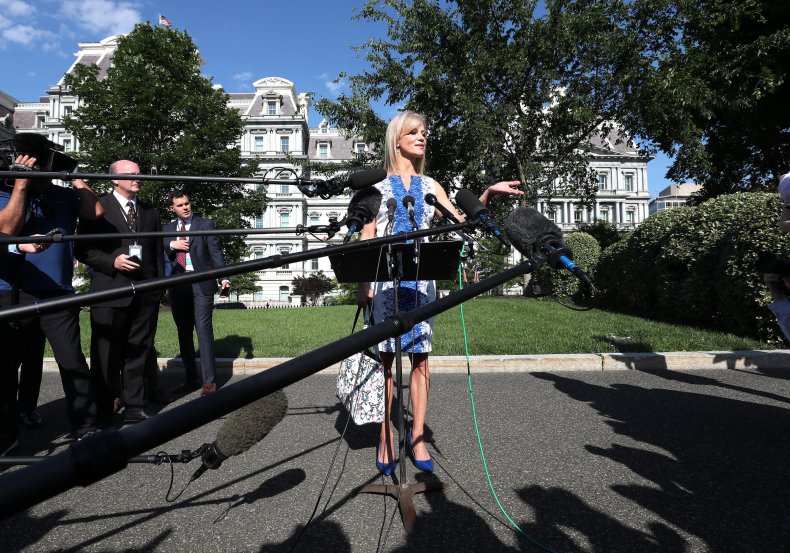 The Office of Special Counsel determined that Conway repeatedly violated the Hatch Act after receiving multiple complaints from the watchdog group Citizens for Responsibility and Ethics in Washington (CREW). CREW executive director Noah Bookbinder on Monday afternoon tweeted that the watchdog "recommended Conway be fired."
"The President chose to ignore the appropriate recommendation that Conway be fired for repeated law violations," Bookbinder tweeted. "Now Congress in its oversight role has subpoenaed Conway, and the President has told her not to appear, once again resisting accountability."
CREW spokesman Jordan Libowitz told Newsweek that Conway's "repeated Hatch Act violations and publicly expressed disdain for the law show a dangerous disregard for governmental ethics and the rule of law."
"There's no need to cast a judgment on today's actions as she should have already been fired for her repeated violations of the law," Libowitz said.
The White House did not immediately respond to a request for comment from Newsweek.