Kellyanne Conway Asks Fox News Why Abortion Gets Called 'Women's Issues'
Counselor to the President Kellyanne Conway joined Fox News on Monday afternoon and point-blank asked why abortion rights are considered "women's issues." The comment came while slamming comments made by embattled Virginia Governor Ralph Northam last week in response to proposed legislation to lower restrictions on late-term abortions.
Conway started by bringing up the false claim that Northam, who has since faced widespread calls to resign over a racist photo on his college yearbook page, advocated for "infanticide."
"This same governor earlier this week said when an infant, used the word infant … when the infant is delivered, that's a baby, they keep them comfortable and then have the physician and the mother discuss what's next," Conway said. "We are not a country that is going to allow illegal infanticides as long as Donald Trump is the president of the United States and very few people picked up on that."
Conway also accused the mainstream media of ignoring the infanticide matter and claimed that it was not until Northam came under fire for a racist photo in his medical school yearbook, that he is being pressured to resign. Conway called the mainstream media "pretty much pro-abortion themselves. Just look at their coverage and their lack of coverage."
"It's interesting that you put it that way. We're hearing from the Virginia state house speaker saying he's calling on Governor Northam to resign," Faulkner said, then disputed Conway's claim about the mainstream media.
"A couple of just items there," Faulkner said. "You say most of the mainstream media being pro-abortion, I'm sure some of them would definitely take exception to that as they do their jobs objectively."
Conway cut in: "They're going to say they're pro-choice, but are they for this war, against this? You can't be pro-choice and no longer own and claim these late-term abortions that are now being proposed as law in New York, in Virginia and in four other states."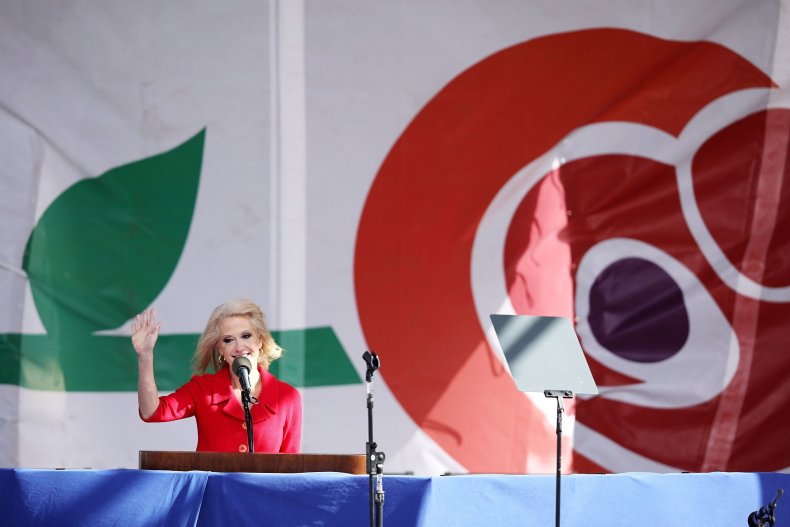 Faulkner pushed back on Conway again.
"I completely understand that that is within the realm of politics perhaps," Faulkner said, "But you took a shot at the mainstream media, so I wanted to say that not everybody, not everybody, has political views that they would share on this to begin with, and would share them in common."
Speaking over Faulkner, Conway said the mainstream media have been "pretty out there on this," then made a rather extraordinary remark.
"I'm sorry, I have to say this, why do they call it 'women's issues' then?" Conway said. "Why do we always have to hear that such-and-such politician is bad or good on quote 'women's issues?' Don't they really mean abortion? Because I've been in politics for 30 years."
Faulkner replied, "It's an interesting question."
Conway continued: "I've never, not a single time, heard the phrase 'men's issues,' because people believe men can, male voters, can handle all the issues."
"Or family issues," Faulkner said.
"Yeah, it's abortion," Conway concluded.
That was enough to prompt Faulkner, who is typically very pro-Trump, to steer the conversation away.
"Although, let's move on. That's an interesting question," Faulkner said. "Let's change gears now."
The National Organization for Women considers reproductive rights a women's health issue, along with ending violence against women and constitutional equality.
Conway in January 2017 spoke at the 44th annual March for Life in Washington, D.C., protesting the Supreme Court's Roe v. Wade decision that legalized abortion.
Days earlier, Conway was criticized for saying on NBC's Meet the Press that former White House press secretary Sean Spicer's inaccurate statements on the crowd size at President Donald Trump's inauguration were "alternative facts."