Kellyanne Conway's Husband Doesn't Seem to Buy Her Defense of Donald Trump—'He Lies About Virtually Everything'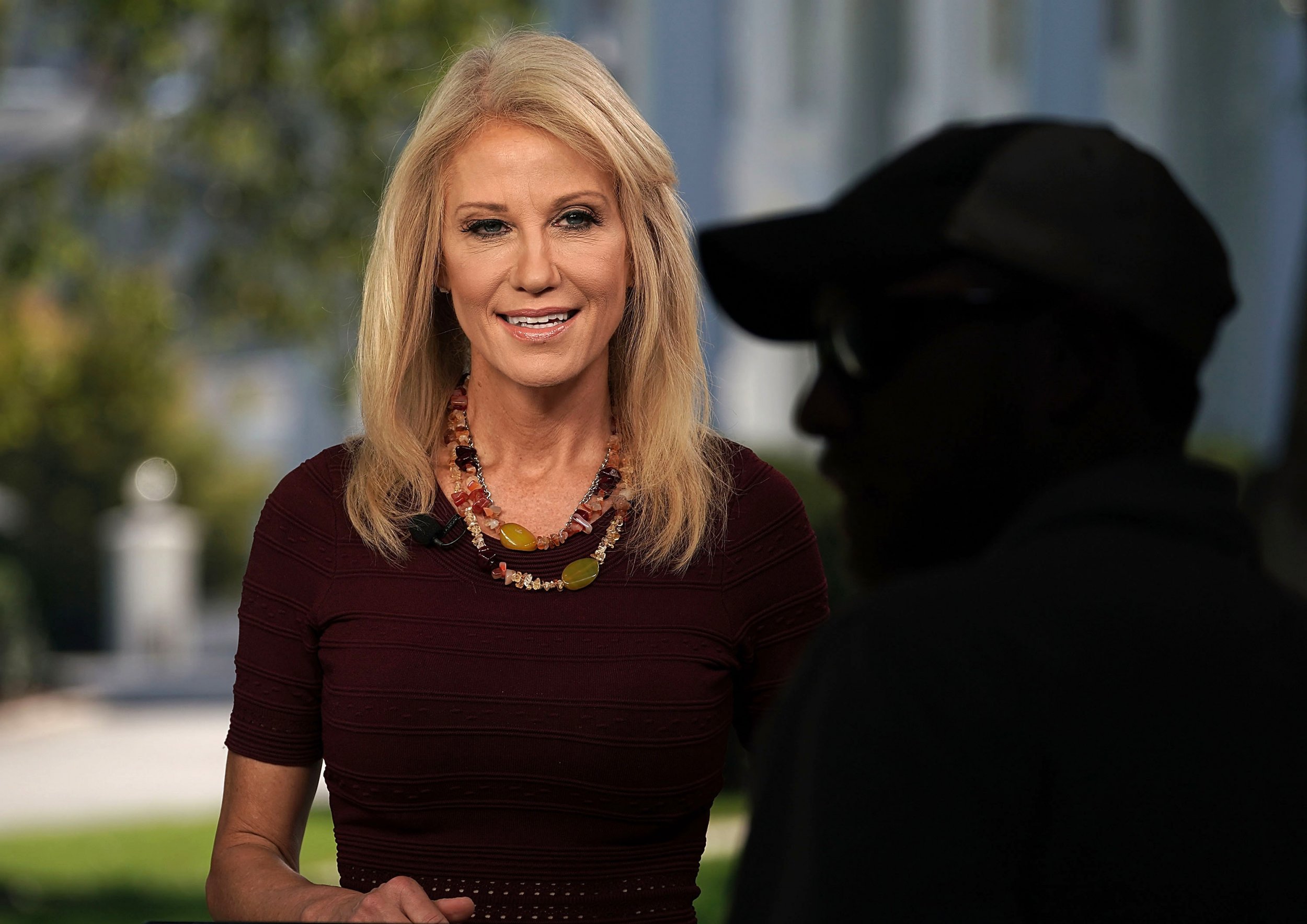 On Thursday evening, Kellyanne Conway defended President Donald Trump over accusations of lying, criticizing CNN's Chris Cuomo during a heated on-air debate.
Her remarks stood in stark contrast to those of her husband, lawyer George Conway, who blasted Trump that same day on Twitter for "repeatedly" lying about his role in the ongoing hush money scandal that saw his ex-lawyer Michael Cohen sentenced to three years in prison Wednesday.
George Conway tweeted Thursday: "Given that Trump has repeatedly lied about the [Stormy Daniels] and [Karen McDougal] payments—and given that he lies about virtually everything else, to the point that his own former personal lawyer described him as a "f****ing liar"—why should we take his word over that of federal prosecutors?"
Trump has come under fire for denying he directed Cohen to make payments to Daniels—legal name Stephanie Clifford—and Karen McDougal during his presidential campaign.
Cohen himself said on ABC Friday morning that Trump knew about the payments (federal prosecutors have said that Trump directed the payments), and that his actions came out of "blind loyalty" to Trump.
But accusations of lying reach far beyond the Cohen affair. According to veteran reporter Bob Woodward's book Fear: Trump in the White House, another of Trump's former lawyers, John Dowd, couldn't bring himself to call him 'a f*****g liar.' He was allegedly referring to a disastrous role-play of a potential meeting between Trump and special counsel Robert Mueller.
"Trump goes ballistic, makes things up, starts screaming—Dowd thought that had he been Mueller, he would have been fired right on the spot," Woodward previously told Stephen Colbert on The Late Show. According to the reporter, Dowd then told Trump, "You cannot testify, you are disabled," because of his inability to tell the truth.
Kellyanne Conway continues to defend Trump amid accusations of lying. "You just like to say the president lies so it can go viral," she told Cuomo during their heated discussion.
George Conway, on the other hand, has become a vocal critic of Trump, frequently criticizing him on social media. On December 7, for example, he attacked the president's assertion that he was "cleared" of wrongdoing in the campaign finance scandal. "Except for that little part where the US Attorney's Office says that you directed and coordinated with Cohen to commit two felonies. Other than that, totally scot-free," Conway tweeted.