George Conway Blasts Lindsey Graham's Latest Trump Defense: 'People Commit Crimes Using Checks All the Time'
George Conway, the husband of White House counselor Kellyanne Conway, slammed Republican Lindsey Graham over his latest defense of Donald Trump amid Michael Cohen's explosive testimony.
During his public hearing in front of the House Oversight Committee on Wednesday, Cohen provided lawmakers with copies of checks that Trump allegedly made out to him as reimbursement for hush-money payments to adult film star Stormy Daniels.
"I am providing a copy of a $35,000 check that President Trump personally signed from his personal bank account on August 1 of 2017—when he was President of the United States—pursuant to the cover-up, which was the basis of my guilty plea, to reimburse me—the word used by Mr. Trump's TV lawyer—for the illegal hush money I paid on his behalf," Cohen said under oath.
When asked about this potential evidence of Trump's involvement in campaign finance violations, Senator Graham told reporters that "I've found most people don't write checks if they think they're involved in a crime.
"Good luck with that one. We'll see what the Southern District of New York does, but generally speaking, people don't write checks if they think they're committing a crime," Graham reiterated.
Conway, a conservative attorney, bashed Graham's defense of the president in a Twitter post on Friday, writing that "people commit crimes using checks all the time."
"They can use the checks to pretend payments were for one thing, when they really for another. Here Trump and his lawyers do not dispute today that these payments were made, and were made to reimburse for the Stormy payment," he wrote.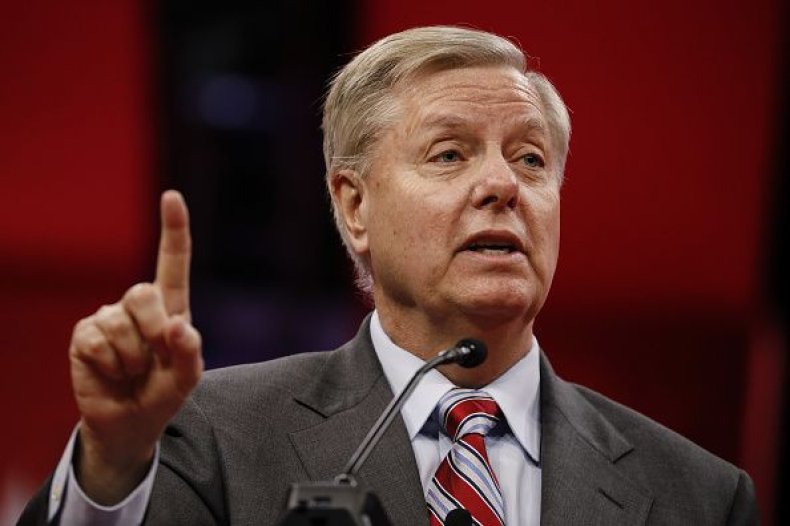 Conway continued, writing in another social media post that the "reimbursements were fraudulently made to appear to be payments for legal services.
"That's precisely the kind of thing criminals do when they seek to conceal their criminal acts. It's evidence of consciousness of guilt."
During his testimony, Cohen said that the $35,000 check was one of 11 installments Trump made to him after he became president in order to reimburse him for the hush-money payments. He also provided Congress with a copy of the $130,000 wire transfer made to the adult film star.
Last year, Cohen pleaded guilty to a slew of crimes he committed serving as the president's personal attorney, including breaking campaign finance laws. He said he was directed to pay off Daniels, whose real name is Stephanie Clifford, in exchange for her silence about an alleged affair with Trump. The payment was made in the days leading up to the 2016 election.
The president has repeatedly denied having an affair with Daniels, whose real name is Stephanie Clifford. But during his testimony, Cohen told lawmakers that one of his "biggest regrets" was lying to first lady Melania Trump about the affair.
"She is a kind, good person. I respect her greatly, and she did not deserve that," he said.
President Trump was in Vietnam during Cohen's testimony to meet with North Korean leader Kim Jong Un. But when asked about the testimony during a news conference, Trump called it a "fake hearing" and said that Cohen "lied a lot."