Kellyanne Conway Gives Trump an Alibi for Incriminating Tweets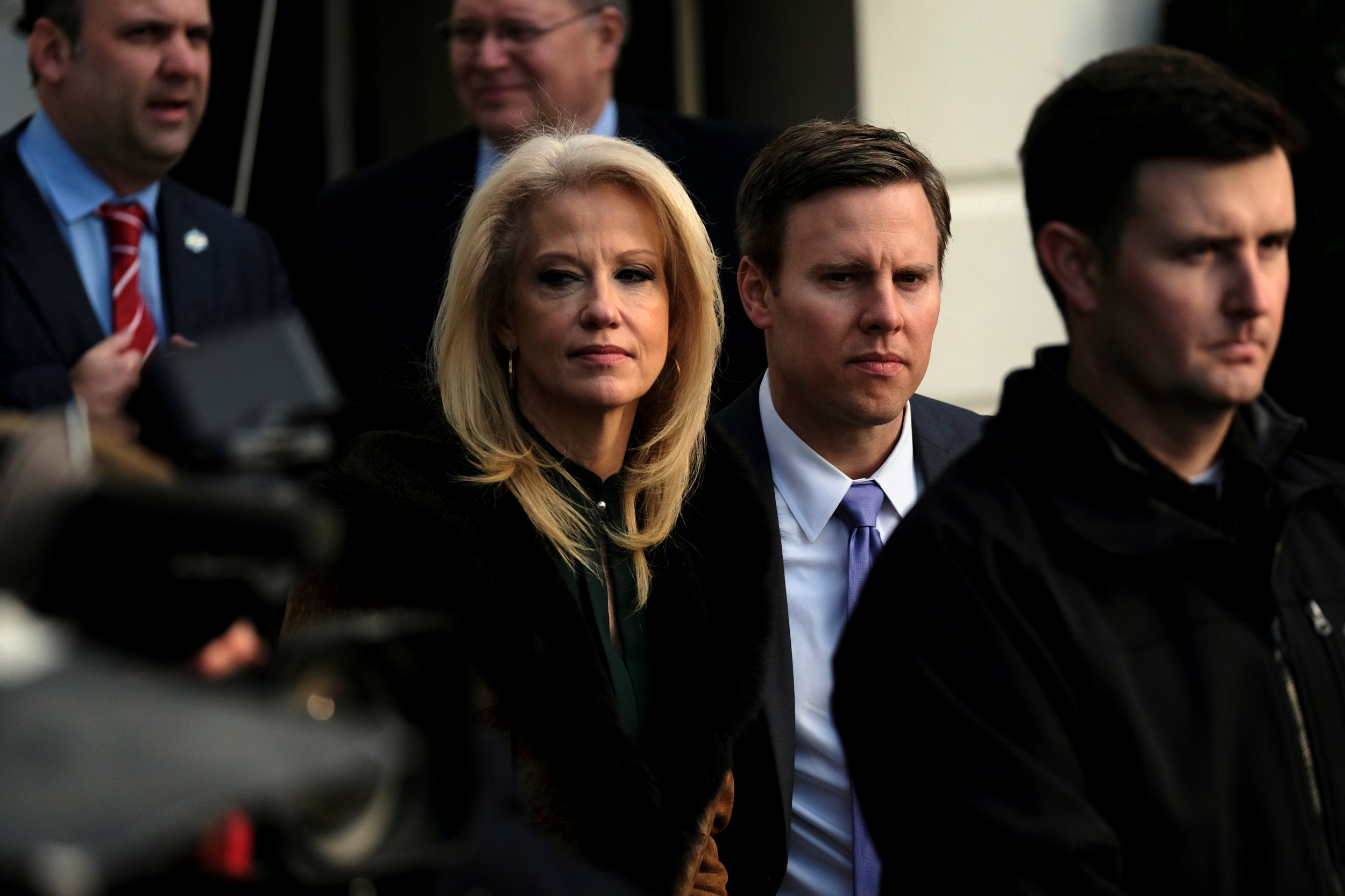 Senior White House adviser Kellyanne Conway has confirmed the president's alibi for a potentially incriminating tweet posted on his Twitter account Saturday.
The tweet indicates President Donald Trump knew that his national security adviser Michael Flynn lied to the FBI when Trump reportedly pressured the then–FBI Director James Comey to abandon an investigation into Flynn.
On Monday, Conway told CNN that she was with the president "all day" Saturday and that his lawyer John Dowd crafted the tweet and sent it to White House director of social media Daniel Scavino Jr. to publish.
Dowd is working on the legal team defending Trump from special counsel Robert Mueller's investigation into whether the Trump campaign helped Russia interfere in the 2016 election. Mueller is also probing whether the president obstructed justice by attempting to have the investigation quashed when he fired Comey on May 9.
"I had to fire General Flynn because he lied to the Vice President and the FBI," Trump's tweet read, adding Flynn "has pled guilty to those lies. It is a shame because his actions during the transition were lawful. There was nothing to hide!"
Last Friday Flynn pleaded guilty to giving false statements to the FBI about a series of phone calls he had with Russia's ambassador Sergey Kislyak. In the calls Flynn negotiated U.S. policy about sanctions on Russia while the Obama administration was still in power.
Read more: Trump lawyer's claim he wrote Flynn tweet stuns legal experts
Legal experts were incredulous when Dowd—an experienced defense lawyer who used to work for the Justice Department—claimed Sunday that he wrote the tweet. They were surprised by the incorrect use of legal language—using the phrase "pled" instead of "pleaded," and seeming admission the president had advanced knowledge Flynn lied to the FBI.
On Sunday Dowd acknowledged the tweet was sloppy and told Reuters that he "should have put the lying to the FBI in a separate line referencing his plea."
"The tweet did not admit obstruction. That is an ignorant and arrogant assertion," he told Axios, calling the tweet "my mistake." In a separate interview, Dowd declined to tell CNN whether Trump reviewed the tweet.
Former White House ethics lawyer Richard Painter said that Dowd should be disbarred for writing a tweet that incriminated his client.
Conway told Fox & Friends on Monday: "The lawyers are the ones that understand how to put those tweets together," supporting Dowd's assertion he was behind the message.
"I was with the president on Saturday all day, frankly, and I know that what [Dowd] said is correct," Conway said. "What he says is that he put it together and sent it to our director of social media."