Kellyanne Conway Hasn't Been Fired Because She Defends Donald Trump on TV, Ex-White House Aide Says
Counselor to the President Kellyanne Conway has not been fired from her post, despite reportedly bad-mouthing President Donald Trump privately, because Trump knows she is "willing to go out on TV and fight" for him, a former White House aide claims.
The former aide, Cliff Sims, in discussing his new book Team of Vipers: My 500 Extraordinary Days in the Trump White House on The Late Show With Stephen Colbert Monday, said that Conway routinely trashed Trump and colleagues off-air.
"Why won't he fire her? Why won't he trash her publicly?" Colbert asked. "He'll attack anyone. Why not her?"
Sims explained: "One of the things I try to do in this book is help people understand what makes Donald Trump tick. One of the things that I think is true about Kellyanne and others, is, one thing never goes out of style in the Trump White House, is someone who's willing to go out on TV and fight it out with somebody."
"He knows that she's reliable, that she will go out there on any show and defend him," Sims said. "Like I said, that never goes out of style."
Colbert followed up: "So private loyalty doesn't matter, but public loyalty on television is more important.… "
"I think there's no doubt that public loyalty to the president is of utmost importance to him," Sims replied.
Sims, who served as a director of message strategy, said Conway once called him "to write a response to some show hosts who were saying that off-air she was trashing the president."
From there, the former aide elaborated on how he knew Conway trash talked Trump.
"I'm sitting on her Apple laptop, in her office, trying to type this up and she forgets that she's sitting there at her desk, typing on her iPhone, which is synced to her computer," Sims recounted. "Not good, Stephen, not good."
Sims said he was watching Conway talk to reporters and speak poorly of her colleagues and "even not painting the president in a very favorable light, and basically I'm supposed to be writing a statement defending her against exactly what she's doing in that very moment."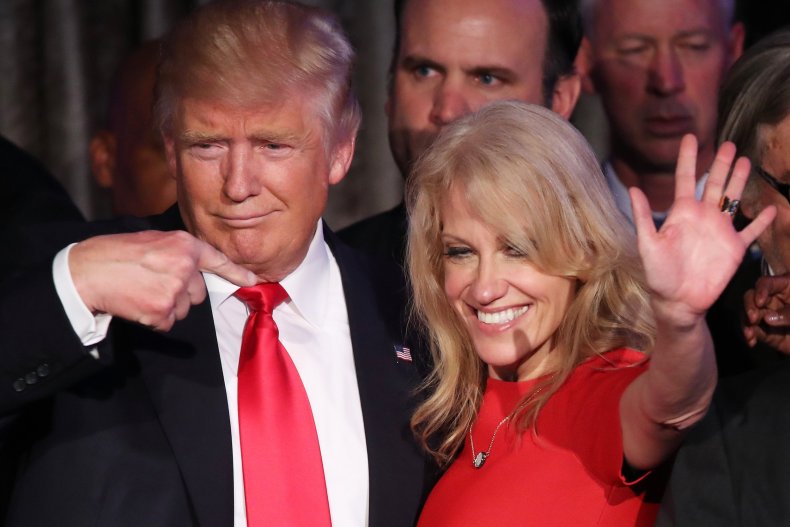 Conway is one of the few administration members who has remained with Trump from the beginning. On air, she has continued to be among the president's biggest defenders.
When Fox News' chief White House correspondent John Roberts last week called last week's back-and-forth between Trump and House Speaker Nancy Pelosi about the State of the Union address "so vicious," Conway snapped at Roberts.
"I just want to correct, politely, something that John Roberts said," Conway said. "The president is not being vicious toward Speaker Pelosi."
Trump reportedly spends hours watching television each day, and even bases some of his policy decisions on what he watches.
On Tuesday morning, the president trashed Sims in response to the publicity surrounding the new book.
"A low level staffer that I hardly knew named Cliff Sims wrote yet another boring book based on made up stories and fiction," Trump tweeted. "He pretended to be an insider when in fact he was nothing more than a gofer. He signed a non-disclosure agreement. He is a mess!"