The Office of Special Counsel (OSC) has sent a letter to President Donald Trump alerting him that Counselor to the President Kellyanne Conway is a "repeat offender" of the Hatch Act and recommends that she be removed from federal service.
"Ms. Conway's disregard for the restrictions the Hatch Act places on executive branch employees is unacceptable," the letter from special counsel Henry Kerner to Trump on Thursday states.
"Ms. Conway's violations, if left unpunished, would send a message to all federal employees that they need not abide by the Hatch Act's restrictions," the letter states. "Her actions thus erode the principal foundation of our democratic system—the rule of law."
The Hatch Act prohibits executive branch employees, except for the president and vice president, from using their official positions to influence the outcome of an election. The OSC's letter called Conway a "repeat offender" of the act and follows its March 2018 report that found she violated the law in two separate television interviews by advocating against then-Democratic Alabama Senate candidate Doug Jones.
"Like with other presidential appointees, the President has the authority to discipline Ms. Conway for violating the Hatch Act," an OSC press release states. "Given that Ms. Conway is a repeat offender and has shown disregard for the law, OSC recommends that she be removed from federal service."
White House Deputy Press Secretary Steven Groves in a statement to various media outlets defended Conway, claiming that the OSC's "unprecedented actions" against Conway are "deeply flawed and violate her constitutional rights to free speech and due process."
Groves stated that the OSC's "unclear and unevenly applied rules" have been objected to by others of all political views and have "a chilling effect on free speech for all federal employees."
"Its decisions seem to be influenced by media pressure and liberal organizations—and perhaps OSC should be mindful of its own mandate to act in a fair, impartial, non-political manner, and not misinterpret or weaponize the Hatch Act," Groves stated.
The OSC's letter recommending Conway's removal comes after several complaints on her conduct by the watchdog group Citizens for Responsibility and Ethics in Washington (CREW).
"OSC let us know that the recommendation was based on our complaints," CREW spokesman Jordan Libowitz told Newsweek in an email Thursday afternoon.
In a complaint filed to the OSC in early May, CREW cited four television interviews this year in which Conway appeared to violate the Hatch Act. In the interviews, Conway, appearing in her official capacity, slammed 2020 Democratic candidates Joe Biden, Bernie Sanders, Seth Moulton and Cory Booker.
"I can't think of anyone else who appears to have violated the Hatch Act so many times," Libowitz told Newsweek at the time. "Don't want to make a call before the judgement of the OSC, but it would most likely end the career of any career government official."
Richard Painter, a chief ethics lawyer under President George W. Bush, told Newsweek at the time that "the presumptive punishment is firing" and that Trump "should have fired her the first time" she violated the Hatch Act.
CREW executive director Noah Bookbinder in a statement Thursday said the watchdog was glad that the OSC confirmed CREW's finding of multiple Hatch Act violations by Conway.
"We join OSC in calling for Kellyanne Conway to be removed from federal service and expect today's findings to send a strong message to officials across the Trump Administration and the federal government that these violations will not be taken lightly," Bookbinder stated.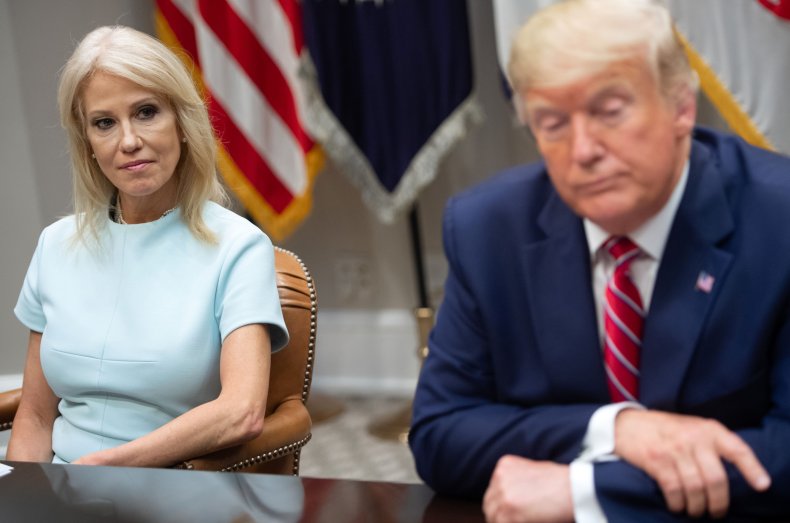 The OSC on Thursday referenced an interview from May 29 in which Conway downplayed the law being applied to her.
"If you're trying to silence me through the Hatch Act, it's not going to work," Conway said. "Let me know when the jail sentence starts."