Kellyanne Conway 'Ridiculous' to Claim Hatch Act Doesn't Apply to Her: Bush Ethics Chief
Counselor to the President Kellyanne Conway's claim on Fox News Monday morning that the Hatch Act does not apply to her is "completely ridiculous" and what she did was "flat out illegal," a former White House ethics chief under President George W. Bush said.
Fox & Friends co-host Brian Kilmeade asked Conway to comment on the House Oversight Committee's plans to vote Wednesday on whether to issue a subpoena over violations of the Hatch Act, which prohibits executive branch employees from using their official position to influence an election.
"Well it'd be good if everybody had a quick tutorial on the Hatch Act, what it is and what it is not," Conway replied. "It's not even clear to us here at the White House, according to the White House counsel, that the Hatch Act applies to assistants to the president."
Former White House ethics chief Richard Painter told Newsweek that Conway's claim was false.
"Of course the Hatch Act applies to everyone except the president and the vice president. It applies to everyone in the White House," Painter said. "Nobody ever, ever said it does not apply to a senior White House aide—that's just completely ridiculous."
On Fox News, Conway offered a definition of the federal law and her interpretation by mentioning 2020 Democratic candidate Joe Biden. Ethics experts alleged Conway violated the Hatch Act in May on the White House driveway by bashing Biden, among other Democratic candidates.
"The Hatch Act means you can't advocate for or against the election of an individual," Conway said. "And if I'm talking about the failures of Obama-Bidencare, if I'm talking about the fact that 28 million Americans have no health insurance, that's a fact. If I'm quoting what some of the candidates say about the other candidates, I'm just repeating the news to you as I read it that day."
Conway concluded about her critics: "You know what they're mad about? They want to put a big roll of masking tape over my mouth!"
Under the Hatch Act, senior White House aides have some specific allowances, Painter said. They include giving political speeches offsite during normal working hours because they are on duty around the clock, and making phone calls, emails or social media posts through their private phones during working hours. These actions are not allowed for other executive branch staff such as administrative assistants to top officials, according to Painter.
But Conway bashing Biden and other candidates running for office outside the White House or in her official capacity was "flat out illegal," Painter said.
The Office of Special Counsel in a letter to President Donald Trump earlier this month recommended that he remove her from federal service due to repeated Hatch Act violations, following complaints from the watchdog Citizens for Responsibility and Ethics in Washington (CREW).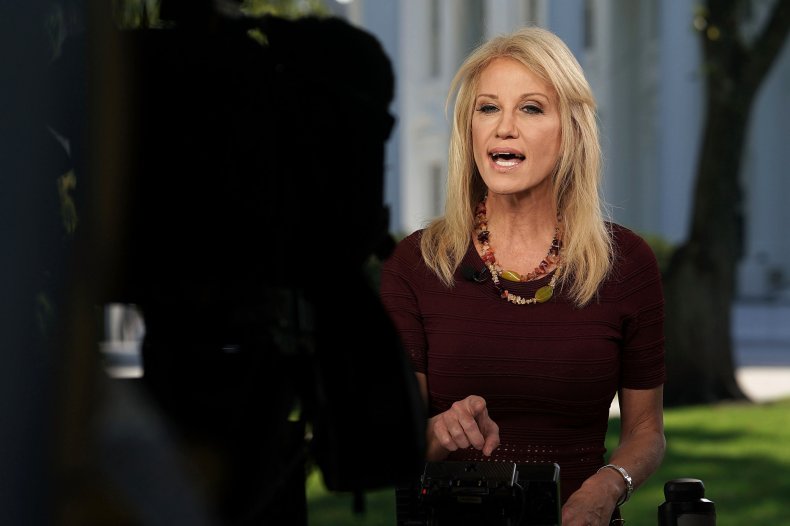 Conway on Fox News also said "people should take a look at CREW."
"They are a left-wing propaganda machine, provocateurs who are trying to weaponize the Hatch Act," Conway said. "They don't like the fact that I'm so effective on a tiny piece of my job. By the way I'm constantly talking about policy. They don't want to cover that, it's too had to understand, too many syllables I guess."
CREW spokesman Jordan Libowitz again challenged Conway.
"The law is the law, you don't get to say it isn't clear that it applies to you if you don't want it to," Libowitz told Newsweek. "If the job she says she's so effective at is scoring points for Trump's reelection campaign, she should work for the campaign. She cannot do it with government resources."