Kellyanne Conway's 'Collusion' Twitter Cover Photo Is 'Yet Another Hatch Act Violation': Bush Ethics Chief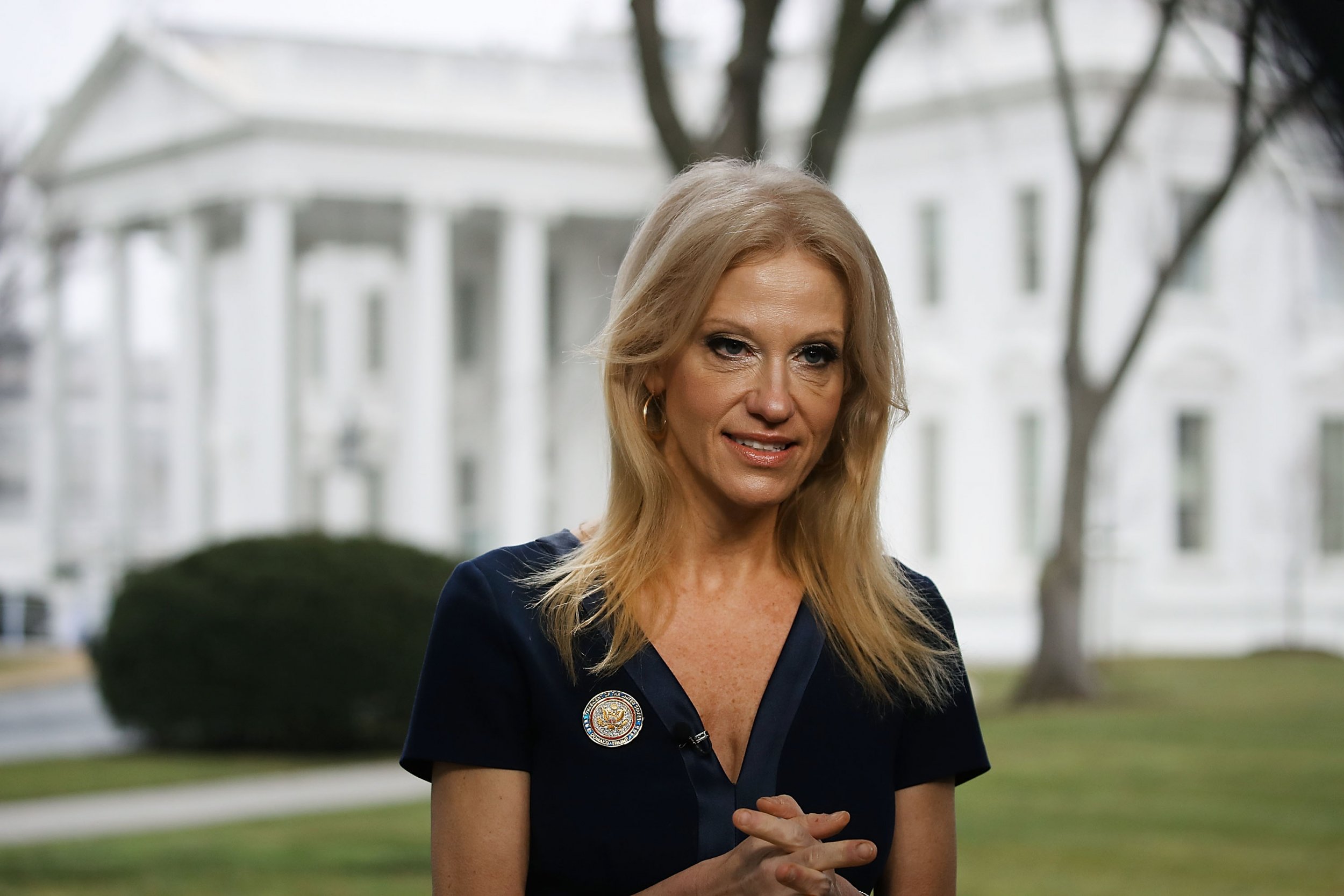 Counselor to the president Kellyanne Conway's personal Twitter page, with a cover photo of her in front of the White House holding signs with "collusion" crossed out, violates the federal Hatch Act, according to a former chief ethics lawyer under President George W. Bush.
Ex-ethics chief Richard Painter flagged "yet ANOTHER Hatch Act violation" a day after a watchdog filed a complaint requesting that the Office of Special Counsel investigate whether Conway broke the law by bashing 2020 Democratic candidates in four recent interviews outside the White House.
The Hatch Act prohibits executive branch employees from using their official positions to influence the result of an election. While Conway is entitled to use her personal Twitter account @KellyannePolls to endorse and trash candidates, the photo of her in front of the White House "is government property" and "she can't use that for politics, to promote from her personal political account," Painter told Newsweek on Thursday.
In her cover photo, Conway holds two pieces of paper with "Conclusion?" followed by "Collusion," "Illusion," and "Delusion." Collusion is crossed out.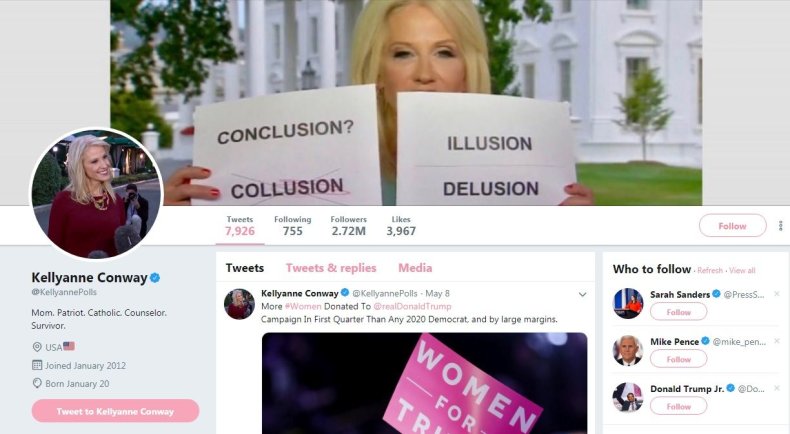 "She of course is trying to say there's no collusion, which is not what the Mueller report said," Painter said. "The Mueller report said there was not criminal conspiracy. Criminal conspiracy is a very small subset of collusion."
Painter concluded: "I think her Twitter page right now is a violation of the Hatch Act. The White House photo needs to come off her Twitter page. The whole thing is inappropriate."
He called Conway out on Twitter.
"Someone (Office of Special Counsel?) needs to tell @KellyannePolls to get that photo of herself giving an official interview on the White House lawn OFF her political Twitter page that she uses to trash @JoeBiden and other candidates," Painter tweeted. "This is yet ANOTHER Hatch Act violation."
Painter did not take issue with Conway's Twitter profile picture, in which she is being interviewed but seemingly not on government property.
The former White House ethics chief also identified Conway's tweet Wednesday that "more #Women Donated To @realDonaldTrump Campaign In First Quarter Than Any 2020 Democrat, and by large margins," was a potential violation because the Hatch Act prohibits government from soliciting money even in their personal capacity.
Her tweet "might very well be regarded as fundraising," Painter said. "That's debatable, but she shouldn't be talking about fundraising."
"The Hatch Act prohibits political fundraising by federal employees," Painter tweeted. "Why is this Tweet on your Twitter page @KellyannePolls - right under a photo of you standing on the White House lawn?"
The White House did not immediately respond to a request for comment from Newsweek on Thursday.
A complaint the watchdog Citizens for Responsibility and Ethics in Washington filed to the Office of Special Counsel on Wednesday quotes Conway in her official capacity criticizing 2020 Democratic candidates Joe Biden, Bernie Sanders, Seth Moulton and Cory Booker.
The Office of Special Counsel in March 2018 found that Conway violated the Hatch Act by slamming a candidate in two interviews in her official capacity, but the White House did not take disciplinary action.
"Those are the most blatant" Hatch Act violations, Painter said.