Kellyanne Conway Hits Alexandria Ocasio-Cortez as '29-Year-Old Congresswoman Who Doesn't Seem to Know Much'
Counselor to the President Kellyanne Conway slammed Congresswoman-elect Alexandria Ocasio-Cortez on Fox News Tuesday, calling her a "29-year-old congresswoman who doesn't seem to know much about anything."
Conway brought up Ocasio-Cortez when Fox News' America's Newsroom co-host Bill Hemmer asked her who might replace Chief of Staff John Kelly, who will stay on the job until at least January 2.
"He is in his fifth decade of public service and this country owes his a debt of gratitude, not the nonsense that has been spewed about him recently from the left and from this 29-year-old congresswoman who doesn't seem to know much about anything when you ask her basic concepts about the economy, or the Middle East, military funding," Conway said, referring to Kelly and Ocasio-Cortez. "Really embarrassing, and for her to even use a slur against him yesterday—and I won't repeat her name or the slur."
On Twitter Sunday, Ocasio-Cortez wrote Kelly was "straight up exposed for lying" about Democratic Congresswoman Frederica Wilson. Kelly called Wilson an "empty barrel" last year and said she bragged about getting millions of dollars in funding for a new FBI office in Miami, though no video has been found with her saying that.
The dispute began after Wilson scrutinized Trump's handling of an October 2017 condolence call with Myeshia Johnson, whose husband Sgt. La David Johnson died during a mission in Niger. Kelly then criticized Wilson, and has not apologized.
"John Kelly was straight up exposed for lying about @RepWilson in comments aimed at discrediting her," Ocasio-Cortez tweeted. "He absolutely owes her an apology, and his refusal to do so isn't a sign of strength—it's cowardice."
Conway then went back to the topic of Kelly.
"Let me stand up for General John Kelly. He has done a magnificent job for this country for almost 50 years, including here at the White House as our chief of staff for about a year and a half," Conway said. "I think there will be a very peaceful and pragmatic transition to the next chief of staff but the president has many people that want to serve here."
Last month, Ocasio-Cortez became the youngest woman to be elected to Congress at the age of 29. She has been outspoken on social media ever since, though she does not take her seat until January. Her unrestrained attacks at Republicans and the Trump administration have not gone unanswered by conservatives.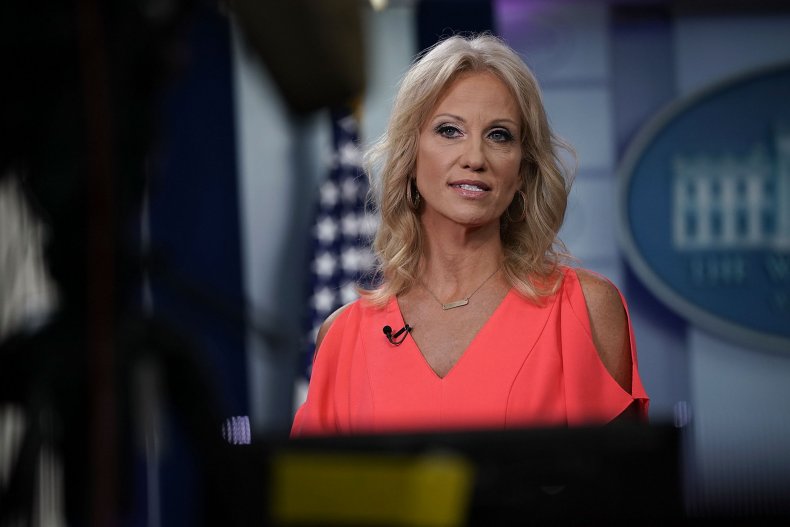 Conway continues to be one of Trump's strongest defenders and one of the longest serving staffers in his administration.