Kellyanne Conway Says Women Have a Voice in White House, the Media is Sexist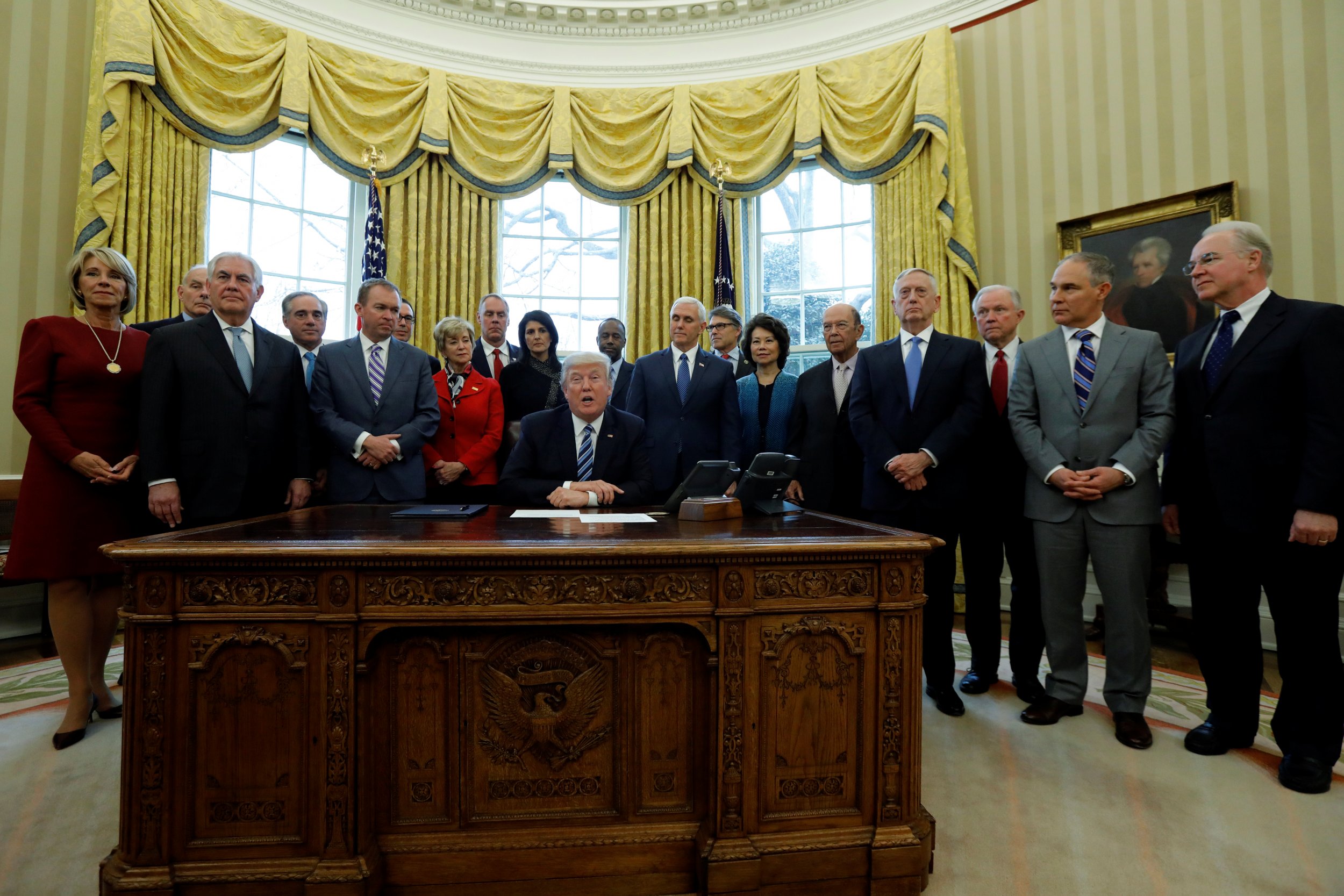 Donald Trump's counselor Kellyanne Conway has insisted women in the White House do make decisions despite previous criticism that this is not the case.
The president's former campaign manager said widely circulated pictures that showed a room full of men making decisions on the American Care Act, which included proposed cuts to women's healthcare, did not show the entire story.
"It's like, well, I was sitting next to the cameraman, so I was right there, but I'm not in the shot," Conway said in an interview with Business Insider on Sunday. "But that doesn't mean that those men haven't heard from the females... We're heard and we're seen and we're listened to and we are sought out and sought after for our opinions and our judgment and our ideas and our insight."
Indeed, Conway said being a female presence in the White House had been beneficial rather than a hindrance.
"I could tell you a great way that my gender has helped me with the president," Conway said, explaining any bad news she has to give to the president she delivers with a "big smile."
"I think there's a femininity that is attached to the way one carries herself or the way one executes on her duties."
Trump's failure to choose a significant number of women for cabinet positions, with the selection of just four women: Betsy De Vos, Nikki Haley, Linda McMahon, and Elaine Chao in the immediate cabinet, lead some to believe there would be a limited opportunity for women's voices to be heard in the White House.
But Conway claims this is not the case, and argued the only issue with being a woman she had experienced working for Trump was via the media's treatment of herself and other female Trump aides, which she claimed was deeply sexist.
"When's the last time you saw a great story about the beer bellies and the bad comb-overs in Congress versus what was I wearing or what was a female saying or doing?" she told the publication.
However, although she claimed women had a say in the White House, Conway said she did not view herself as on an equal footing with the president – and, as such, she did not call him Donald.
"I don't consider him my peer, he is my boss and he is my elder, so I don't address him by his first name," Conway explained to Business Insider. "That has actually allowed me, in my view, to respectfully but forcefully express my opinion on certain matters," she added.