Where Is Kellyanne Conway? Moving Into a Nearly $8m Mansion in Washington, D.C. Apparently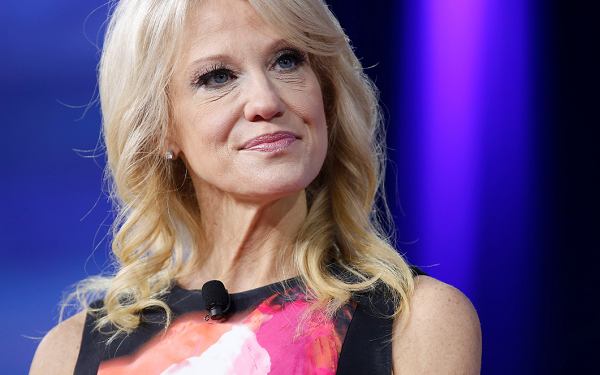 Kellyanne Conway, counselor to President Donald Trump, will now live just a 12-minute drive away from the White House after she reportedly purchased a mansion in Washington, D.C.'s luxury neighborhood, Massachusetts Avenue Heights. The nearly $8 million dollar 15,000-square-foot home was initially sold to an anonymous buyer on May 17, and only recently was it confirmed that the house was sold to Conway, Washington Business Journal reported Thursday.
Before Conway purchased the eight-bedroom house, it was owned by the former acting prime minister of Pakistan, the late Moeen Qureshi, who was also affiliated with the World Bank and EPM Global. The house hit the market in 2015 for a cool $22 million, but depreciated to $18 million, then $12 million and finally down to $8 million following struggles to sell.
Conway and her husband, attorney George Conway, reportedly purchased the home for $7,785,000 under the LLC, Antoinette Associates, named after her grandmother.
Sitting on more than a half an acre, the mansion, features 13 bathrooms (10 of which are full sized bathrooms), a library, a main family kitchen, catering kitchen, an elevator, three fireplaces and in-ground pool equipped with a cabana suit. The four level home also has staff quarters.
Although the home was built in 1927, it underwent renovations back in 2001.
The neighborhood is home to some of Washington's most elite, including Trump's presidential opponent Hillary Clinton, who has a 5,500-square-foot home just less than a half-mile from Conway's new digs. Vernon Jordan Jr., who was a close advisor to Clinton's husband, and former President Bill Clinton also has a residence on the same block as Conway's new home.
Conway, who is originally from New Jersey, has been by Trump's side since she joined his campaign in 2016. The 50-year-old and her husband of nearly 16 years also have a home in the luxury neighborhood of Alpine, about 21-miles from Manhattan.
Before working with the president, Conway was an occupant in one of his buildings. She was serving on the condominium board at Trump World Tower in Manhattan when she first met Trump in 2006, The Washington Post reported.
Her irregular appearances in recent weeks prompted "Saturday Night Live" to run a skit earlier this month parodying the classic 90s PBS game show, "Where in the World is Carmen Sandiego."
"She used to be on TV and, like, every single panel," host Chris Pine sang about Conway to the tune of the "Sandiego" theme song. "One day we woke up and she was no longer there. What could have happened? She's not on any channel."