Kellyanne Conway's Husband Shares Tweets Ridiculing Donald Trump's Memorial Day Message
Attorney George Conway, the husband of White House counselor Kellyanne Conway, attacked a seemingly self-congratulatory Memorial Day tweet by his wife's boss by retweeting posts ridiculing President Donald Trump's message.
Trump was heavily criticized for his tweet Monday morning that read: "Happy Memorial Day! Those who died for our great country would be very happy and proud at how well our country is doing today. Best economy in decades, lowest unemployment numbers for Blacks and Hispanics EVER (& women in 18years), rebuilding our Military and so much more. Nice!"
George Conway, who retweets far more often than he tweets his own messages, shared more than a dozen posts from the day honoring fallen American soldiers, among them one by conservative political commentator Ben Shapiro quoting Trump's tweet and saying, "You did it wrong."
He similarly retweeted University of Virginia Center for Politics director Larry Sabato's Twitter post praising former President George H. W. Bush's tweet in which he expressed his "regret" for missing a Memorial Day parade. "What a sane, modest contrast to Trump's narcissistic tweet this morning making Memorial Day all about him," Sabato wrote. "But then Bush 41 is a genuine war hero who would have served even with a bone spur in his foot."
Trump received a deferment from the military during the Vietnam War due to bone spurs in his heels.
The retweets did not end there. George Conway also shared National Review senior editor Jay Nordlinger's take on Trump's tweet: "Is this too obvious to state? If a Democratic president said something like this, the Right would go absolutely ape, with me leading the pack."
The attorney's other retweets included comments on the holiday that were much humbler than Trump's, including those by his predecessors Barack Obama and Bill Clinton, as well as First Lady Melania Trump.
George Conway has drawn increasing attention for social media behavior that regularly criticizes the president, to whom his wife has remained a loyal defender. His latest retweets on Memorial Day, however, come just a few days after a Politico report accused him of emailing journalists who have critiqued Trump with tips on how to strengthen their stories.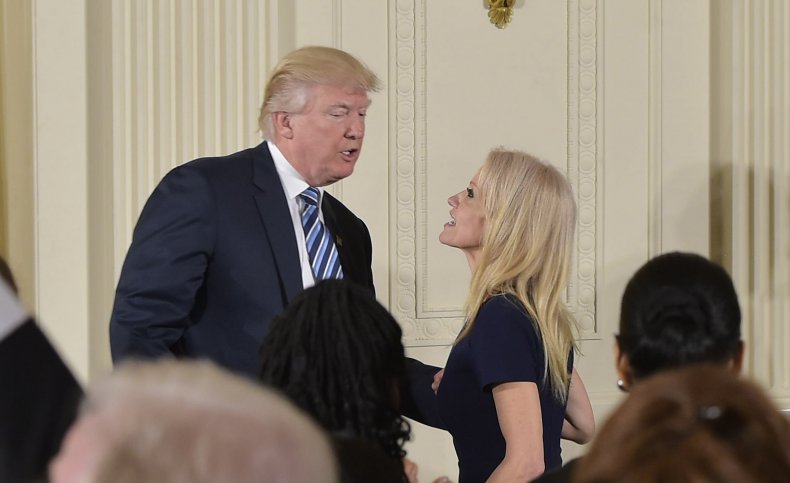 When asked to address her husband's tweets last month, Kellyanne Conway signaled her outrage at the question and accused CNN's Dana Bash of sexism.
"It's fascinating that CNN would go there but very good for the whole world to have just witnessed that it is now fair game what people's … how people's spouses and significant others may differ with them. I'm really surprised and gratified to see that," she said.
Bash responded, "I would ask you that if you were a man," only for Conway to fire back that "No, you would not."