Kellyanne Conway Says Husband's Anti-Trump Tweets Are 'Disrespectful,' If Not 'Violation' of Their Marital Vows
Kellyanne Conway has said that her husband's steady stream of tweets criticizing her boss, President Donald Trump, are "disrespectful" and a "violation of basic decency." Conway, the counselor to the president, was speaking to The Washington Post for a story published Wednesday in which both her and her husband, George Conway, discussed the issues that come with a marriage in which one member works for a man whom the other regularly criticizes publicly.
After revealing that she thinks Trump finds her husband's tweets "impolite," Kellyanne Conway expanded on her own feelings.
"I think it's disrespectful," she said. "I think it disrespects his wife."
A few days after making those comments, according to the Post, Kellyanne Conway contacted the reporter in an attempt to retroactively make her remarks off-the-record.
"It is disrespectful, it's a violation of basic decency, certainly, if not marital vows...as 'a person familiar with their relationship,'" she said, attempting to remove her attribution from the quotes.
After being rebuffed by the reporter, Conway concluded: "Fine. I've never actually said what I think about it and I won't say what I think about it, which tells you what I think about it."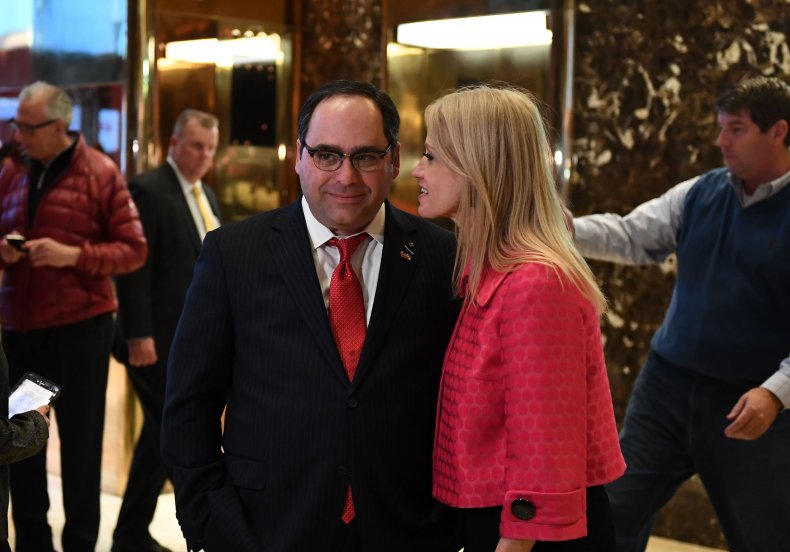 George Conway, too, did not hold back in stating why he felt he needed to publicly criticize his wife's boss.
"Her problem is with her boss, not me," he said. "If my wife were the counselor to the CEO of Pepsi and I had a problem with her boss, I would simply drink my Coke and keep my mouth shut," he said. "If the president were simply mediocre or even bad, I'd have nothing to say. This is much different."
He added: "I'm just saddened by how things turned out."
George Conway, an attorney who also played a role in the impeachment proceedings against President Bill Clinton two decades ago, has regularly retweeted articles critical of Trump and also, according to Politico, offers unsolicited advice to journalists writing pieces criticizing the president.
"What if a CEO routinely made false and misleading statements about himself, the company, and results, and publicly attacked business partners, company 'divisions' (w/ scare quotes!), employees, and analysts, and kowtowed to a dangerous competitor?" George Conway tweeted Tuesday in obvious reference to the president following his attacks against former White House aide Omarosa Manigault Newman.
Kellyanne Conway, meanwhile, has been Trump's biggest defender and began her White House tenure by coining the term "alternative facts" in an attempt to defend the president's false claim that his inauguration was witnessed by the largest crowd in history.