Kellyanne Conway's Husband Says Trump's Whitaker Appointment Is 'Illegal,' and Any Action He Takes As AG is 'Invalid'
President Donald Trump's naming of Matthew Whitaker as acting attorney general Wednesday was "unconstitutional," "illegal" and any action taken by Whitaker is "invalid," according to the husband of White House counsel Kellyanne Conway.
George Conway, who often challenges the president publicly despite his wife's high-profile position, penned an op-ed published by The New York Times Thursday in which he broke down his case against Whitaker's appointment following Jeff Sessions's forced resignation. Conway wrote the piece with former solicitor general under the Obama administration Neal K. Katyal.
The attorneys cited a decision by the Supreme Court, in particular an argument made by Justice Clarence Thomas in a case last year, as well as the opinion of conservative law professor Steve Calabresi, who argued in May that special counsel Robert Mueller's appointment was unconstitutional.
Trump, according to Conway and Katyal's assertion while citing one of the president's tweets in June, later stated Mueller's appointment was against the constitution as well.
The argument against Mueller hinged on Article II, Section 2, Clause 2 of the constitution, which states the president's appointments of principal officers must be confirmed by the Senate.
A principal officer is an official who reports to the president, as Whitaker would do as the nation's top law enforcement officer, and thus, according to Conway and Katyal, Whitaker requires a confirmation from the Senate. Mueller, however, reports to Deputy Attorney General Rod Rosenstein.
"So, Mr. Mueller is what is known as an inferior officer, not a principal one, and his appointment without Senate approval was valid," the pair write. "It means that President Trump's installation of Matthew Whitaker as acting attorney general of the United States after forcing the resignation of Jeff Sessions is unconstitutional. It's illegal. And it means that anything Mr. Whitaker does, or tries to do, in that position is invalid."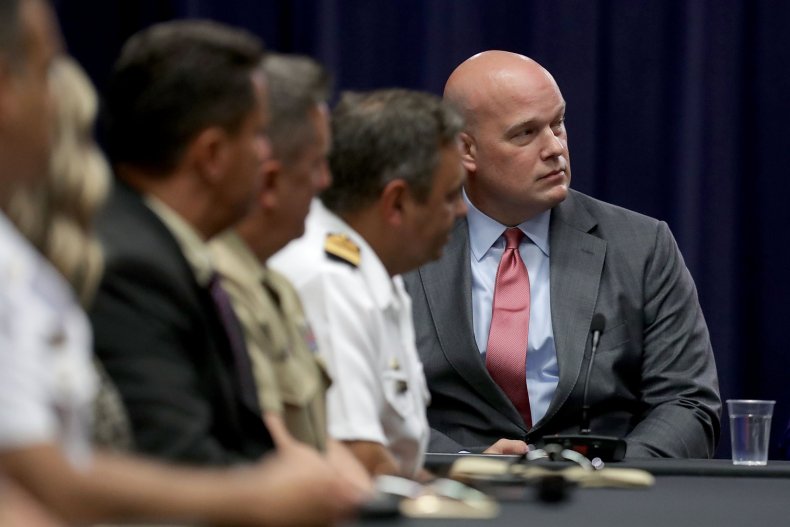 Conway and Katyal also turned to an argument made by Thomas, who Trump has often praised. Last year, Thomas wrote in a case about the appointment of a general counsel of the National Labor Relations Board that the Constitution's authors "recognized the serious risk for abuse and corruption posed by permitting one person to fill every office in the government."
Conway has written other op-eds against the president. Last month, he also called the president's claim that he could end birthright citizenship with an executive order "unconstitutional" due to the 14th Amendment.
The president asked Sessions to resign Wednesday and the former Alabama senator complied. Trump later tweeted that Whitaker would be the acting attorney general and a replacement nominated "at a later date."
Immediately after word spread of Sessions's ouster, speculation turned to whether Trump had installed Whitaker in order to end or hamper Mueller's investigation of his campaign and alleged collusion with Russia to win the White House.