Kellyanne Conway Cheers Republicans Trying to Force 'Infanticide' Vote: 'This is an Easy One'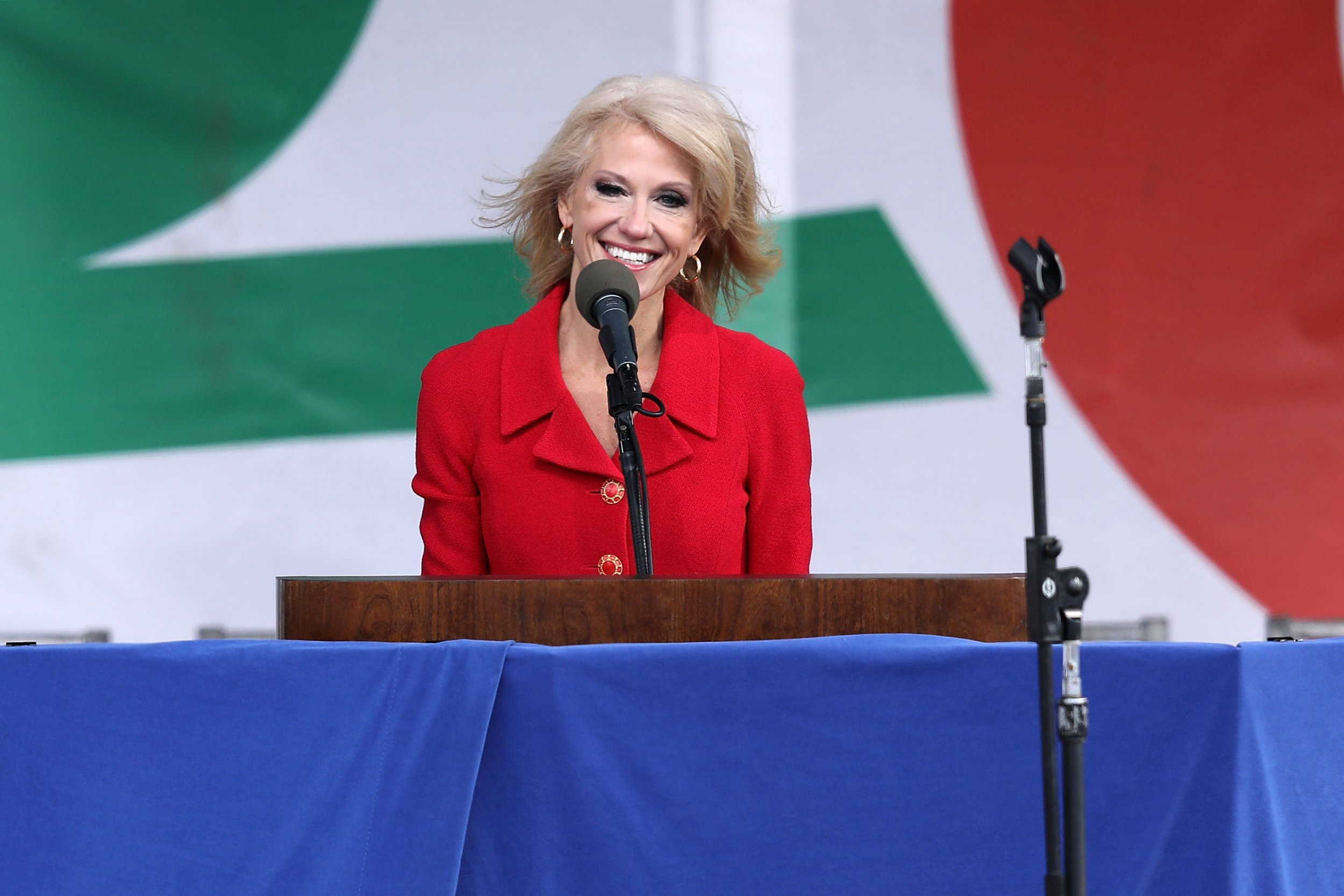 Counselor to the President Kellyanne Conway on Tuesday afternoon seemed to cheer on Republicans who tried to force a vote on the Born Alive Abortion Survivors Protection Act, which they believe would fight "infanticide."
Conway quote tweeted House Minority Whip Steve Scalise's tweet on his plans to introduce a petition to bypass Democratic leadership and force a vote on the act that would clarify that doctors are required to give medical care to infants who survive abortions, or be faced with criminal charges.
"House Republicans just formed a long line on the House Floor to sign my discharge petition that will force a vote on the Born Alive Act & make all members tell the American people where they stand on infanticide," Scalise tweeted. "Now let's see if Democrats will join us. #LetUsVote"
"Smart. This is an easy one," Conway commented. "Infanticide: yes or no?"
Conway is among conservatives who have framed the issue as the killing of infants. In February, Conway said, "We are not a country that is going to allow illegal infanticides as long as Donald Trump is the president of the United States." Conway at the time also accused the mainstream media of ignoring the infanticide issue and called the press "pretty much pro-abortion themselves."
Scalise in a press conference on Tuesday said, "You can't say you're pro-life unless you sign the discharge petition to bring this bill up for debate and for a vote on the House floor."
The Louisiana Representative also tweeted, "You deserve to know: Where does your representative stand on stopping infanticide? I'm filing a discharge petition TODAY to bypass Pelosi & force every member to go on record & tell the American people EXACTLY where they stand on this barbaric practice." He hashtagged the post #LetUsVote and #EndInfanticide.
Democrats contend that infanticide is already illegal and the bill therefore is not needed. House Speaker Nancy Pelosi and Democratic leaders have refused to bring such legislation to the floor despite more than 25 requests from Republicans. Republicans have been fighting third-trimester abortions, in light of low public support for later abortions.
In order to force a vote on the House floor, Scalise needs 218 signatures, which is a simple majority. He hoped to gather at least 100 signatures on Tuesday.
"The whole country is going to be watching," Scalise said, "And ultimately, they'll be watching that list of signatures."