Kellyanne Conway Under Investigation for Violating Federal Law Again—This Time Over Midterm Elections
Kellyanne Conway, counselor to President Donald Trump, was accused of violating federal ethics laws again—this time as it relates to the upcoming midterm elections.
In a letter to the Office of Special Counsel on Tuesday, Citizens for Responsibility and Ethics in Washington (CREW) requested that the office look into whether Conway violated the Hatch Act by using her official Twitter account to promote the Republican Party and President Donald Trump's campaign slogan "Make America Great Again." The watchdog group also asked that the office investigate a potential violation from a media interview in which Conway expressed her views about midterm candidates while in her official capacity.
"These actions were directed specifically toward the success or failure of a political party and candidates in partisan races, including Donald J. Trump," the letter by CREW Executive Director Noah Bookbinder stated.
The Hatch Act prohibits executive branch employees from using "official authority or influence for the purpose of interfering with or affecting the result of an election."
Zachary Kurz, a spokesman for the Office of Special Counsel, said in an email to Newsweek Tuesday afternoon: "I can confirm that OSC received the complaint and has opened a case file."
CREW's complaint included several screenshots of Conway's Twitter feed, @KellyannePolls, which does not include a disclaimer of the nature of "retweets are not endorsements."
On September 17, Conway retweeted a story by a Washington Examiner reporter on a record low 12 percent of Americans who were worried about the economy, which included a photo of Trump wearing a white "Make America Great Again" hat.
CREW in its complaint stated that the Washington Examiner story was based on a Gallup report that did not include an image of Trump. "The message Ms. Conway chose to retweet was one that featured the image of President Trump in the 'Make America Great Again' hat," the letter stated.
The office on March 5 issued a document with updated guidance on the Hatch Act, stating specifically that employees while on duty "may not: wear, display or distribute items with the slogan 'Make America Great Again' or any other materials from President Trump's 2016 or 2020 campaigns."
One day later, the office concluded a previous Hatch Act investigation on Conway and determined that she had violated the federal law in two TV interviews, and sent a report to Trump for "appropriate disciplinary action."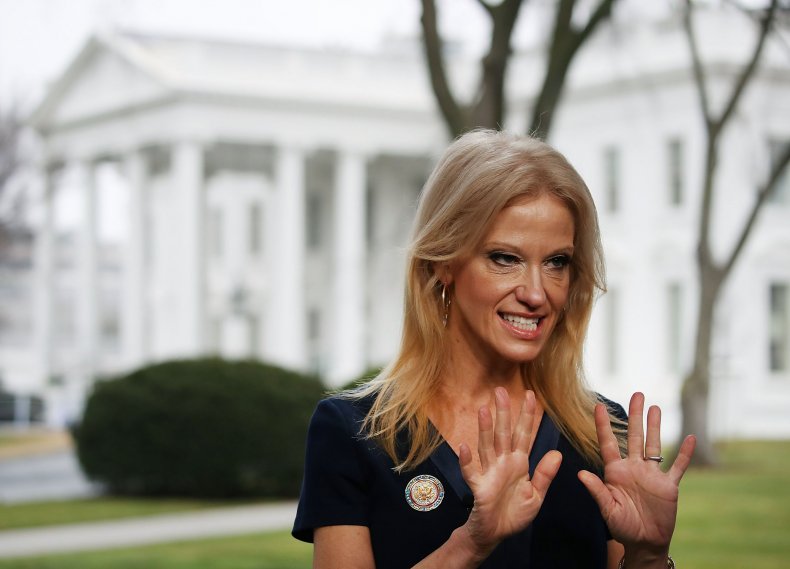 Yet Conway continues to act in ways that represent potential violations of the act.
On July 10, Conway tweeted a story by Mediaite with the headline "Democratic Party Mocked for Accidentally Using Photo of Hardiman in Article Slamming Kavanaugh," and said,"This just about says it all," a dig against those who opposed Trump's controversial Supreme Court pick, Brett Kavanaugh.
In an October 3 appearance on Fox News, Conway spoke about Kavanaugh's potential confirmation but wound up on a more opinionated matter. "By focusing the discussion on 'red-state Democrats' and 'three Democratic senators,' and naming Joe Manchin, Heidi Heitkamp and Joe Donnelly, who are all Democratic Party candidates in the November midterm elections," the complaint stated, "Ms. Conway appeared to be intending to influence the outcome of this November's election."
The White House did not respond to a request for comment from Newsweek on CREW's complaint about the Twitter screenshot, and other potential violations.