Kellyanne Conway Will Run White House's Opioid Crisis Efforts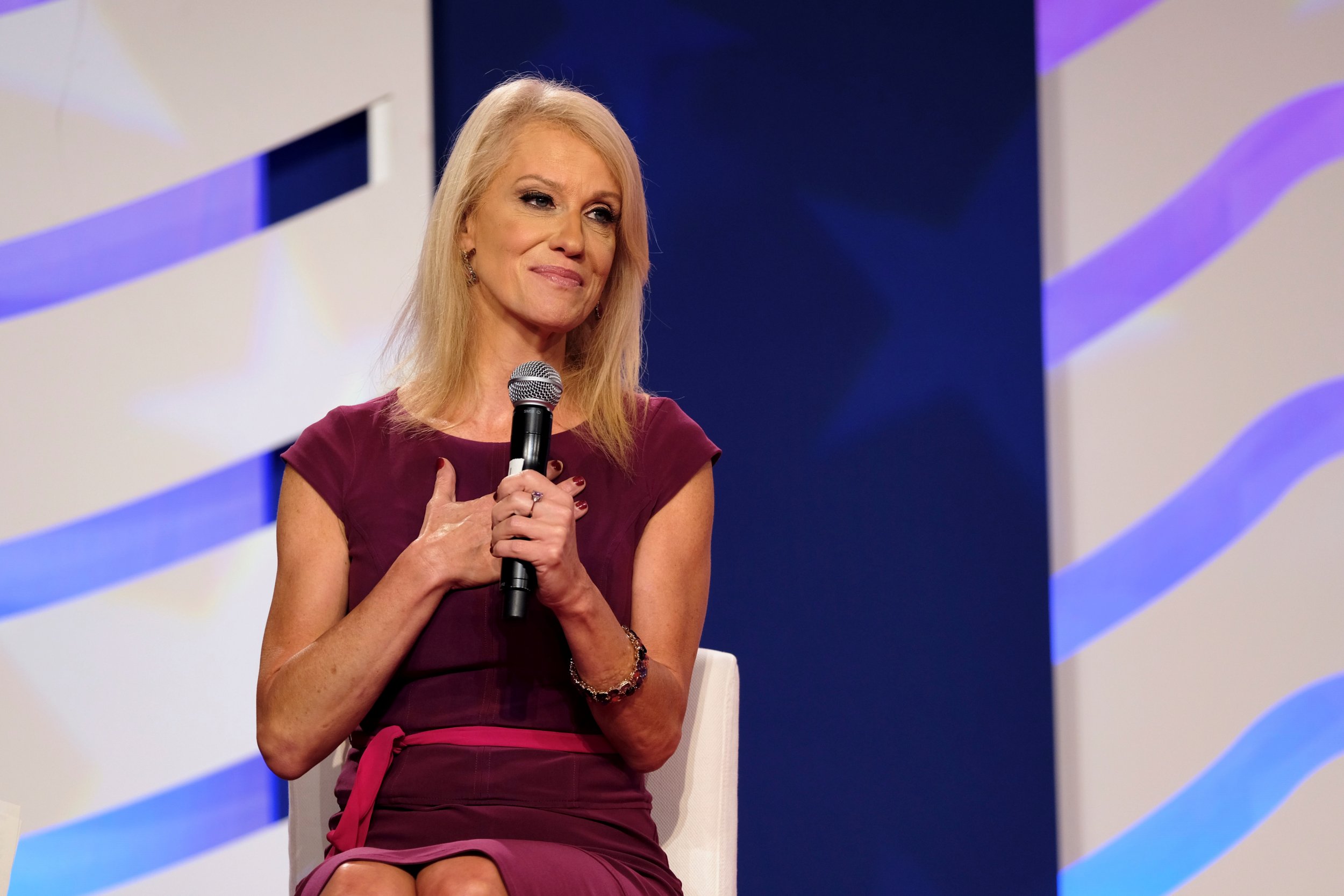 White House counselor Kellyanne Conway will be the point person for the Trump administration's opioid crisis efforts, U.S. Attorney Jeff Sessions announced Wednesday.
President Donald Trump tapped Conway to help "change the perception" about opioids and reduce addictions and deaths, Sessions said at a press briefing about the Justice Department's efforts to combat the crisis. Sessions said Trump had made the epidemic "a top priority for his administration, including every senior official and Cabinet member."
Conway worked as a pollster before becoming Trump's campaign manager, and she now serves as a White House spokeswoman and Trump surrogate. She has become notorious for defending some of Trump's most blatant mistruths, and she pioneered the term "alternative facts" to excuse the president's troubles with the truth.
She has no formal experience in drug policy or law enforcement. Conway has a law degree and started her own polling company, The Polling Company, in 1995, often consulting on consumer trends. She worked as an adviser for several Republicans, including Mike Pence and Newt Gingrich.
In the past, she has shared Sessions and Trump's view on defeating drug abuse: Strict prevention programs. "The best way to stop people from dying from overdoses and drug abuse is by not starting in the first place," she told Fox News in October. "That's a big core message for our youth."
Conway has a law degree and started her own polling company, The Polling Company, in 1995. She often consulted on consumer trends.
At the Wednesday briefing, Sessions underscored the Justice Department's focus on "the deadliest drug crisis in American history," and he said he would be allocating more resources fight the high rates of opioid addiction and death in the country.
Sessions said the Justice Department was giving more than $12 million in grants to state and local law enforcement to help them prosecute crimes connected to heroin, methamphetamines, cocaine, and other illicit drugs.
He also ordered all U.S. Attorney offices to designate opioid coordinators as part of a nationwide effort. The coordinators will "convene a task force of state, federal and local law enforcement" and determine which cases should be prosecuted on the federal level, Sessions said.
"We will not slow down for one day or even for one instant," Sessions said. "With one American dying of a drug overdose every nine minutes, enforcing our drug laws is more important than ever."
Sessions tough talk about opioids come after the Trump administration's delayed action for months on the epidemic that has claimed thousands of lives. Trump in August told reporters he was going to declare opioids a "national emergency," but more than two months passed before the administration started revealing plans to fight it. He eventually declared opioids to be a "public health emergency" but did not increase funding for the efforts.