Kellyanne Conway Says She Prefers to 'Knife People From the Front' in Response to Claims She's a Prolific Leaker
Kellyanne Conway has refuted an excerpt from former White House aide Cliff Sims's new book that details her purported leaking tactics in the White House. The counselor to President Donald Trump said she prefers to "knife people from the front" rather than backstab members of the administration.
"The real leakers, past and present, get much more positive press than I do," Conway told Vanity Fair in response to Sims's claims. "While it's rare, I prefer to knife people from the front, so they see it coming."
Sims, who served as a West Wing communications aide, is the latest former member of the Trump administration to write a book describing the chaos in the White House. The book, titled Team of Vipers: My 500 Extraordinary Days in the Trump White House, goes on sale next week.
Vanity Fair published an exclusive excerpt from the book on Wednesday that highlights how Conway, currently serving as counselor to the president, became a major player in the administration by leaking and gossiping. Sims wrote that Conway was "a cartoon villain brought to life."
Sims detailed a day in May 2017, when MSNBC's Morning Joe accused Conway of being disloyal to the president. Co-host Mika Brzezinski had claimed that during the 2016 campaign, Conway would praise Trump on television, but once "the camera would be turned off, the microphone would be taken off, and she would say, 'Blech, I need to take a shower,' because she disliked her candidate so much."
Sims was called into her office to discuss a response to the allegation and had been allowed to use Conway's computer to type out a statement. But the computer, according to Sims, had been linked to her iMessage account, inadvertently allowing him to see "every conversation she was having."
"Over the course of 20 minutes or so, she was having simultaneous conversations with no fewer than a half­-dozen reporters, most of them from outlets the White House frequently trashed for publishing 'fake news,'" Sims recalled.
"As I sat there trying to type, she bashed Jared Kushner, Reince Priebus, Steve Bannon and Sean Spicer, all by name," he added.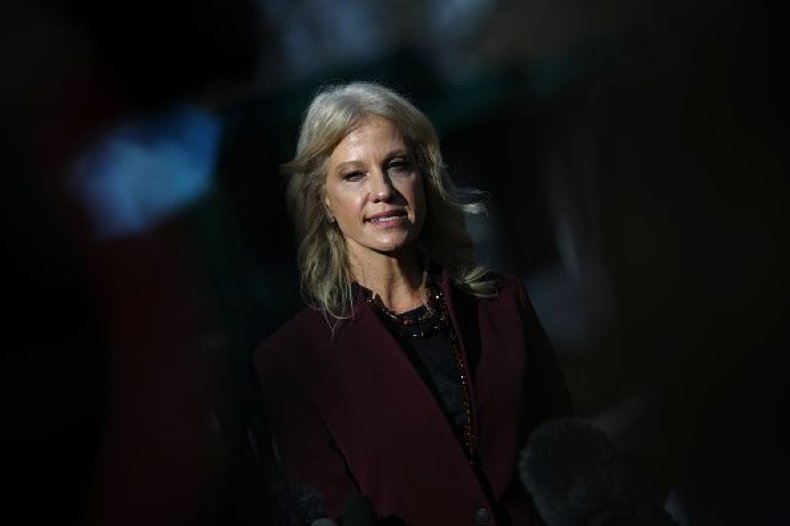 Sims went on to describe a conversation in which Conway "definitely wasn't painting [Trump] in the most favorable light. She was talking about him like a child she had to set straight."
Conway responded to Sims's account shortly after it was published. Vanity Fair reported that an anonymous source "familiar with the situation" claimed Conway's statement was drafted in coordination with her husband (and outspoken Trump critic) George Conway, but he denied having seen the statement before it was published.
"I never saw this statement, let alone helped draft it; nor was I aware of the book excerpt to which it responds until a short while ago," he wrote on Twitter late Wednesday evening.
Other excerpts from Sims's book describe Trump bashing Republican leader Paul Ryan after the former house speaker criticized Trump's handling of the deadly white supremacist rally in Charlottesville, Virginia, 2017.
"I remember being in Wisconsin, and your own people were booing you," Trump told Ryan over the phone, according to Sims. "You were out there dying like a dog, Paul. Like a dog!"
Another portion of the book claims Trump tried to lure a reporter into revealing the names of White House staffers who were leaking information to the press about his administration. According to Sims, Trump was obsessed with leakers and "was always on a quest to figure out a way to unmask them."