Kellyanne Conway: 'I'm Not in the Job of Having Evidence' About Wiretapping Claims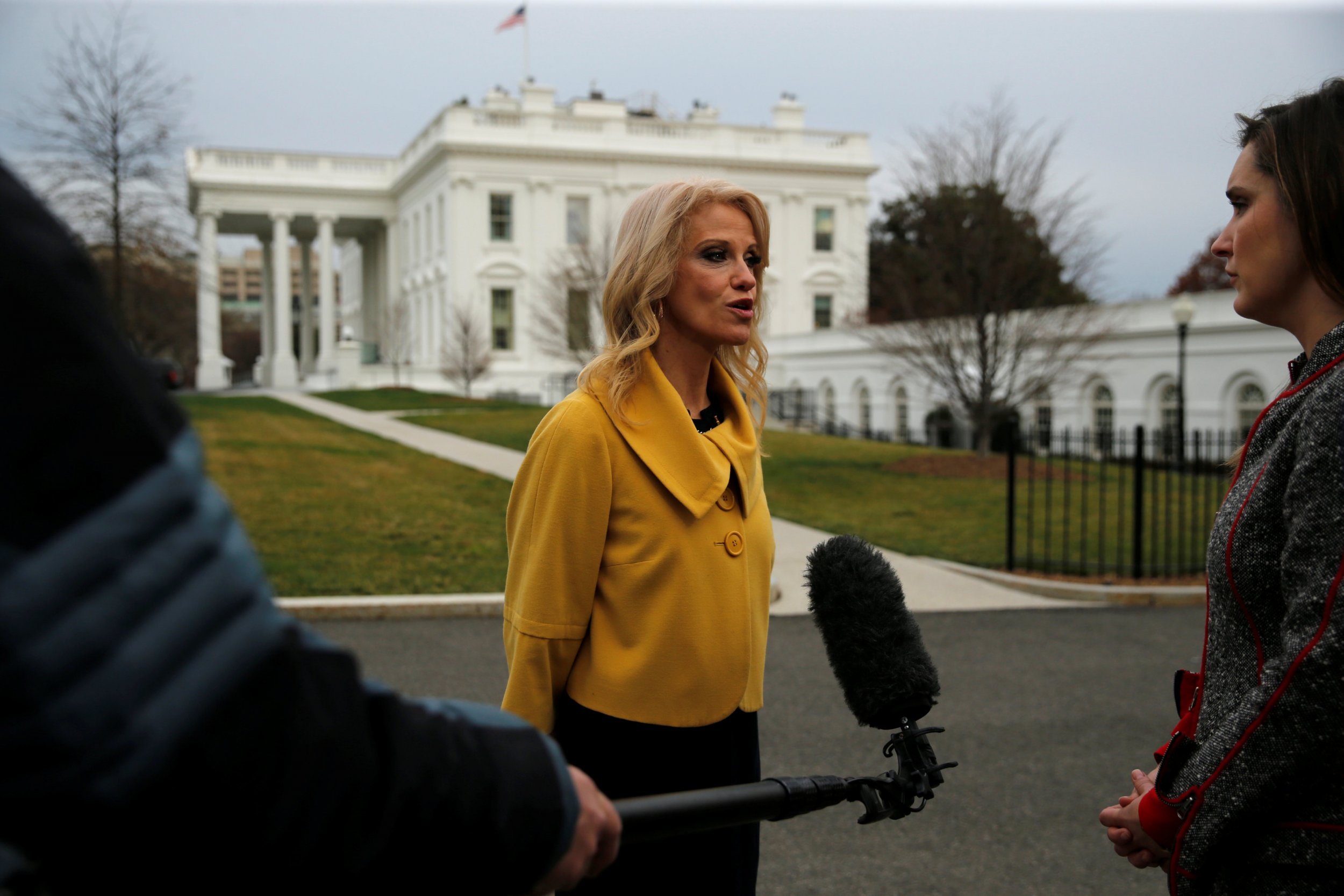 Kellyanne Conway is defending comments she made over the weekend alleging President Barack Obama may have used "microwaves that turn into cameras" to monitor Donald Trump.
Speaking with Bergen Record columnist Mike Kelly from her home in Alpine, New Jersey, Conway responded to a question about whether she knew if Trump Tower was wiretapped by saing: "What I can tell you is that there are many ways to surveil each other now, unfortunately."
She continued: "There was an article this week about how you can surveil someone through their phone, certainly through their television sets, any number of different ways. Microwaves that turn into cameras. So we know that that is just a fact of modern life."
Without providing evidence, Trump claimed earlier this month that Obama wiretapped Trump Tower prior to the election. The White House has repeatedly declined to offer evidence to back up the president's assertion. The House Intelligence Committee is planning to investigate the claims, according to Conway.
Related: Calls for Trump to retract wiretapping claims with any evidence due Monday
Conway appeared on CNN's New Day on Monday morning to discuss the comments. Responding to host Chris Cuomo, she said she "was answering a question about surveillance techniques generally. I was reflecting what people saw in the news last week, which were several articles about how we can surveil each other generally."
"The answer I've given about wiretapping in Trump Tower is very simple and I've said it many times, including this morning on other networks," she said. "So that screaming headline doesn't even reach the quote and the content accurately."
Conway continued: "I'm not Inspector Gadget, I don't believe people are using the microwave to spy on the Trump campaign. However, I'm not in the job of having evidence, that's what investigations are for."
One U.S.-based security expert reached by Newsweek declined to comment on the "unsubstantiated" claim, citing a fear of "normalizing" such output from the administration.
On Monday morning, Conway also tweeted a link to an article from the British newspaper The Independent about her comments with the hashtag #FakeNewsAlert. Conway retweeted a tweet from Trump published on Monday morning that said, "It's amazing how rude much for the media is to my very hard working representatives. Be nice, you will do much better!"