Kellyanne Conway More Concerned About GOP Tax Bill Than Roy Moore Sexual Assault Allegations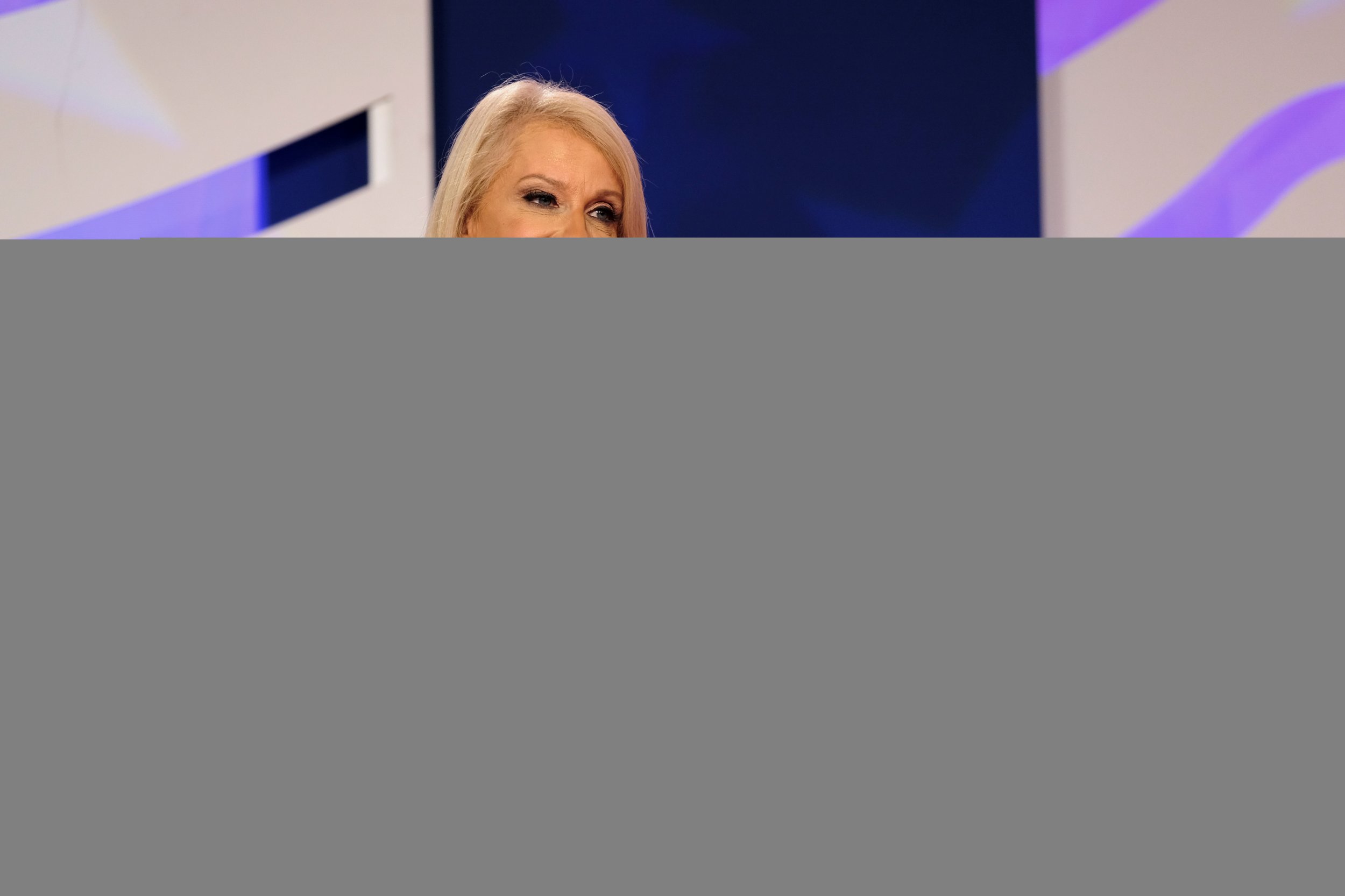 President Donald Trump's senior adviser, Kellyanne Conway, argued Monday that the Democrat vying for a Senate seat in Alabama doesn't stack up against Republican Roy Moore, who is fighting allegations of sexual misconduct.
"I'm telling you that we want the votes in the Senate to get this tax bill through," Conway told the hosts of Fox & Friends when asked if people in Alabama should vote for Moore over his opponent, Democrat Doug Jones.
Conway did not directly tell people to vote for Moore, but listed off all the reasons why people shouldn't vote for Jones. "Doug Jones in Alabama, folks, don't be fooled. He will be a vote against tax cuts. He is weak on crime. Weak on borders. He is strong on raising your taxes. He is terrible for property owners," Conway said. Republicans are currently working to pass a tax bill in the Senate.
"Doug Jones is a doctrinaire liberal," Conway continued, "which is why he is not saying anything and why the media are trying to boost him."
Judge Roy Moore has been beset with a steady stream of allegations of sexual misconduct against young women, and even a minor, after the Washington Post reported early this month that he initiated a sexual encounter with 14-year-old Leigh Corfman when he was a 32-year-old district attorney. Corfman's mother and an ex-boyfriend have backed up her claim. Several other women have made similar accusations.
Read more: Does Trump support Roy Moore? White House suggests president believes Alabama candidate's accusers
Moore has denied the accusations, calling them "completely false." Last week Beverly Young Nelson also accused Moore of sexually assaulting her in his car in 1977 when she was 16 years old after he offered to give her a ride home from her job as a waitress.
Nelson said Moore attempted to get her to perform oral sex and provided a 1977 yearbook message from him calling her a "beautiful girl" as proof that she knew the man who she said regularly hung around the Olde Hickory House restaurant where she worked.
Moore has called the yearbook message "fake" and demanded that it be turned over for independent analysis. "I don't even know the woman," Moore said at a press conference Saturday.
The Republican Party has severed financial ties with Moore's campaign and congressional Republican leaders and senior senators have called for Moore to step down from his campaign. Republican Senate Majority Leader Mitch McConnell said he believes the women's accusations.
Nevertheless, an average of polls in the Senate race show Jones and Moore are neck-and-neck, and Conway's comments suggested a degree of support for the very conservative judge. The special election vote is December 12.
"If the media were really concerned about all of these allegations, and if that's what this is truly about, and the Democrats, Al Franken would be on the ash heap of bygone half funny comedians," Conway told the Fox hosts Monday.
Last week Senator Franken was accused of inappropriately touching and kissing Los Angeles radio anchor Leeann Tweeden during a 2006 USO tour of Iraq as they provided entertainment for American troops. Franken was working as a comedian at the time. Tweeden said she is not seeking Franken's resignation. Franken has issued an apology.
On Sunday White House Legislative Affairs Director Marc Short said that if President Trump stood with Moore he would be campaigning for him. During the primaries Trump promoted Moore's opponent Luther Strange.
"Will the president be going back down to Alabama to campaign on behalf of Roy Moore before the special election?" Fox host Steve Doocy asked Conway Monday.
"There is no plan to do that," Conway replied. "The president is going to continue traveling around the country on tax cuts and other issues."