Kellyanne Conway: NYT Op-ed Author Could Be Hundreds of People Who Don't Even Work at White House
White House counselor Kellyanne Conway has suggested the author of The New York Times op-ed on President Donald Trump could be any one of more than 100 people, and is not necessarily by someone working at the White House.
In an interview with Fox News following the release of the explosive op-ed written by an anonymous senior official in the Trump administration titled: "I am part of the resistance inside the Trump administration," Conway rejected the idea of the president as "isolated."
"I just have to correct the record. It's not clear to us anyway that it's somebody in the White House. It says 'senior administration official,' that could be many people. There are I think thousands of political appointees, hundreds of folks that would qualify under that title alone," she told Fox News's Laura Ingraham.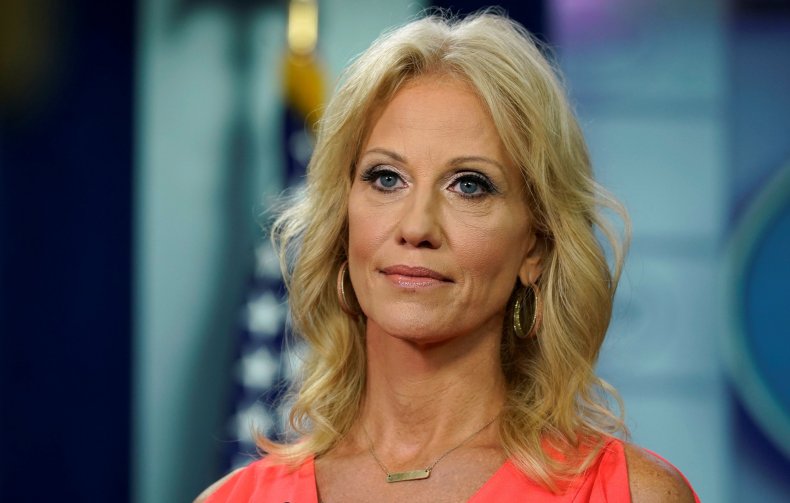 Among the claims made in the op-ed are that the president is amoral, has no guiding principles, and that a number of people inside his administration are attempting to "preserve our democratic institutions while thwarting Mr. Trump's more misguided impulses until he is out of office."
Asked whether or not anything in the op-ed rang true, Conway said: "What rings true to me is that people are trying to have it both ways—they want to serve in the government and they are pretending that they are somehow protecting the country from Donald Trump."
The president himself has slammed the op-ed's author, telling reporters at the White House on Wednesday that the person who wrote the op-ed was someone "who's failing and probably here for all the wrong reasons," NPR reported.
"The New York Times is failing. If I weren't here, I'd believe The New York Times probably wouldn't even exist. And someday, when I'm not president…The New York Times and CNN and all of these phony media outlets will be out of business, folks. They'll be out of business because there will be nothing to write and there will be nothing of interest."
Conway suggested that the author of the op-ed is "not really relevant," prompting Ingraham to say: "It could be someone in the West Wing."
The White House counselor agreed: "It could be."
Ingraham replied: "That's a problem," with Conway echoing: "That would be a huge problem."