Kellyanne Conway Dismisses Past Presidents' SOTU Speeches as 'Pie in the Sky Things' After Donald Trump's Address
Counselor to the President Kellyanne Conway accused past presidents of "giving a laundry list of all the pie and the sky ideas" in their State of the Union addresses, and said that by comparison, her boss President Donald Trump delivered a real story of American people that resonated with viewers.
Conway was a guest on Fox News Radio's The Brian Kilmeade Show the day after Trump's address, which more than three-fourths of Americans approved of, according to polls by CNN and CBS News. Kilmeade praised Trump's speech for touching on the feats of Americans across time and sectors of society, from the Apollo launch to children overcoming cancer.
"I think it was more of a slice-of-life than 'look at me,'" Kilmeade said.
Conway agreed and slammed past presidents in the process. "So the president actually gave his address to the stories of other people," Conway said. "Normally, Brian, you have a president standing there giving a laundry list of all the pie in the sky things they want to do, a couple of joyful noises here and there about bipartisanship re-unity."
She continued: "But this president weaved together the stories of other people to try and advance his agenda and try to make us all feel better about being Americans."
Trump, in his address, highlighted the triumphs of Americans from different walks of life who faced various challenges, from working for U.S. Immigration and Customs Enforcement to surviving a mass shooting to recovering from substance abuse.
Conway said Democrats at the address who did not applaud for Trump when he brought up record-low unemployment for women and other accomplishments were "getting panicked."
"I've got to tell you, the ad makers for 2020, they're probably working overtime today because of the amount of the sitting on the hands, the furrowed brows, the eye-rolling at the president listing out great American accomplishments and visionary things," Conway said. "We can work on together. Why wouldn't we want to eradicate AIDS? why wouldn't we want to try to work together?"
Conway added that Trump was enjoying himself and "loves this job because he loves this country." She then took a shot at the president's critics.
"It's one time each year that nobody else can interrupt with a stupid panel of eight people telling you what you just heard, as opposed to what you just heard," she said.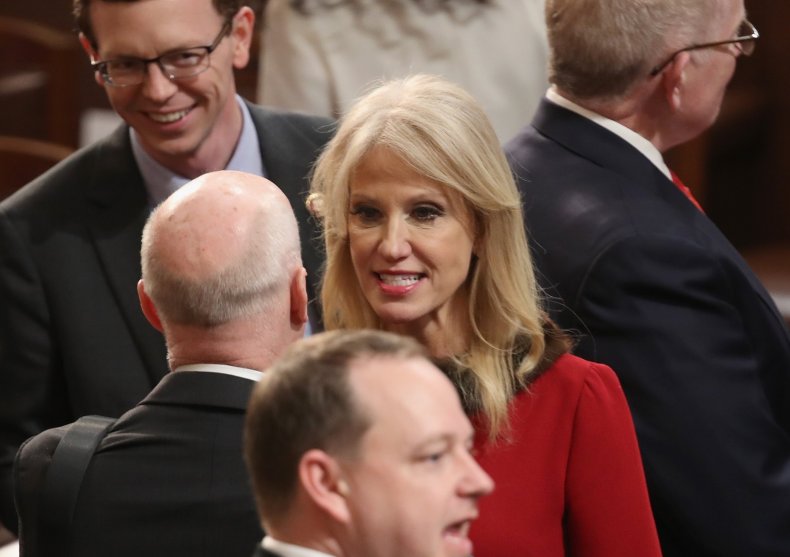 Conway's blanket criticism of past presidents' speeches does not match up with the opinions of Americans. In 2016, for example, 55 percent of Americans felt positively about former President Barack Obama's address, according to an NBC News poll.