Kellyanne Conway Called A Hypocrite after Blasting Michelle Wolf's 'attack on All Women'
White House counselor Kellyanne Conway appeared on Sean Hannity's Fox News show Monday to discuss comedian Michelle Wolf's White House Correspondents' Dinner monologue, but her comments didn't land quite as expected.
Wolf has been under attack after taking swipes at the Trump administration during the dinner, including a few humorous missives lobbed at White House press secretary Sarah Huckabee Sanders. Conway, who was at the dinner and was the subject of a few jokes herself, had thoughts about the controversial monologue.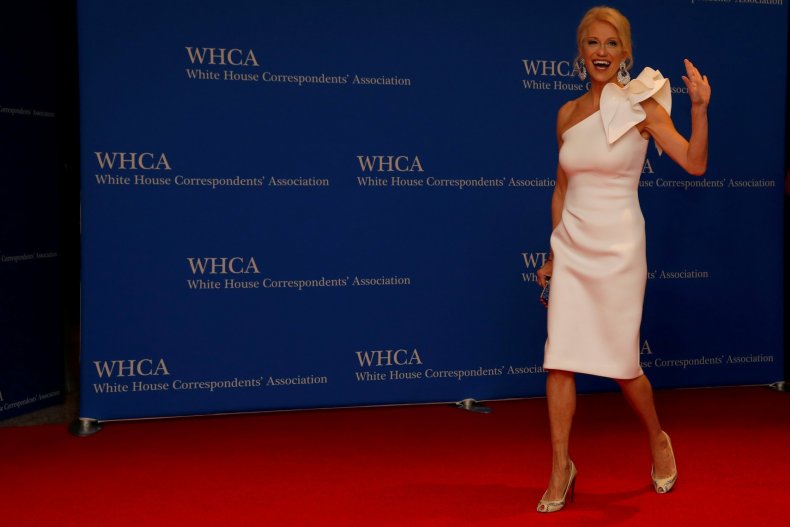 Conway first called out the "faux outrage" of some reporters over Wolf's comments regarding her, Sanders and Ivanka Trump.
"The faux outrage from some people who look down at Twitter all day long and see the likes of Sarah and Ivanka and me insulted—this just happened right in front of them when they were all gussied up so they couldn't deny it," she said. "I mean, in some ways it was just another day at the office."
What the White House counselor said next grabbed the attention of many on social media.
"When the president of the White House Correspondents' Association stood up and said, 'An attack on one journalist is an attack on all journalists,' well folks, think about this. Is an attack on one woman, or two women, an attack on all women?" Conway asked.
Neither she nor Hannity noted the numerous times her boss, President Donald Trump, has attacked women for their looks. However, Twitter made sure they did not forget Trump's past comments.