Kellyanne Conway Said Reporters Get So Nervous Around Trump Their 'Knees Start Knocking'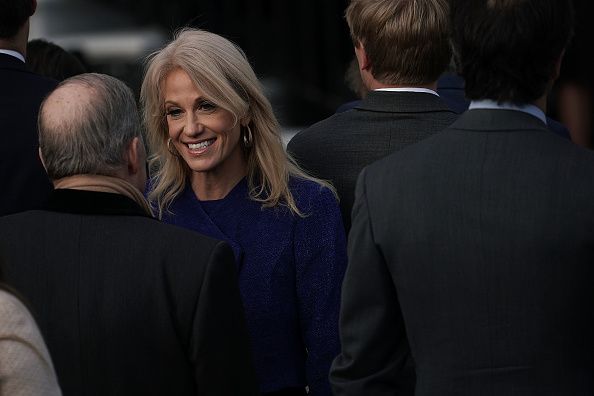 White House counselor Kellyanne Conway said she has seen reporters get so nervous around President Donald Trump that their "knees start knocking."
During an interview on FOX News on Wednesday, Conway commented on a tweet Trump had written on Tuesday night, announcing "awards" for "the most dishonest and corrupt media of 2017."
"I will be announcing THE MOST DISHONEST & CORRUPT MEDIA AWARDS OF THE YEAR on Monday at 5:00 o'clock. Subjects will cover Dishonesty & Bad Reporting in various categories from the Fake News Media. Stay tuned!" tweeted Trump.
She said that reporters come off as combative, but when they're around the president they become anxious.
"I've seen this many times that folks are very bold on social media against the president, very bold on cable TV against the president," Conway said. "And then when they're in his company, the knees start knocking. I've actually had to pick up people's cell phones that they dropped and hand it back to them."
Conway did not go into more detail about the mock awards, but said "the struggle there will be how in the world to narrow it down to one or two winners in each of those categories."
This was not the only tweet from Trump on Tuesday night that raised eyebrows. The president slammed North Korean leader Kim Jong Un on his comment about having a nuclear button on his desk. The president fired back in a tweet and said his nuclear button is "much bigger and more powerful than his."
"North Korean Leader Kim Jong Un just stated that the "Nuclear Button is on his desk at all times." Will someone from his depleted and food starved regime please inform him that I too have a Nuclear Button, but it is a much bigger & more powerful one than his, and my Button works!" Trump tweeted.
During Conway's interview with FOX News, she was asked about the controversial tweet and if Trump believes we are close to going to war with North Korea.
"The president said many times nobody wants that. Of course not, nobody wants that," Conway said. "But we also—we have just seen so much over the past years of looking the other way."