Thousands Sign Kellyanne Conway Resign Petition Ahead of Hatch Act Hearing, Subpoena Vote
A watchdog is submitting to Congress tens of thousands of signatures on a petition imploring Counselor to the President Kellyanne Conway to resign over Hatch Act violations, ahead of a House Committee on Oversight and Reform hearing Wednesday on the matter.
The "Kellyanne Conway must resign!" online petition on the Citizens for Responsibility and Ethics in Washington's (CREW) website had collected more than 34,000 signatures since June 13, the day the Office of Special Counsel recommended that President Donald Trump remove Conway from federal service for repeated violations.
"Conway must resign or be fired immediately," the petition states, for violating the Hatch Act which prohibits executive branch employees from using their official positions to influence an election.
CREW spokesman Jordan Libowitz told Newsweek that the fact that so many Americans signed the petition "shows just how important this issue is" and that "the Trump administration can act like no one cares about ethics laws, but that is clearly not the case."
Libowitz said the signatures goal is not set by CREW but generated automatically by the petition software and doubles every time the target number is reached. CREW will deliver the signatures to Congress on Wednesday morning, he said.
The House Oversight Committee's hearing to examine Hatch Act violations within the Trump administration is set for 10 a.m. ET Wednesday at the Rayburn House Office Building. Conway was invited to testify but the White House last week informed the committee in a letter that she would not appear. The committee plans to vote to subpoena Conway to appear at a later hearing.
Conway on Fox News' Fox & Friends show on Monday said, "You'd think I would be the first member of the West Wing to ever be hauled in front of Congress to talk about the Hatch Act," and said the federal law means "you can't advocate for or against the election of an individual." She then explained why she does not believe she violated the act.
"If I'm talking about the failures of Obama-Bidencare, if I'm talking about the fact that 28 million Americans have no health insurance, that's a fact," Conway said. "If I'm quoting what some of the candidates say about the other candidates, I'm just repeating the news to you as I read it that day."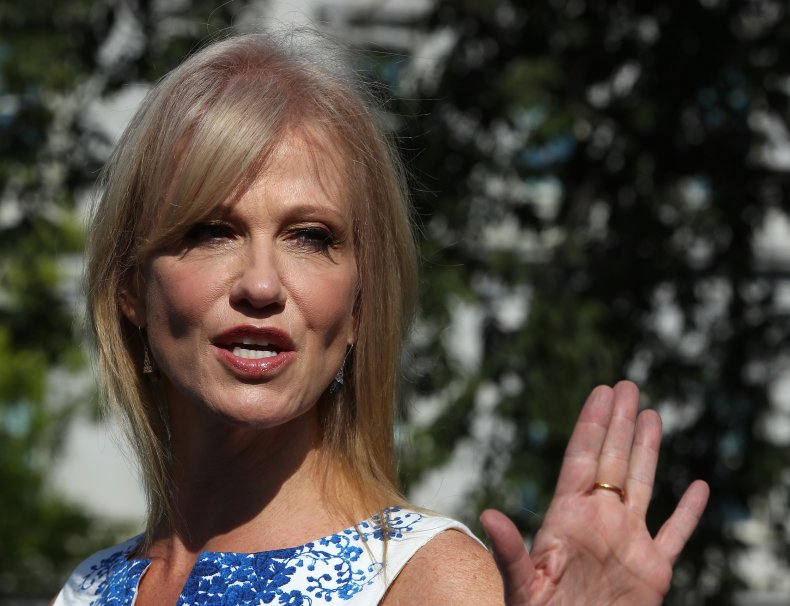 The Office of Special Counsel recommended that Conway be fired after receiving complaints from CREW detailing various instances in which she disparaged candidates outside the White House driveway or in her official capacity.
Conway on Monday ripped CREW as a "left-wing propaganda machine" and "provocateurs who are trying to weaponize the Hatch Act."