Kellyanne Conway Says Trump, Accused of Sexual Assault, Has 'Tremendous Moral Standards' After Roy Moore Endorsement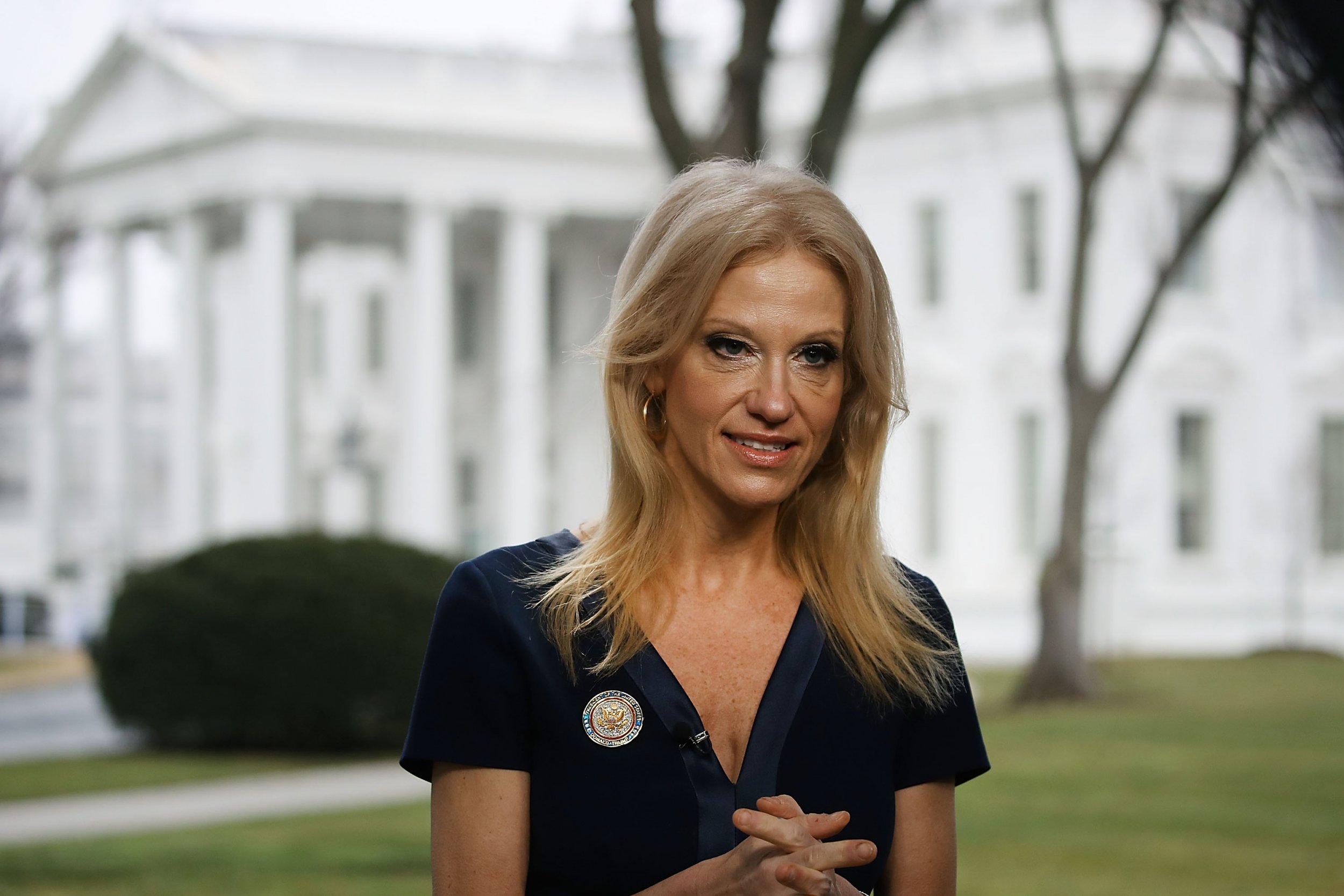 Kellyanne Conway bragged about President Donald Trump's "tremendous moral standards" on Wednesday as she defended his endorsement of Alabama Senate candidate Roy Moore amid allegations of sexual misconduct. And, in doing so, she seemingly forgot that Trump himself has been accused of sexual assault.
Trump announced Monday that he's backing Moore despite allegations from at least six people that the former judge tried to have sex with them back in the 1970s—when he was an adult and they were teenagers. On Wednesday, Conway was explaining Trump's decision to CNN's Chris Cuomo, who suggested the president was only supporting Moore because he's a Republican.
"The president has tremendous moral standards," Conway said. "The president has said the allegations are troubling. They're also 40 years old. Nobody came forward before. The guy's been on the ballot many times. Doug Jones is a liberal Democrat, the president has said, and he doesn't want to live with a Democrat representing Alabama in the United States Senate."
Trump has repeatedly been accused of having dubious moral standards. Not only have a bevy of women accused him of kissing and groping them without their consent, but he was also caught on a 2005 Access Hollywood tape boasting about grabbing women "by the pussy." Even if you exclude his alleged inappropriate sexual advances, Trump doesn't have the best record. Some greatest hits: He publicly mocked a disabled reporter, suggested a TV host he doesn't like is a murderer, said a female reporter with tough questions had "blood coming out of her wherever" and attacked Gold Star military families.
Conway apparently overlooked those incidents in her Wednesday defense of the president, instead attacking Senator Al Franken, a Minnesota Democrat who recently apologized after seven women came forward to accuse him of groping them.
"What I see is hypocrisy everywhere I turn," said Conway.
Cuomo argued back that Franken's mistake seemed to be owning up to his misconduct because "if you just deny it [like Moore], it seems like you can become a senator." But Conway was ready with a response.
"Well, first of all, that's up to the people of each state to decide," she quipped.
The Alabama Senate election is set for December 12.